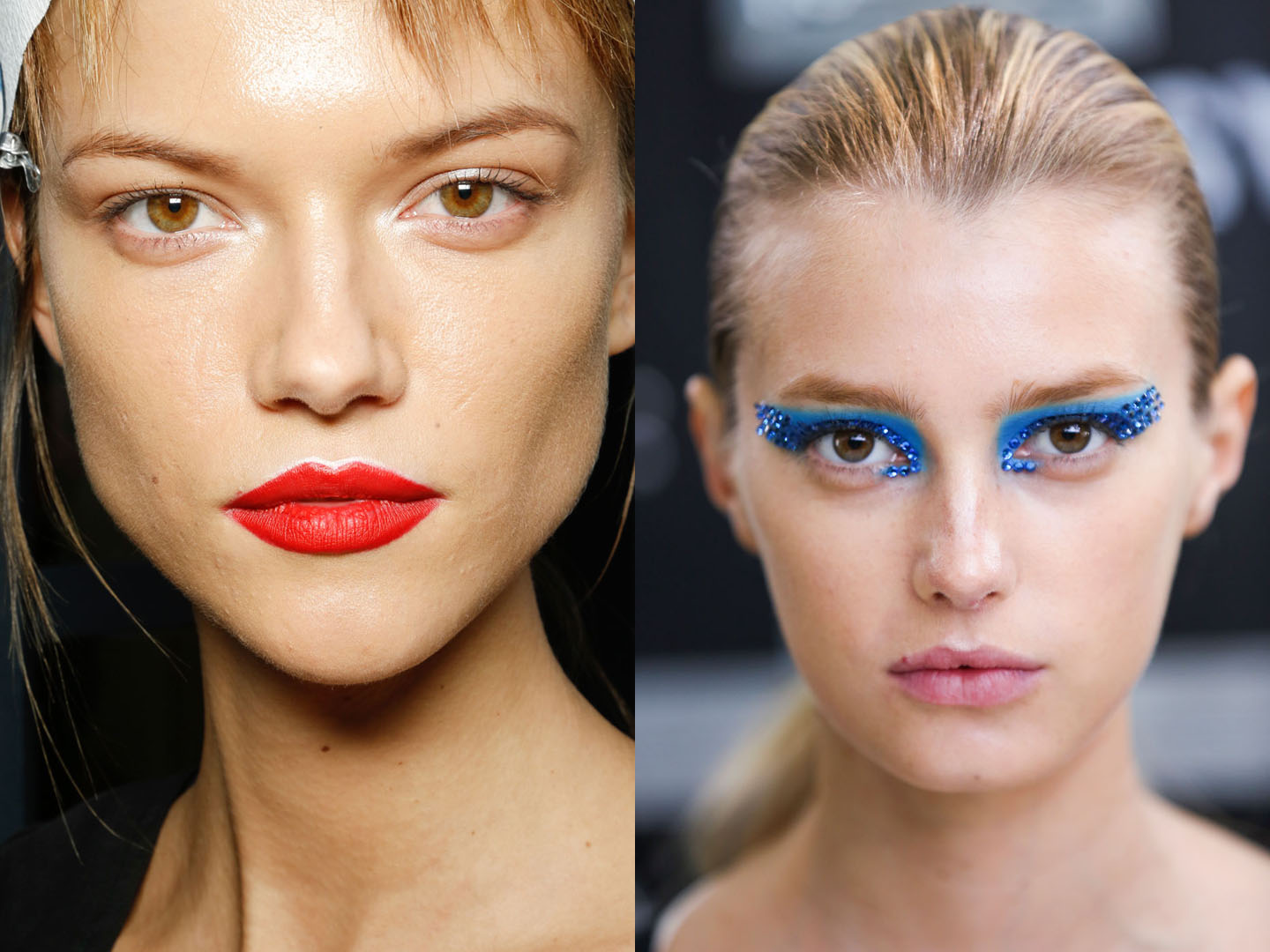 The Spring 2013 fashion shows saw a lot of minimalistic beauty trends but with a few statement eyes and mouths that are gorgeous for the runways, but not necessarily for everyday wear. Pat McGrath, makeup artist and global creative design director of Procter & Gamble, was responsible for creating many of these looks from the designer's inspirations and visions. McGrath gave a presentation on Wednesday at the Eventi Hotel to discuss the runway trends and how we can tone them down for wearable looks, whether you want to wait until spring to test these beauties out or experiment now.
The trend: Gallery of Wings
The winged eye, or cat eye, in bright blues and reds was a major trend on the runways most notably at the Dior show. The models had intense blue shadow in a winged shape with crystals glued on top.
How to get the look: While you may not want to walk out of the house with this look, you can tone it down for a more wearable look. "Taking that bright green and drawing a beautiful wing and always cleaning it up with a cotton swab and then underline that with a deep brown or black close to the lashes, that's a great way to bring colors to the eyes," says McGrath.
That winged eyeliner is not the easiest thing to do for many of us. But McGrath explained that no one can do a perfect wing, it's about drawing and perfecting with a cotton swab dipped in makeup remover. Use a pencil first, close to the lash, then go over with a liquid liner if you're going for the more dramatic eye. Clean up any mistakes with remover to get that perfect line.
The trend: Undereye eyeliner
Several shows switched up the eyeliner and did a thicker liner under the eye and left the lid nude or with light eyeshadow.
How to get the look: The key to this look, says McGrath, is to figure out what type of eyes you have. "If you have that very large eye, you would have to put eyeliner on the inside as well so it won't be so droopy," she explains. Start with a pencil and smudge along with your fingers.
The trend: Articulated Arches
Bold eyebrows made a statement with minimal makeup and a clean face.
How to get the look: Use a mixture of colors in powder and pencils to get defined eyebrows that aren't overdrawn. McGrath says it's all about feathering it in with a pencil. "The main thing is, don't go too high, don't go too thick, just accentuate what you already have," she says.
The trend: Contouring
We all envy those with high cheek bones, but contouring should be left for the runways. That brown stripe we see on some of the models is for the lighting and staging, not for everyday wear.
How to get the look: To get the illusion of high cheek bones, use blush instead. McGrath suggests using a blush with a slight pink or beige tone and apply it to the right areas to get that illusion, then use a highlighter on top of the blush.
The trend: Matte face and lips
Unlike previous seasons where models walked out with dewy, glowing skin, this spring saw matte skin and lips for perfected beauty.
How to get the look: Glowing skin is healthy and you don't want to look like you have ashy skin, so it's about using the right products and technique. For skin, especially if you have darker skin, apply your foundation, tissue off, then add concealer, tissue off, then finish with powder. Using the tissue will make sure it doesn't look too cakey.
For super matte lips, like at Prada, McGrath first filled in the lips with pencil, applied lipstick, then used a tissue to get that matte finish.
Images via Imaxtree