Inside the concrete jungle that is Manhattan, women are sweltering, and I imagine the same is true for most cities right now. If you're like me, you probably spend lots of time perfecting your look in the morning only to get to your desk at work and realize you look like a hot mess…literally. Keep these trusty beauty products handy, so you can clean up and look like the refined person you started as before you walked out the door.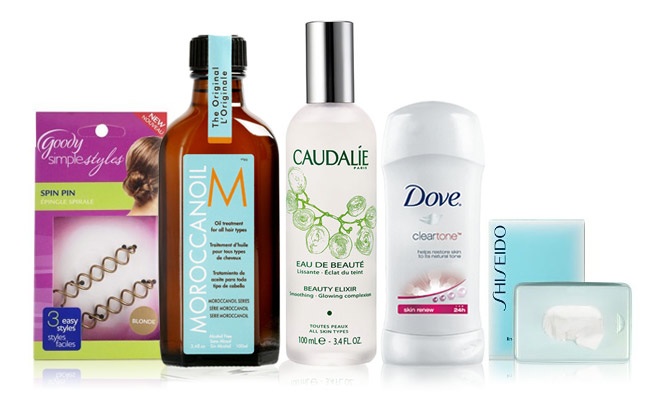 1. A Refreshing Misting Spray
Within seconds of sitting down at work, I am misting myself with a bottle of Evian water. At home, though, I keep Caudalíe Beauty Elixer ($18, sephora.com) waiting on my vanity. Both are hydrating and give skin a quick cool-down.
2. Blotting Papers
Some people sweat, I shine. And not in that stand-out-because-I'm-awesome way. For this reason, blotting papers are a summer must for me. Specifically, Shiseido Pureness oil-control blotting paper ($18.50, sephora.com). It soaks up excess oil in a snap.
3. A Cute Hair Accessory
Even the best hair styling sprays can wither under the weather, so I try to keep a headband or other accessory around to keep hair up and off my neck and face. The Goody Simple Styles Spin Pins ($5.89, target.com) are no joke. The two cork-screw-shaped pins work together to keep hair in a secure bun.
4. Hair-Taming Product
The only thing worse than hot weather is humid, hot weather, which is why I keep a bottle of Moroccanoil Oil Treatment ($43, moroccanoil.com) on my desk, and apply a small amount to pesky frizz. It also doesn't hurt that it smells fantastic.
5. A Spare Deodorant
Brands can claim 24-hour protection all they want, but I still keep a spare deodorant around for days when heat is getting the best of me. I'm a big fan of Dove Advanced Beauty Clear Tone Antiperspirant deodorant ($4.79, drugstore.com). Just remember: Be a lady, and go to the bathroom to apply.
What are some of your favorite summer skin savers?
Read more: 20 Beauty Buys to Help You Survive Summer