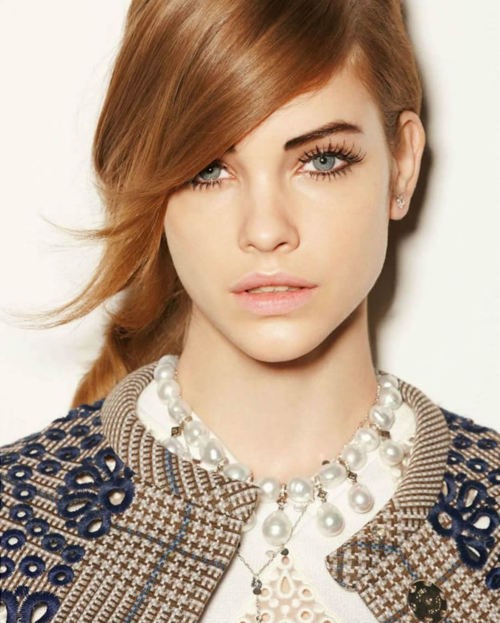 There are few things worth fighting for more than fantastic eyelashes. Sure, a good shade of lipstick or blush can do wonders for your look, but nothing puts the finishing touches on a face better than long, luscious lashes. The best kind of beauty secrets are the minor details that hardly anyone notices, but it's the little things that make a big difference.
False lashes are great for night time or swanky events, but they're not necessary for every day life (plus, they can get costly). Whether you've been born with the naturally great lash gene or you've been working on lengthening and volumizing your lashes for your entire life, you don't need to resort to false lashes to make your eyes pop. Follow our five steps below and your eyes will be getting attention all day long.
Step 1: Choose the right kind of mascara. Depending on whether you're going for lengthening, volume boosting, separating, waterproof, etc. you should choose the kind of lashes you want and get a mascara based on that. A favorite at the Beauty High office is CoverGirl Lash Blast because it does pretty much everything in one. Also, don't be afraid to apply more than one coat.
Step 2: Curl your lashes. A lot of women forgo this incredibly important step because they're either afraid of the curler or they don't believe it actually works. Curling your lashes before applying mascara is like moisturizing before putting on foundation – the end result looks much cleaner and more put together.
Step 3: Begin applying mascara with the wand at the root of your eyelash and wiggle the wand at the root before swiping upward. This separates the lashes and cuts down on any clumping that may happen by doing a thorough swipe through.
Step 4: During the application, hold either a plastic spoon, business card or mascara spoon against your eyelid, above the lashes, so that excess mascara gets on the spoon, not your lid. By having less to clean up afterwards, there's less chance of displacing your carefully applied mascara.
Step 5: Use a good eye makeup remover. Even if your mascara isn't waterproof, we'd suggest using a waterproof remover. The less pulling and scraping you have to do on your eyelashes, the better condition they'll be in. We love this one from Lumene because it's available at most drugstores and it isn't greasy.
Image via Pinterest