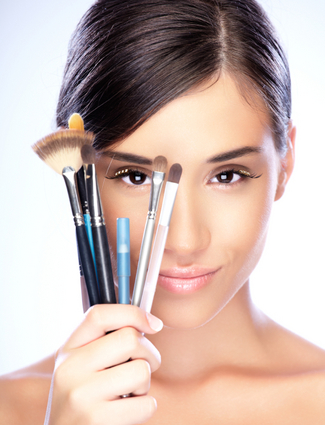 Photo: Getty Images
How big is your makeup collection? Yeah, ours is pretty big too. But how many brushes do you have? Yeah, we thought so. There is more to the world of brushes than the eyeshadow and blush brush. Here are five that should have a permanent place in your makeup collection.
When To Clean Your Makeup Brushes
1. Brow Brush
Bold brows are huge this year, both on the runway and on the street. We do love a good brow pencil, but after trying Joey Healy's Luxe Brow Powder ($28, Joeyhealy.com), we found a brow brush to be essential. His collection includes the Duo Brow Brush ($28, Joeyhealy.com) that has stiff bristles for working in the powder on one side and a spoolie brush to sweep brows in place.
2. Lip Brush
The lip brush does not get the recognition it deserves. Bold lips are huge this season and there is no better way to sculpt those lips for color precision than with this tool. We love M.A.C.'s Retractable Lip Brush ($13, maccosmetics.com) that has long bristles and a slightly pointed tip to contour the lips for a flirty look.
3. Eye Smudge Brush
Bold, straight lines are great, but sometimes we want a smudgy eye look that adds a sultry feel. Bobbi Brown's Eye Smudge Brush ($28, bobbibrowncosmetics.com)
has soft bristles and a rounded point that allows you to gently get right on the lash line and mess up the liner a bit.
How To Make Your Eyes Look Bigger
4. Foundation Brush
Liquid foundation can be a little tricky. That's why it's best to apply with a foundation brush such as Dior's Foundation Brush ($34, Dior.com). By applying with a brush, the foundation blends for an even application. The last thing you want is for it to look caked on.
5. Fan Brush
When you want a light shimmery effect, a fan brush is your best option because it is perfect for highlighting. Apply a bronzer/blush/shimmer duo such as Glo Minerals' Shimmer Brick ($32.50, gloprofessional.com) with their Fan Brush ($16, gloprofessional.com). Brush from above the outer corner of the eye and work just above the cheekbone to contour.
What brush can you not live without?