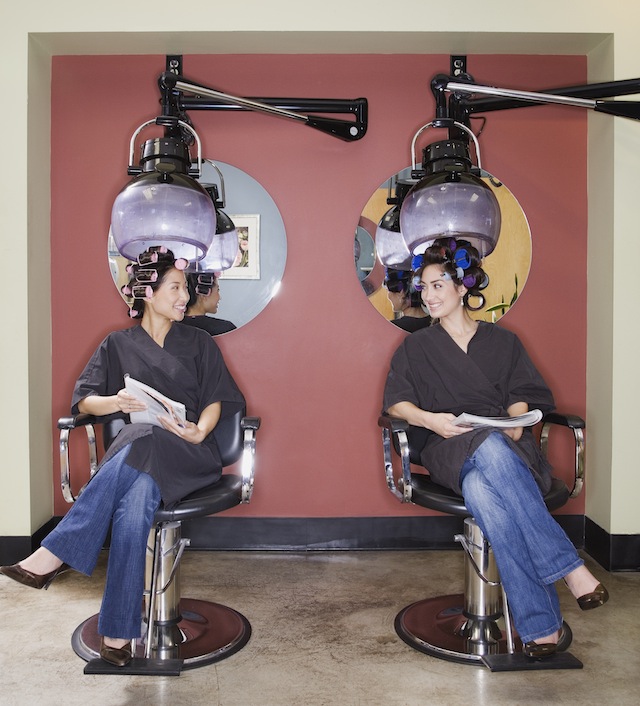 Going to see your hair stylist can be a transformative experience — you go in with split ends and too-long bangs and come out with a fresh cut and a perfect blowout.
However, while you'll surely leave the salon with a hot new 'do, you may also be transformed in other, unsavory ways — ones that can seriously damage your hair, and health. Here, four experts, Dr. Debra Jaliman, author of Skin Rules: Trade Secrets from a Top New York Dermatologist, former celebrity stylist Jim Markahm, Founder/CEO of ColorProof Evolved Color Care, hairstylist Nunzio Saviano and colorist Stephanie Brown, reveal which aspects of the salon you should be cautious of and share their wisdom on how to stay safe.
1. The Shampoo Sink
There's evidence that leaning your head back to get shampoo-ed at the salon could actually cause major damage to your neck. Lying your head back in this position on a hard surface can cause tearing in your neck's arteries, which can lead to blood clots, and even death. (Scary stuff, huh?)  While it's rare for this to happen — and more of an issue for those who smoke, have high blood pressure or diabetes, or are at a high-risk for stroke — make sure you have a towel under your head and neck when you get your hair washed, or better yet, encourage your salon to invest in specialized cushions that are designed to protect this sensitive area.
If you are at all uncomfortable, or if you have recently had neck surgery, be sure to voice your concerns to your stylist so he or she can take the proper precautions such as washing your hair leaning forward over the sink instead. Better to be safe than sorry.
2. The Tools
The blow dryer used to style your hair is so hot that it will kill most bacteria, so if you don't see your stylist sterilize her brushes, don't be alarmed. Full-blown sterilization is not actually required in hair salons in most states, however, most state laws do require sanitization and disinfection. For example, according to the California Code of Regulations Board of Barbering and Cosmetology, stylists should disinfect combs and brushes by cleaning them with soap or detergent and water, then immersing in an EPA-registered disinfectant.
It is absolutely appropriate to ask your stylist what products and procedures he or she uses to sanitize and disinfect. If you even see one strand of hair in your stylist's brushes before they're about to be used on you, definitely speak up.
3. The Chemicals
If you are getting any treatment — whether it's a perm or a Brazilian blowout — make sure to stay away from anything with formaldehyde. Formaldehyde is a known carcinogen, according to the National Cancer Institute, and it's been associated with nasopharyngeal cancer and leukemia. Other chemical relaxers have been known to contain chemicals such as calcium hydroxide, ammonium thioglycolate, guanidine carbonate, and lithium hydroxide which may harmful to skin and hair.  Avoid these types of treatments if you have a medical condition and be sure to consult your physician for guidance beforehand if you decide to proceed. If you're not sure what chemicals are in whatever is being put on your hair and head, always ask your stylist when you make your appointment. And if you're worried about the fumes, ask for a mask to wear during the treatment.
When you're getting color done,  make sure you let your stylist know if you are sensitive or have had any type of allergic reaction to hair color in the past. That way, your stylist can switch to an organic or semi-permanent color, both of which typically have less ammonia.
4. The (Lack of) Ventilation
Speaking of chemicals! You do not want to be breathing in vapors from the coloring and other treatments happening in the salon. A telltale sign of whether or not there is proper ventilation in a salon is if your eyes start to tear up when you walk in — this means that there's not enough clean air flowing. A poorly ventilated salon is also an ideal breeding ground for bacteria.  Not only that, but a combination of excessive heat from hair dryers and chemicals used during processing can create fumes and airborne particles that can worsen asthma and allergies, as well as potentially cause fatigue and headaches. Ask the person at the front desk if there are fans available, so you can keep the air around you circulating, or see if there are any windows or doors that can be propped open.
5. The Dryers
Those huge dryers your stylist might ask you to sit under are used to speed up the color process. However, make sure you're keeping track of the allotted time your stylist told you to stay under for, especially if he or she is not: If you have bleach in your hair and sit under a dryer for too long, your hair can break, causing major damage.
Image via Andersen Ross/Blend Images