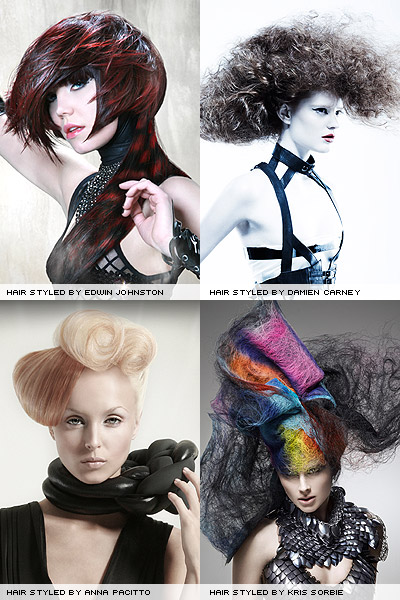 On July 31st, we'll be working hard in Las Vegas (wink, wink) covering the North American Hairstyling Awards (NAHA's). This prestigious event recognizes the nation's best beauty talent and has been equated to the Oscars of the beauty business. Each year, leading hairstylists and makeup artists are awarded in 13 categories of excellence during a star-studded awards ceremony. One of the most coveted awards is Master Hairstylist. These nominees are sought after by celebrities, run the most successful salons, collaborate with leading hair care brands and wield their scissors in editorial shoots. Just take a look at some examples of their most creative work, shown at left.
While we're patiently waiting for the big night of the NAHA's, we asked the Master Hairstylist finalists to give us the scoop on which trends are not only really hot right now, but strong enough to last more than just a season. Here's what they said:
Kris Sorbie, Redken 5th Avenue, New York City, New York
"I see strong, bold cuts with fringes staying for a while; they're easy on the eye with the upcoming fashion trends of East meets West, Moroccan inspired patterns and stripes. To compliment the cuts we'll stay with Ombre color techniques in varying shades from bold reds, to browns to blondes…no boring solid colors!"
Anna Pacitto, Salon Pure, Montreal, Canada
"The trend that seems to stick and will be around for a while is hair with texture. It could be soft movement or more evident texture even in the more dramatic structured cuts. What hair needs to be though, is touchable and effortless, especially for up-hair; hair that moves and is healthy and shiny, and not overly done with lots of product in it."
Damien Carney, Joico, Long Beach, California
"I see a strong hair trend in the "disconnected" design of a haircut. That is where shorter areas of hair provide accent and style, yet don't connect to longer areas of hair. The longer, disconnected lengths retain softness to your overall look, while shorter strands provide some loose structure, shape and edge. This trend can adapt to all personalities, textures and lengths of hair. Disconnected haircuts enable the finished style to be manipulated into other looks with different styling techniques and products. It's about flexibility, and women today want options."
Edwin Johnston, Cutting Room Creative, Nanaimo, British Columbia
"Color is back stronger than ever, as we depart from all over natural tones into stronger bolder hues of red hair color. Deep wine colored, cool reds, and hot cayenne pepper copper tones lead the way. Also, short hair for women will really catch on this coming season with shorter disconnections and long fringes. These haircuts can be styled forward by day and pompadoured back for evening wear. For those who choose longer hair, it will be accented with messy textures created by micro crimping irons, flat irons, curls and backcombing to create sexy, lived-in hair."


Try on the latest hairstyles in the Makeover Studio!
To find out more about NAHA, visit probeauty.org. NAHA is produced by the Professional Beauty Association (PBA) and will take place on Sunday, July 31, at the Mandalay Bay Resort in Las Vegas.