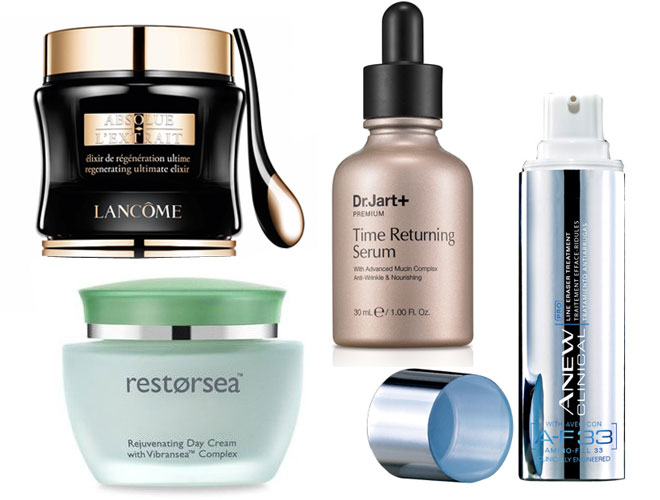 You've done your homework, and you know all about the big name skincare ingredients: retinol, peptides, ceramides, and the like. But these recently launched products are all vying to become the next big thing in anti-aging. Let's get acquainted, shall we?
The product: Avon Anew Clinical Pro Line Eraser Treatment ($39.99, avon.com)
The ingredient: A-F33 Aminofill
As we age, our skin cells block collagen from forming. This newly developed molecule deactivates those blockers to help release untapped collagen, leading to plumper skin and fewer wrinkles. In studies conducted by Avon, an unprecedented 100 percent of women showed a reduction in fine lines.
The product: Restorsea Day Cream ($150) and Revitalizing Eye Cream ($85, restorsea.com)
The ingredient: Vibransea Complex, featuring enzymes from baby salmon
This new skincare line has an unusual active ingredient: an enzyme released by baby salmon when they're born. The enzyme has exfoliating properties similar to those of glycolic acid, but without the irritation. Vitamin C and Brown Algae round out the complex, which smooths and softens skin, evens skin tone and improves firmness and elasticity over 12 weeks.
The product: Lancôme Absolue L'Extrait Regenerating Ultimate Elixir ($350, lancome-usa.com)
The ingredient: Rose native cells
Each jar of this pricey cream packs up to two million native cells from the Lancôme rose, a hybrid developed for its resilience. The regenerating ingredient helps improve signs of aging in 11 weeks.
The product: Dr. Jart+ Premium Time Returning Serum ($54, sephora.com)
The ingredient: Snail mucin extract
Snail slime as a skincare ingredient has been on our beauty radar for a few months, and now you can buy it at Sephora. The 77 percent snail mucin extract in this serum is said to have regenerative properties (in nature, it helps protect the mollusk's body from wounds), which help improve skin's firmness, moisture level and cell renewal.
Have you tried any of these new anti-agers? If not, which one sounds most promising?