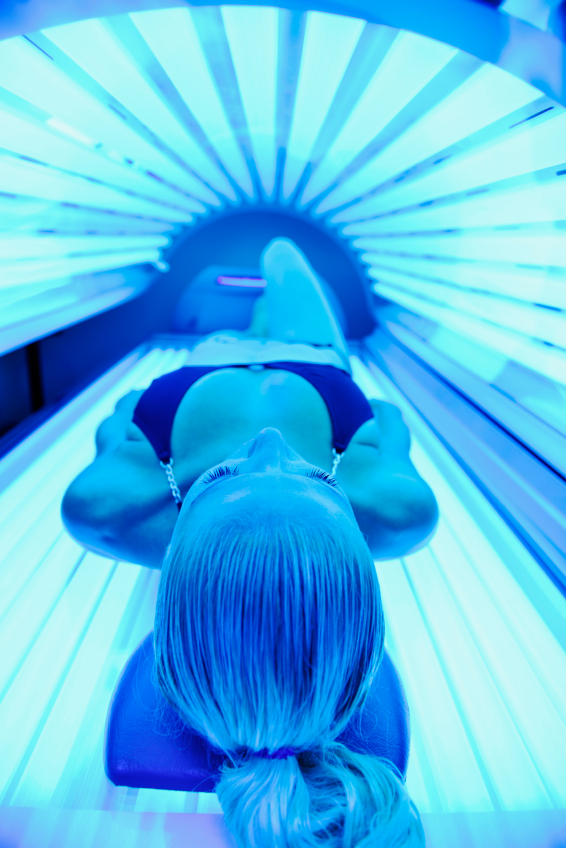 Well, this one's a hard pill to swallow. Even with the constant reports on the potentially fatal dangers of tanning and the clear links to skin cancer, the latest study on the truth about tanning beds is disheartening. According to reports from researchers at the Center For Disease Control and Prevention, 30 percent of white high school girls had used indoor tanning devices in the past year.
With each year that passes the rate increases. 18 percent of 15-year-old girls reported to tanning in the last year, while that percentage rose to 40 percent among 17-year-olds and 44 percent among 18-year-olds. Overall, 17 percent of girls noted that they used indoor tanning devices at least 10 times in the past year. If we had to guess, we'd imagine that there's some trickle-down going on here. If the senior girls in high school are making tanning beds popular, it's only a matter of time until the juniors and sophomores catch up.
MORE: Study Finds That Melanoma Survivors Still Use Tanning Beds
At first glance, we were hoping that maybe high school was partly to blame for the high percentages, and it seems that just may be the case. Among women aged 18-34, 25 percent reported they went tanning in the past year, with only 17 percent of women ages 30-34 reporting use of indoor tanning devices in the past year.
"Indoor tanning is widespread among non-Hispanic white female high school students and adults ages 18 to 34 years," the researchers write in the August 19 issue of the journal JAMA Internal Medicine. "This widespread use is of great concern given the elevated risk of skin cancer among younger users and frequent users," the researchers said.
MORE: New Study Proves That Sunscreen is a True Anti-Aging Product
To try to combat the tanning phenomenon, suggestions have been made to start telling fair-skinned children and teens about the dangers of tanning at doctors appointments. Also, the FDA has proposed warning labels on the inside of tanning beds. We're hoping that between the dangers of tanning being well known and a trend away from tanning being portrayed positively in the media, these numbers will continue to decrease over time and eventually become faint, distant memories.
[Fox News]
Image via Istock