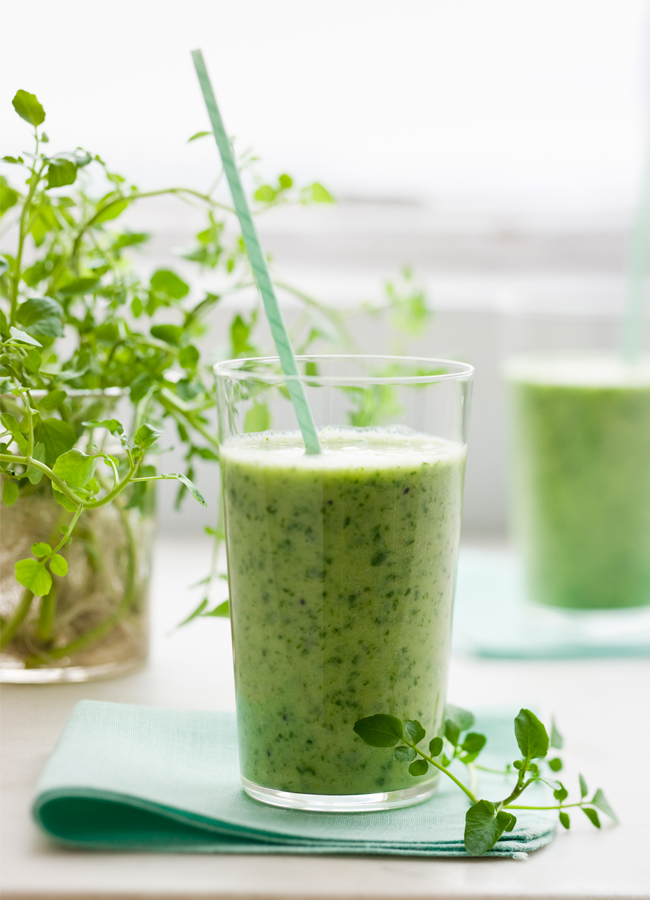 We've officially joined the smoothie/juice craze, and not just because it's an easy way to get all of our veggies and fruits in one sitting. Many smoothies are packed with ingredients that can give your skin a boost, too. "Your skin is a mirror of your internal state, so if you're healthy and clean on the inside, your skin cells will be more visibly nourished on the outside," says Dr. Frank Lipman, Integrative & Functional Medicine Physician and founder of Eleven Eleven Wellness Center. Check out three green smoothie recipes, provided by Dr. Lipman and two other of our favorite nutrition experts, that can help get you on track to a brighter, more perfect complexion.
Kale, Mint and Coconut Smoothie
Dr. Lipman likes this smoothie because mint and kale are anti-inflammatory ingredients (inflammation can aggravate skin issues and lead to acne). Kale also increases skin's elasticity and hydration. Coconut is "rich in antioxidants, which are nutrients that help remove free radicals caused by outside stressors that may damage your skin, such as sun and pollution," says Dr. Lipman
Recipe:
1 serving protein powder – preferably non dairy (try Dr. Lipman's Be Well Sustain)
1 cup shredded lacinato kale
1/4 cup fresh mint
Juice of one lime
1 small box coconut water (11 oz)
1 tablespoon chia seeds
4  ice cubes
Directions: Place ingredients into a blender and blend until smooth and creamy.
Rain Forest Açai Smoothie
Kimberly Snyder, celebrity nutritionist and author of The Beauty Detox Foods, swears by this smoothie's star ingredient. "Açai is loaded with beneficial nutrients and antioxidants, including omega-3 fatty acids, amino acids, minerals, key vitamins and fiber," Snyder told us. " The omega-3 fatty acids found in açai maintain the structure and fluidity of cell membranes, facilitating the inflow of nutrients and the outflow of waste products, promoting youthful, smooth and radiant skin by keeping skin cells hydrated and strong."
Recipe:
2 cups unsweetened almond milk
1 packet frozen açai
½ tablespoon raw cacao (optional)
Stevia to taste
½ avocado (optional to make thicker and more filling)
Directions: Using a good blender, blend the açai and almond milk at low speed until you've broken down the açai, then move to a higher speed. Once it is smooth, add the Stevia. Add the avocado to make a more filling snack or dessert. Enjoy!
All Greens Juice
Joanna Vargas, celebrity facialist (she works with Michelle Williams and Naomi Watts) and founder of Joanna Vargas Salon and Skincare Collection loves the recipe below because it "instantly hydrates the skin while encouraging lymphatic drainage, so you are de-puffed and glowing!"
Recipe:
4 celery stalks
1 bunch parsley
2 handfuls spinach
2 carrots
1 apple
1 beet
1/2 handful kale
Lemon and ginger to taste
Directions: Mix in a blender until smooth.
Read more: 5 Foods That Give You Better Skin