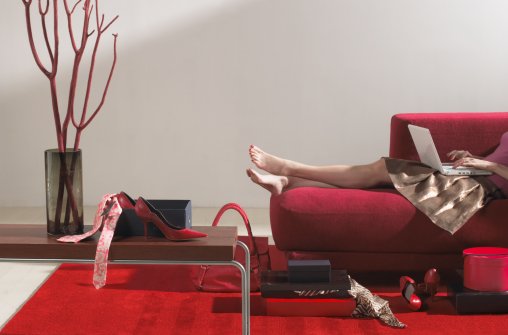 With a long list of presents to buy and holiday parties to look fabulous for, saving just a little bit of time here and there can really make a difference. Here are three new services we've found to help you streamline your shopping and beauty to-dos.
Visit The Makeup Counter From Your Couch
Buying foundation online (where you can't try on shades) has always been a little dicey, until now. Prescriptives has a new Live Video Chat/photo upload technology where customers work one-on-one with Prescriptives Beauty Genuises to customize a Custom Blend Foundation and Custom Blend Powder. Aside from color match, you can also request how much coverage you want, type of finish, and skin care needs such as oil control, moisturizing, brightening and firming. You may never need to trek to the store again.
Squeeze In A Salon Appointment
There are few things more stressful than realizing you need a root touchup or a bang trim at the 11th hour before a big holiday party (where, yes, there will be photos). Luckily, new online service Beauty Booked lets you find appointments at salons and spas based on location, availability and reviews from the Beauty Booked team, all without the phone tag (think of it as the Kayak of beauty search engines). The service is only available in Manhattan now, but plans to launch nationwide in the upcoming months.
Get Shopping Deals Sent To Your Phone
RetailMeNot is one of the best online destinations for coupons along every retailing realm. But their new mobile app sets them above the rest. Their latest technology actually allows the app to locate your location, providing coupons for stores nearby, such as some of our favorites — Sephora, Origins and Clinique — eliminating the hassle of sifting through coupons online or (shudder) on paper.
What are some of your tricks to save time during this hectic month?