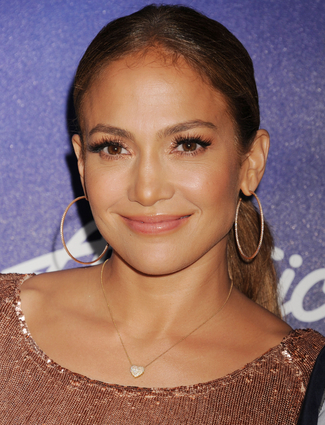 Photo: Getty Images
This spring is all about bright lips, shimmery smoky eyes and flawless, natural-looking skin–three makeup looks that aren't easy to pull off. So when I met up with celebrity makeup artist Mally Roncal (a favorite of Jennifer Lopez, Beyoncé, and Ashlee Simpson) to celebrate her makeup brand's 7th year anniversary (a true QVC hit), I squeezed her for some of this season's most essential makeup how-to tips.
Why You Should Try Tangerine Tango
1. Learn to love bright lips.
It seems that almost every celebrity who walks down the red carpet these days is sporting a bright lip. The look is fresh, flirty and a welcome change after years of slicking on sheer lip gloss. But, bright lips can definitely be daunting. "It may seem really scary, but you have to train your eye to get used to it. Force yourself to wear it one day, then see how many compliments you get. Watch how great, bright, beautiful and amazing everyone says you look, then you'll get used to it, fast!" says Roncal.
As for choosing the right color, a true coral lipstick is the most wearable. "It's a balance of pink and orange so you get a little of both, and it works on both warm and cool skin tones," says Roncal. A new hue that fits the bill: Clinique Long Last Lipstick in Runway Coral ($15, Clinique.com).
Another wearable color: fuchsia. "It's flattering on all skin tones, but maybe wear it as a sheer stain so it's not over the top," advises Roncal. Mally Beauty Life, Love, and a Really Great Lipgloss Singles in Life is Fuchsia ($15, mallybeauty.com) is a great choice. "Also, a neutral brick red is always wearable." Avoid those bright orange colors. "They can make your teeth look yellow, like you just smoked a pack of cigarettes or drank a cup of coffee," warns Mally.
2. Go ahead and be messy with eyeliner.
"Eyeliner that's perfectly straight and sharp not only looks old fashioned, but it's also very hard on the eyes," says Roncal. "Eyeliner is almost always better if it has softness to it."
So if you're scared of botching an eyeliner application, don't worry. Mess it up as much as you want, then use a cotton swap to blend a matching eye shadow over it and smoke it out. Dolce & Gabbana Crayon Intense Eyeliner ($29, saksfifthavenue.com) is a soft pencil that also includes a blending applicator tip for an easy blend and Mally Beauty Metallic Magic Eyeliner Singles ($15, mallybeauty.com) catch the light for a long lasting wear. "This way you'll have all of the best elements of having a great eyeliner look and it was easy to do," says Roncal.
Bold Lipstick Is Hot New Accessory
3. Match your foundation to your collarbone, not your jawline.
Very few women can boast that they have naturally flawless and radiant skin. And to fake it, you need to find a foundation or tinted moisturizer formula that not only feels great, but is also the right color.
"Women always think that they should match their foundation to their jawline, but that's not true. Since you wash your face twice a day, and most likely exfoliate it regularly, your face will always be lighter than your body. To make your face match the rest of your body, you should really match your foundation to your collarbone," advises Roncal.
New foundations we love are CoverGirl & Olay Tone Rehab 2-in-1 Foundation ($11, drugstore.com) and Physicians Formula Youthful Wear Cosmeceutical Youth-Boosting Foundation + Brush. Both are light formulas for spring.
Mally also advises laying off the translucent powder. "We don't need to wear the same technology that our grandmothers wore. Powder makes you look dusty, dry and and white," complains Mally. Her solution: Mally Beauty Evercolor Poreless Face Defender ($40, mallybeauty.com) is the first clear gel-based powder that makes your skin look poreless and naturally matte. Out of the hundreds of products she's created, it's one of her true favorites, and I have to agree that it's one of the most unique and effective formulas I've ever tried!