Glowing, radiant skin is constantly on our minds. We want it, we strive for it, and almost every health and skin care decision we make is the hopes that we will achieve it. Finally we've gathered everything we've ever learned about getting a clear, gleaming complexion in one place. Here are all the tips and tricks one could ever need when it comes to getting glowing skin.
Skin Care
1. Moisturize, moisturize, moisturize. Make sure to apply a face moisturizer every morning and night.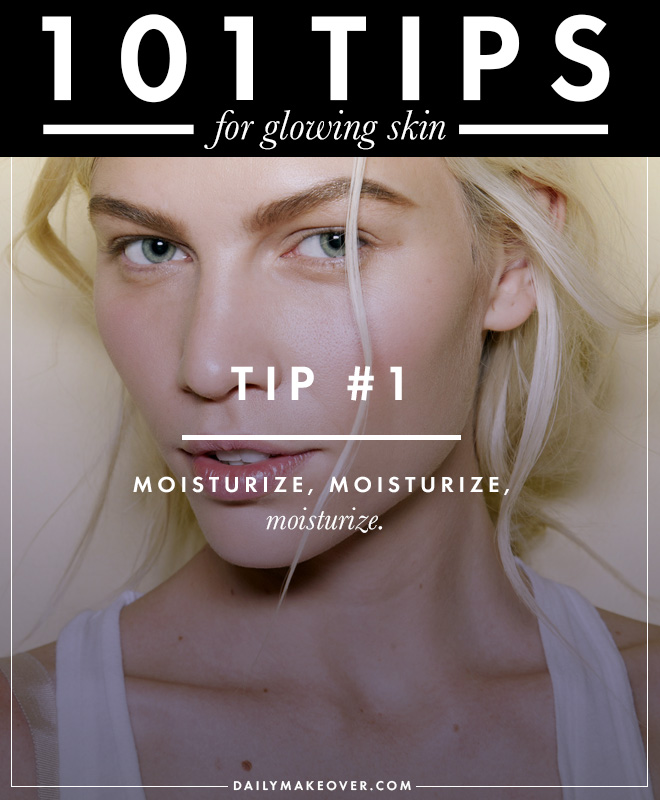 2. Keep a humidifier in the bedroom to keep skin soft and supple.
3. Use a collagen-boosting serum morning and night after you've washed your face and before you apply moisturizer.
4. Exfoliate at night three times a week to slough off dead skin cells and reveal brighter skin. For acne-prone skin, try using baking soda as an exfoliator.
5. Try an at-home glycolic acid peel once a week.
6. Switch out your regular moisturizer for a face oil, like this one.
7. Apply a rich, creamy body moisturizer right after taking a shower.
8. Give yourself a facial massage a couple times a week. It will help increase circulation so skin looks its best.
9. Incorporate a serum or face wash that uses vitamin C, which is great for giving skin a healthy look.
10. Splash cold water on your face first thing in the morning. This also helps with circulation.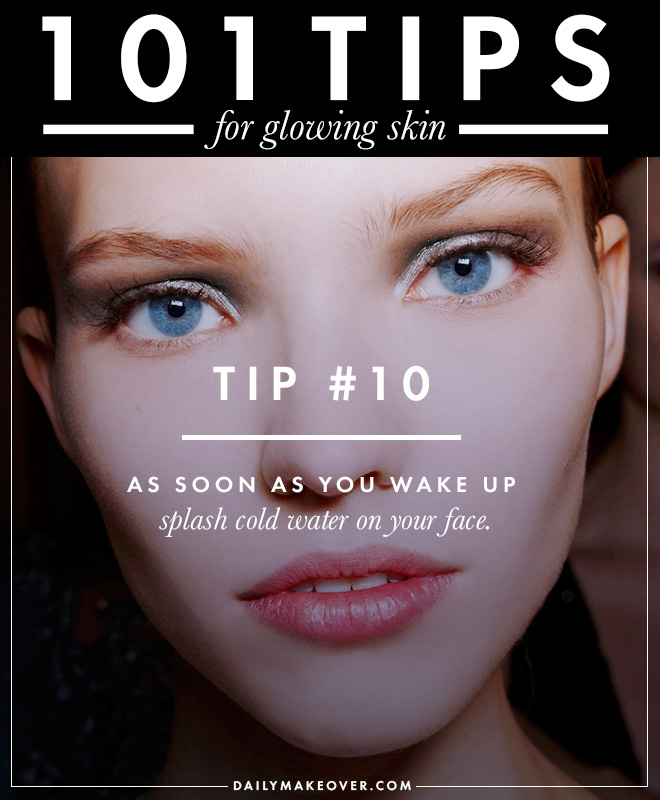 11. Use SPF every day to prevent future dulling of the skin.
12. Use an over-the-counter retinol at night. It promotes cell turnover, which helps the pretty healthy cells to come forward.
13. Wash your hands before washing your face. This keeps skin-dulling bacteria from getting onto your face.
14. Dry your face with a microfiber towel. A regular one can be too rough on the delicate skin on your face.
15. Use a muslin cloth in gentle circular motions to remove dead skin cells, which can build up and cause dullness.
16. For oily skin, switching to an oil cleanser can make all the difference. It keeps the skin's oil production perfectly regulated, so you'll actually have a glow you can work with instead of a greasy face by 4 PM.
DIY Tips
17. Mix mashed papaya pulp, two tablespoons of milk and one tablespoon of honey for an at-home mask that will restore glowing skin.
18. Mix 10 blueberries with one tablespoon plain yogurt. Apply the homemade brightening mask for 15 minutes and then rinse off.
19. For instant brightening, mix one egg white with one tablespoon of honey. Apply for 10 minutes before rinsing off.
20. Blend one medium sweet potato, 2 teaspoons olive oil, half a banana, and one teaspoon sugar. Apply the mask for 15 minutes then rinse.
21. Mix four tablespoons aloe vera gel, two tablespoons coconut oil, one teaspoon liquid vitamin E, and two tablespoons almond oil for a homemade moisturizer.
22. For a DIY exfoliator, mix one teaspoon sugar, half a teaspoon honey and a squeeze of lemon juice.
23. For a body spray that will make your legs glow, mix one cup water, three tablespoons almond oil, and one capsule vitamin E into a spray bottle.
24. Blend cut-up strawberries with water, and then pour the mixture into ice cube trays. Once frozen, rub the fruity ice cube over your face for instant pore shrinking and exfoliation.
25. Combine two tablespoons grapefruit juice, one teaspoon carrot juice and two tablespoons plain yogurt. Apply to your face for 15 minutes, and then rinse off.
Diet Tips
26. Try to include one green juice into your diet each day. Look for juices that contain leafy greens and dark berries for optimal brightening effects.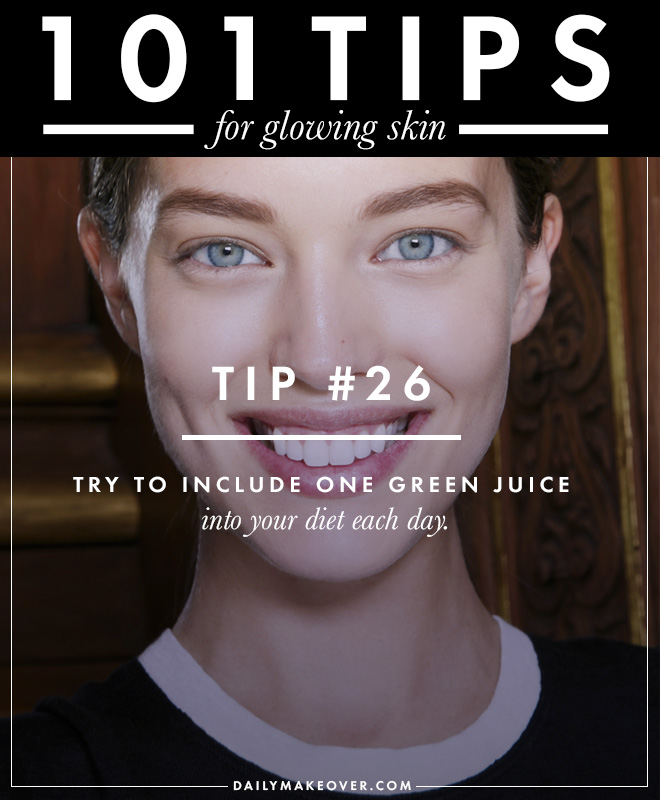 27. Healthy fats, like avocados, keep dullness at bay. Use them as a salad topper or eat them with your morning eggs.
28. Eat salmon. It's a great source of omega-3 fatty acid, which gives skin a boost of hydration and increases radiance.
29. Cook food with olive oil. It's chock full of antioxidant-rich vitamins that moisturizes the skin from within.
30. It seems like a give, but drink lots of water! When you're dehydrated (even just a little), skin becomes dull and loses its plumpness.
31. Take a daily fish oil supplement, and watch skin develop a natural glow.
32. Another great supplement to add to your day is grape seed extract. The antioxidants keep skin looking youthful.
33. Cut back on the carbs. When you have too many, your insulin levels rise, which can keep skin from looking its best.
34. Drink warm water with lemon first thing each morning. The lemon will help draw toxins from your body and restore a nice glow to the skin.
35. Snack on watermelon. This is an easy way to get more water into your diet, since the fruit is packed with it.
36. Incorporate a probiotic supplement into your diet to balance the pH of your digestive system, which has a huge impact on the clarity of your skin.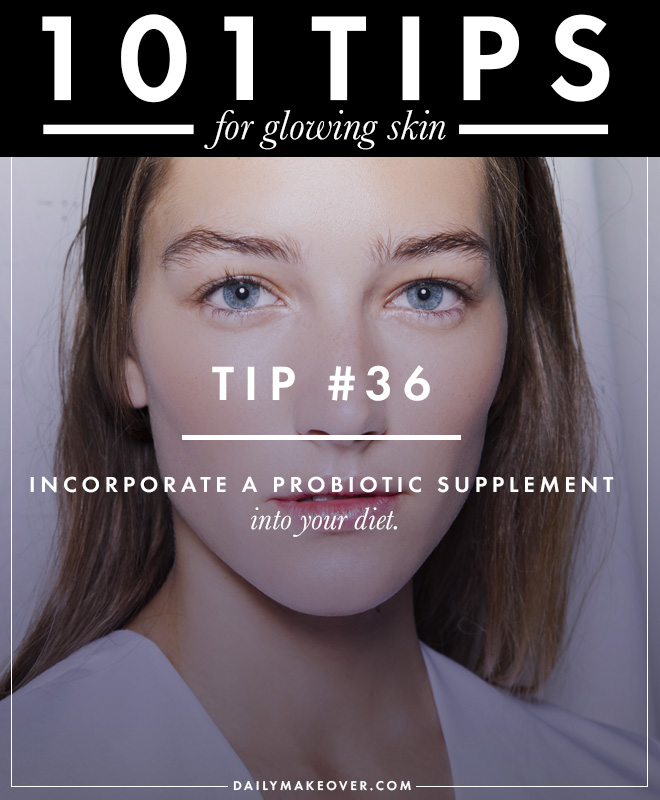 37. Eat strawberries when they're in season. They are packed with vitamin C.
38. To get a shot of vitamin E, snack on almonds when you're hungry.
39. The vitamin A in apricots helps to reduce wrinkles and make skin look amazing.
Product Suggestions
40. "Make the switch to natural products," says celebrity aesthetician Joanna Vargas. "Natural products have amazing results-oriented ingredients that penetrate more readily into the skin and show a real result fast."
41. Prep skin before applying makeup with a rich cream, like RéVive Moisturizing Renewal Cream ($195, reviveskincare.com).
42. For a super quick glowing treatment, try REN Flash Rinse 1 Minute Facial ($48, sephora.com). It uses vitamin C to give skin an amazing healthy look.
43. For a midday glow, mist your face with Caudalie Beauty Elixir ($49, caudalie.com). It's a favorite among beauty editors.
44. If you want to wake up to glowing skin (and who doesn't?), try an overnight mask, like Korres' Wild Rose + Vitamin C Advanced Brightening Sleeping Facial ($48, sephora.com).
45. Choose a cleanser with brightening properties, like Aveeno Positively Radiant Skin Brightening Daily Scrub ($6.99, aveeno.com).
46. Glowing skin just isn't the same when you have dark spots. Try Kiehl's Clearly Corrective Dark Spot Solution ($49.50, kiehls.com).
47. For glowing cheeks, try this great blush.
48. Another way to get a rosy glow is to apply Dior Beauty's Skinflash Radiance Booster Pen in 001 Rosy Glow ($37, sephora.com) to the apples of cheeks.
49. Once or twice a week, massage Kate Somerville ExfoliKate Intensive Exfoliating Treatment ($85, katesomerville.com) into your skin. It uses both physical and chemical exfoliating properties for smooth, clear, radiant skin.
50. For a quick pick-me-up that will brighten and exfoliate in just two minutes time, try M-61 Fast Blast ($50, bluemercury.com). It smells great and will leave your skin looking crazy bright.
51. An illuminating primer like Laura Mercier Foundation Primer – Radiance ($33, lauramercier.com) used alone or beneath makeup will give skin a pearly, soft-focus finish sans shimmer.
52. The Joanna Vargas Daily Serum ($85, birchbox.com) is like a green juice for your face, delivering vitamin A, C and E to the skin.
53. For a great glow on your chest and shoulders, try Nutrix Royal Body Cream ($40, lancome-usa.com). Makeup artist Nick Barose massaged the product into Lupita Nyong'o's skin to give it a subtle glow at a red carpet event.
Makeup Tips
54. Dot highlighter along your cheekbones and blend for a great glow.
55. Makeup artist Troy Jensen suggests applying highlighter before foundation. "I like the glow to look more natural, from within," he says.
56. Mix a drop of luminizing highlighter into your liquid foundation before applying.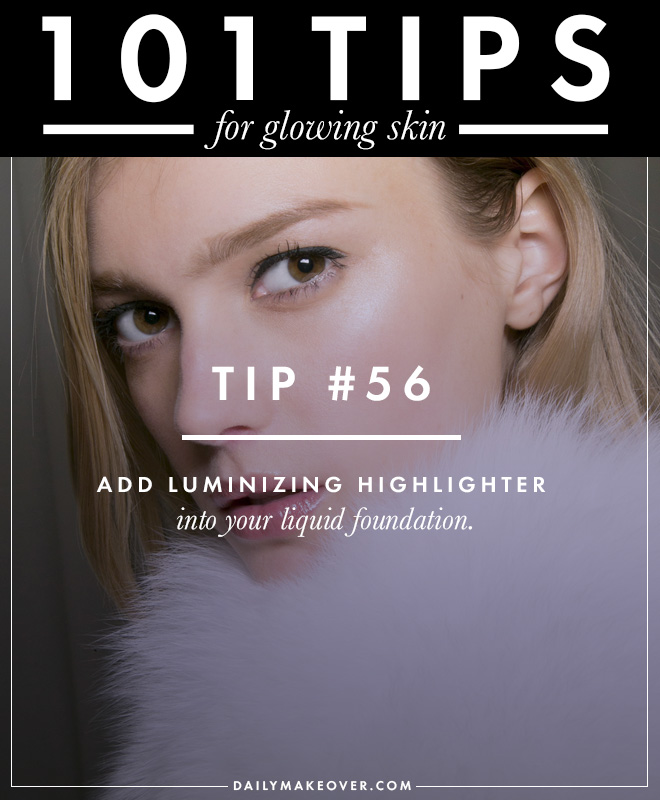 57. For a sun-kissed glow, makeup artist Carmindy suggests sweeping bronzer onto temples and under your cheekbones in a "C" formation.
58. Use your fingers to blend Topshop Glow Stick in Play Up ($20, topshop.com) along the high points of the face, hitting the tops of your cheekbones, your temples, the bridge of your nose, and the center of your chin for radiance in all the right places. The champagne-colored cream gives the perfect subtle highlight that doesn't translate as greasy, even on oily skin. If too much shine is a concern, dust on a translucent powder before applying highlighter to nix oiliness without compromising your glow.
59. It may sound strange, but to really make your glow look natural, you need to put a little color on your eyelids. You can use the same bronzer and apply it wet or dry.
60. If you must use powder, use it only in the t-zone, so you can keep up the glow elsewhere.
61. Finish off every look with a makeup setting spray to keep your skin radiant, not greasy.
62. Don't apply too much foundation. Just place four dots on your face (one on each cheek, your forehead and chin), and then blend.
63. Apply a metallic shadow onto your lids. It will help make everything look more glowy.
65. You can also make your own tinted moisturizer by mixing some of your foundation with moisturizer before applying it. It sheers our the color and make the formula much more hydrating.
66. Apply a clear
gloss
to the bridge of your nose and to the cheekbones.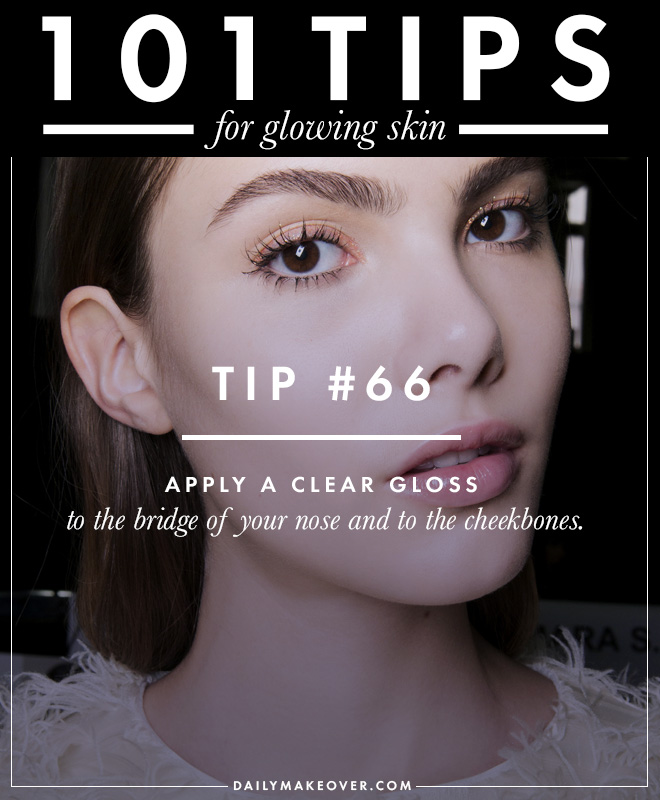 67. Use a mattifying primer on your nose and chin to make sure your glow doesn't turn into unwanted shine.
Treatments
68. When celebs really want a red-carpet-worthy glow, they turn to Joanna Vargas' Triple Crown Facial ($250-$400). The facial begins with a diamond peel for gentle exfoliation, uses microcurrent technology to promote collagen, and ends with a vitamin-spiked pure oxygen treatment to boost radiance and supplement the skin with nutrients.
69. Another A-list treatment is the liquid gold facial. The fancy ingredient heals skin and leaves it looking amazing.
70. For a slightly less expensive treatment, try an oxygenating facial. It is light, painless and leaves skin with a healthy glow.
71. Microdermabrasion is a deep exfoliating treatment that gets rid of all the dead layers of skin that leave skin dull. Your face will be red for a couple of hours following the treatments, but the end results are nothing short of spectacular.
72. If you want a full-body glow, hop into an LED light bed. It looks and feels like a tanning bed, but the results are much, much prettier (not to mention less cancerous).
73. Get a faux glow, courtesy of a spray tan. You'll look like you just came back from an amazing beach vacation.
74. The Hydra Facial can be performed in a dermatologist's office or at home. It's like a chemical peel without the pain.
75. A mud bath can be both relaxing and a great way to get beautiful skin.
76. A regular facial can also benefit the skin by getting the blood circulation going.
77. A glycolic peel can remove layers of dead skin to reveal brighter skin.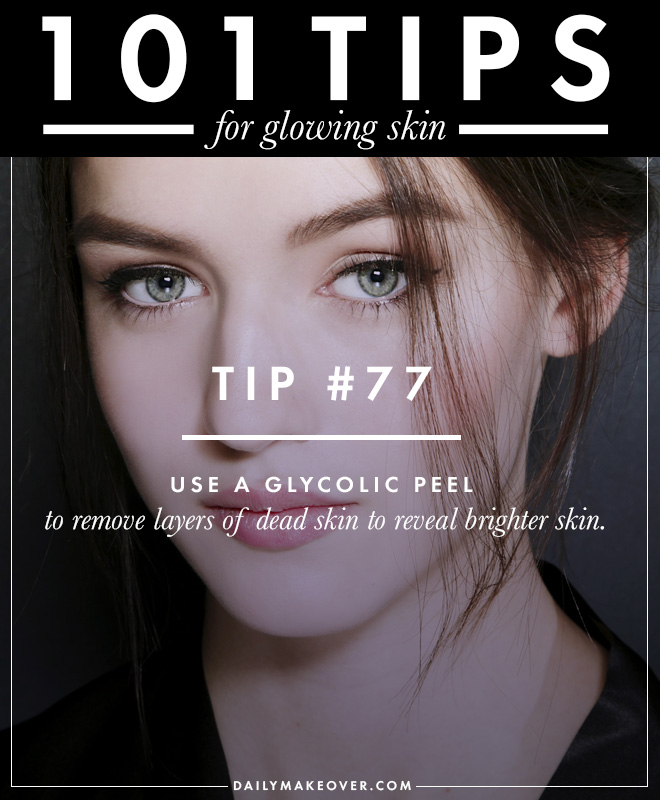 78. The Guerlain Spa offers an Abeille Royale Repairing Honey Gel Mask, which both heals the skin and makes it appear brighter.
Celebrity Beauty Secrets
79. Gwyneth Paltrow uses Dr. Perricone's No Foundation Foundation ($55, perriconemd.com) for skin that shines through makeup.
80. She may be a spokesperson for the company, but Kate Bosworth swears by the SK-II Facial Treatment Mask ($135, sephora.com), which she says instantly makes skin look like it's had lots of water and sleep, even when it hasn't.
81. Halle Berry glows from head to toe by using ground coffee as a body scrub.
82. Kate Middleton's bee venom face treatment has become the worst kept beauty secret.
83. Uma Thurman swears by milk baths for her gorgeous glow. To make your own milk bath a home, simply draw a bath, add four cups of milk, one cup of Epsom salt and a few drops of your favorite essential oil. After soaking in the tub, wash off with clean water.
84. Taryn Manning revealed she rubs lemon slices onto her face and then covers it with coconut oil before going to bed. The lemon works as a natural exfoliant and the coconut oil moisturizes.
85. Kate Hudson's trick for glowing skin sounds slightly more painful: "A makeup artist who has worked with dozens of people said 'I used to work with this actor and every day he would stick his face in an ice bath. A little water and a lot of ice. And he would just stick his face in and try to be in there as long as he could, sort of dab off, and go back in.' I started doing it."
86. Amanda Seyfried uses coconut oil on her legs to keep them moisturized.
87. To scrub off dull skin, Emma Stone uses baking soda.
88. Scarlett Johansson makes a homemade toner out of lemon juice and water to help erase acne scars.
89. Immediately after showering, Emma Roberts slathers almond oil onto her body to trap moisture.
90. Lupita Nyong'o turns to avocado oil to keep her skin looking its best.
91. Cate Blanchett swears by a DIY scrub that consists of olive oil, grapefruit juice and sea salt.
92. Rooney Mara uses SK-II LXP Ultimate Revival Cream ($350, shop.sk-ii.com) to keep her skin looking good.
93. Sienna Miller applies frozen face masks to her skin for instant de-puffing.
94. Charlize Theron splashes cold water on her face for an instant glow.
95. The secret for glowing skin may live on another planet. Jennifer Aniston swears by this pricey cream, which contains crystals found on Mars.
96. Karlie Kloss uses Estée Lauder Hydrationist Maximum Moisture Lotion ($44, nordstrom.com) to keep her skin hydrated.
97. Lauren Conrad sheers out her concealer with eye cream so the effect is dewier.
98. For glossy, glowing eyelids, Beyoncé applies Aquaphor Healing Ointment ($14.29, target.com).
99. Minka Kelly depends on sleep for great skin. The actress takes 30-minute power naps each day.
100. Marilyn Monroe is said to have covered her face in Vaseline to lock in moisture.
101. Miranda Kerr dabs lip balm around her eyes for a burst of radiance.

Read more: Add This to Your Diet for Glowing Skin