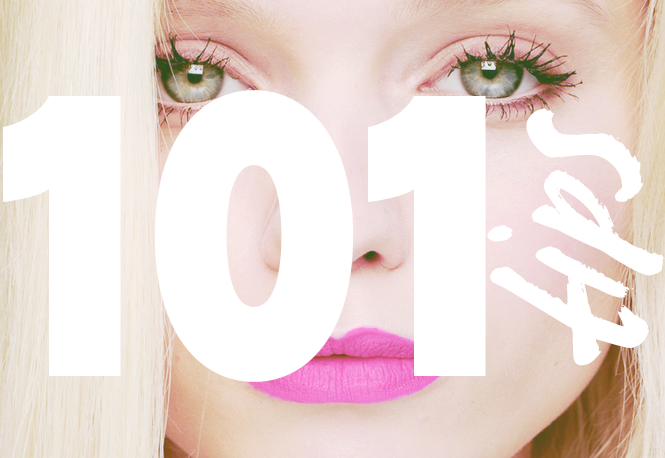 Let's face it: sometimes you wake up and your hair is perfect – it has never been better. But, there are some times when your hair is just not everything it could be, which can mean long styling sessions or total surrender without hope of recovery. We've all been there, but there is a better way.
We've rounded up a huge list of tips to help you manage your mane, which should lead to a string of better hair days. It doesn't matter what kind of hair you have, here are some tips to get the hair you want.
101. When in doubt, braided hairstyles can be your friend on days where you might not want to fool with it. A quick waterfall or French braid across the front of your hair can take your bangs out of your eyes and into a chic style.
100. Trying to get your hair to grow? Herbal Essences celebrity stylist Charles Baker Strahan recommends Biotin to stimulate thicker, stronger hair and nails.
99. Another suggestion for getting your hair to grow? Manage your diet. Senior Stylist at Ted Gibson Salon Devin Toth recommend A and B vitamins (B6, B9, B12, and B complex/Folic Acid) to make sure your cells are working properly for a shiny, healthy mane.
98. If hair loss is your problem, Toth recommends increasing your intake of vitamins C, E and zinc to help your body naturally repair itself, which can stop the hair loss.
97. If your diet isn't great, it can really affect the health and appearance of your hair since excess salt, sugar, caffeine and carbonated beverages sap magnesium from your diet. Toth suggests a handful of nuts before bed, since magnesium is a natural muscle relaxant and it might help you get some sleep. Which rocks because hair grows fastest at night.
96. Want your hair to be naturally shiny? Fish oil brings the glow from within, giving you strong strands that are naturally glossy and healthy.
95. The health and strength of your hair also depends on the types of tools you use. A natural boar bristle brush helps spread sebum down the hair shaft, which results in a softer, smoother finish.
94. High levels of chlorine may be to blame for rough texture , dryness and frizz/lack of manageability. Add a shower head with a filter to remove chlorine for a softer, more manageable style.
93. The health of your scalp is incredibly important, since a clogged scalp from product buildup can slow the growth and distribution of nourishment to the rest of your strands. Try a scalp treatment or shampoo and conditioner that focuses on clarifying the scalp for softer, healthier hair.
92. If your hair is oily, a homemade treatment can help remove excess sebum for a more manageable texture. Combine 2 tablespoons of fresh lemon juice, 1/2 of a crushed avocado, 2 tablespoons of apple cider vinegar and and 1 tablespoon of mayonnaise, then apply to hair and leave on for 20 minutes. Massage through your scalp for five minutes, then rinse with warm water and shampoo with a deep cleansing shampoo for healthy, oil-free strands.
91. Also, a simple vinegar rinse can be made with one tbsp of vinegar mixed with 2-3 cups of warm water. Pour the mixture over the scalp, then add shampoo and massage in to remove product buildup. Rinse a few times, then condition for shiny, amazing hair.
90. Women with curly hair should look for a cleansing conditioner to remove dirt and cleanse curls while nourishing your hair.
MORE: How Often Should You Wash Your Hair? 
89. Speaking of curls, those with curly/natural hair should steer clear of products that contain silicones and/or sulfates, since they can dry out your hair and disrupt the curl pattern (hello, frizz.) Cleansers with natural oils, plant extracts and butters are all effective at maintaining the health of your hair.
88. Hydration is the key to avoiding frizz in the first place, so girls with curly hair should apply a protein-based treatment at least 2-3 times a month to maintain the moisture balance of your curls.
87. Leave-in conditioners are essential to maintaining the structure of curls and natural strands, particularly in warmer weather. Look for a cream-based formula for thicker/coarse hair types, or a leave-in spray for finer textures.
86. Also, hair masques packed with natural oils can help coat the strands of normal to dry hair to help prevent the dreaded frizz from striking when the humidity rises. Once a week is essential, especially if you heat style your hair.
85. If you want sleek, smooth strands, you can also get a keratin treatment to make your strands sleek and strong. No need for the salon price tag, either: there are home kits that can get similar results for a fraction of the cost.
84. UV filters are essential for protecting your hair from sun damage. Look for products that contain these shields to neutralize free radicals and the sun's harmful rays from damaging the color and texture of your hair.
83. Usually, when hair starts to frizz, we try to combat the texture by adding more heat, which makes matter worse in the long run. Try a frizz-free serum with added heat protection to stop the madness before it starts while protecting your fragile mane.
82. A thickening spray added to your regular blowout routine can help prolong the style and combat the onset of frizz. Just add it to the roots, then blow your hair out using a round brush for a blowout with staying power.
81. Girls with curls should follow this general rule for styling by the owners of Miss Jessie's Curly Hair Salon: the thicker the curl, the thicker the consistency of the styling product.
80. Also, long, layered styles work best for curly manes since they allow the weight of the hair to help control the curl. Any bangs should be face framing.
79. If you're looking for a new haircut that will flatter your face, the "lob" (long, layered bob) is all the rage and shows no signs of slowing down. In addition to looking amazing on everyone, it has tons of styling options and works with pretty much all hair textures. It's also low maintenance.
78. Afraid of getting a bad haircut? Be sure to bring two photos with you of the style you want to your styling appointment, and have a talk about texture and maintenance before the scissors come out. You'll be happier in the long run.
77. Ready to take it all off? We're still in favor of the pixie cut, which came back to life when Emma Watson famously let celebrity hairstylist Rodney Cutler shear off her Harry Potter-approved length. Have a talk about texture with your stylist in advance, but take the plunge if you're feeling inspired. We love it!
76. To cut bangs or not to cut bangs? This is the never-ending question with pretty much all of us, but bangs are the easiest way to change your look without drastically altering your style (or your hair color). Blunt bangs are our favorites since they're versatile and uber-chic.
75. By the way, you do not – we repeat, DO NOT – have to book an appointment for a bang trim. You can trim your own bangs…you know, for free.
74. Girls with haircuts (especially those who are growing out cuts and/or bangs) know that you will disagree with your hair some mornings. Keep a cute barrette on hand to sweep hair away from your face in style.
74. If you're rocking a short hairstyle, you need to have an arsenal of styling products so you can work your 'do depending on your mood.  Styling paste and pomades are a must.
73. If you have any hair length, we implore you to have dry shampoo on hand. Not only is it the fastest way to prolong any hairstyle, it's a massive timesaver when you have to do your 'do and dash.
72. If flat hair is your problem, there are great volumizing sprays and mousses out there to help you turn up the volume on your style. We're also partial to the upside-down blowdry technique, followed by some intense spraying for higher hair.
71. Thinner hair can also be made thicker with shampoos, conditioners and styling products to help make the hair strand a bit wider in appearance.
70.  Oh, and big, textured hair was all over the runways this past season, so we're all about the big hair for spring/summer 2013. Thickening hairspray helps with the volume and texture we're craving.
69. We love red-carpet worthy waves. We also love that you can get them at home with a brief, easy tutorial.
68. Adding mousse to the midlengths of your hair is one of the keys to getting those boho glam waves that Kate Hudson is always rocking (and which we envy regularly), according to her hair guru, celebrity hairstylist David Babaii.
67. You can get beachy waves all year, by the way. There are amazing beach sprays that can help you get that perfectly-tousled, wavy texture even if you're landlocked.
66. There are some mornings where bedhead just naturally happens. For all other occasions, apply lightweight mousse to towel-dried hair the night before, then twist hair into a bun. Release in the morning and lightly spray for I-woke-up-like-this texture.
65. There are also great texturizers that can give you bedhead results, no pillow required. Just apply, work through and style.
64. If you're considering hair extensions for added length, go in for a consultation to ensure you get the style that's right for your hair and lifestyle, says Senior Stylist at Ted Gibson Salon and Weave Specialist Sade.
63. Care for hair extensions just like your regular hair, but if your sewn-in extensions seem to take forever to dry, Sade recommends only conditioning your hair at the roots to cut down on drying time.
62. Hair color is an amazing way to change and enhance your looks. You can get amazing results (even platinum blonde and ombre) with home hair color kits you can pick up at your local drugstore.
61. A color-treated shampoo and conditioner is essential to maintaining your hair color. Remember: hair color is an investment. Protect it at all costs.
60. Also, avoid sulfates when caring for your hair color, as they can cause the hair color to break down and rinse right out.
59. When dying your hair at home, remember to try to stick to shades that are 2-3 shades lighter or darker than your own hair color. Anything more drastic can lead to less-than-desired results.
58. Ombre hair means your ends can be super fragile. Be sure to deep condition and repair them (along with the rest of your hair) regularly to maintain their strength, says celebrity hairstylist George Papanikolas.
57. Make sure your hair texture and styling history will support ombre bleaching, especially if you have darker hair, which will result in an orange tint at the ends that will simply break off.
56. You can also try the multicolored hair color trend, no matter what your hair color and/or length may be. Stay away from tones that mimic the undertones of your face, says Bumble & Bumble colorist Zoe Wiepert.
55. Want to try the multicolored hair trend for a night? Temporary hair chalk and spray can help you dabble in a color (or twelve) here and there, then wash it out in the morning and start again.
54. When using hair chalk to alter your hair color, be sure to shake fingers through your hair as some of the chalk will fall away. Also, avoid wearing white tops for obvious reasons.
53. We believe that hair color should help nourish your hair whenever possible, so look for at-home kits and in-salon processes that infuse the hair with much-needed oils to protect structure and maintain its much-needed moisture balance. L'Oreal Professionel INOA is fantastic for in-salon results, while Garnier Olia can help replicate these results at home.
52. Platinum blonde is one of the hardest hair colors to achieve, and one of the harshest processes. Be sure to add moisture regularly with deep conditioning masques that replace lost moisture and support the health of your strands.
51. Also, don't wash your platinum blonde hair for 24-48 hours after processing, to preserve the color and to keep hair from drying out.
50. Trying to preserve your gorgeous hair color in the sun? Nothing works like covering your hair to protect it. Sun hats and scarves are your friends.
49. Root touch-up products can help conceal grown-out hair color in between salon visit. They're also great at getting two-tone hair color results, if you're feeling a little adventurous advises celebrity hair colorist and Clairol Color Director Marie Robinson.
48. Restoring masks are amazing for repairing the damage we do to our hair each week. Get a two-fer and slather yours on at the gym after a workout, then sit in the steamroom for 20 minutes for an instant salon-quality steam treatment.
47. You can also apply your favorite hair mask at the beginning of your favorite 30-minute tv program, then rinse when the credits start to roll. That's the maximum amount of time you should leave it on. Any longer and it actually removes moisture from the hair and starts to break down protein, which is the exact opposite of what you want.
46. Coconut oil is an astounding hair conditioner. Solid versions sold at grocery stores make for a great repair treatment, with heat added or alone.
45. Olive oil is also a time-tested treatment to help soften and condition both hair and skin. You can slather on gently-warmed olive oil (not hot, though,) then throw on a shower cap and leave for up to 30 minutes for a great hot oil treatment.
44. Concerned about animal products in your hair regime? Not to worry: there are plenty of vegan-friendly options to help with your cleansing, conditioning and styling needs.
43. If you chemically straighten your hair, look for products with keratin that will help strengthen your hair and repair any damage.
42. Also, if you're a Brazilian blowout addict, try converting to a formaldehyde-free process to get the results without doing as much harm – or endanger health.
41. There are also plenty of styling tools, from straightening combs to root straighteners, that can help you get straighter locks without making the permanent commitment.
40. Straightening your hair up toward the ceiling can add volume to your straighter 'do, advises the genius stylists at Wonderland Beauty Parlour.
39. Washing your hair too much can literally take the essential oils right out of your hair if it's thick, coarse or naturally curly. Opt to shampoo 1-2 times a week if you have this hair type. Normal to oily strands? Suds away.
38. Ionic hair dryers are some of the best options for protecting your hair from damage by using negative ions to eliminate water molecules instead of cycled heat. They're available at pretty much every price point, so we'd really suggest you get one if you blow your hair dry.
37. Moisture is the key to combatting both frizz and lifeless hair. Be sure to a moisturizing treatment and styling products to your routine if you have dry hair.
36. Hair repairs itself at night while you're sleeping, so why not try an overnight repair serum to help get the most bang for your…well, out of your sleep?
35. The ponytail doesn't have to be boring. There are plenty of rocker-inspired ways to make this style un-boring, like side angles and varied parts.
34. You can also roll the sides of your hair before you pull it back for a romantic take on the ponytail style.
33. An updo is the best way to instantly add poise to any look. There are plenty of red carpet options that work for any day or evening occasion.
32. Oh, and yes, lovely girls with curls, the updo is also for you. Try it for a new alternative style if you haven't already!
31. Styling cream is a must for updos with staying power. You might also consider a good flexible hold hairspray to secure the style.
30. The topknot is also not going anywhere anytime soon. Does your hair need a little help in the volume department. Snip the end off an old, clean sock and roll it for an instant donut you can place over the base of your ponytail, then roll and pin your hair over it for instant style.
29. Sleek styles get a boost from glossing creams and pomades that give hair smoothness and incredible shine, which is key to the style.
28. A deep side part adds interest to any ponytail or off-the-face style. Try one to amp up the attitude on your next basic style.
27. If you're in a pinch and you need to control your mane, borrow pomade from your boyfriend. Their formulas have great staying power and serious hold.
26. A good shine serum can help add gloss and a healthy appearance to any style. They can also prevent frizz by closing in any gaps in the hair cuticle. In short, they're amazing and we love them.
25. Did you dash out of the house without your headband and now your hair is all sorts of crazy? Create your own by braiding a crown across the front of middle of your head, then secure behind your ear with a bobby pin or inside a ponytail or updo with an elastic. Done!
24. Even though Gossip Girl is gone, the power of the headband (long live Blair Waldorf) remains strong and a quick solution to get your hair out of your face at a moment's notice while adding polish to any look.
23. Your jewelry can help add a lot of lift to your hairstyle. The rise of the ear cuff is picking up speed, and it adds incredible allure to any updo.
22. We love a good headpiece for music festival-inspired style, whether your rocking out on the grass or not.
21. We also can't fight the allure and siren song of a great floral crown, particularly when there's a band to be heard.
20. When in doubt, a good fedora not only blocks the sun, but it helps tame your mane.
19. Dryer sheets can help prevent static electricity and flyaways.
18. Reactivating mist can help revive fallen curls if they're looking a bit droopy.
17. Volumizing dry shampoo can lift the roots of any fallen style and can help transform your hair from day to night in a flash.
16. If you heat style your hair, you MUST protect your hair from the damage of heat styling tools. A heat protectant spray is amazing for this purpose. Those with dry hair should also avoid any styling products containing alcohol, which can dry out hair and make it more fragile and prone to damage.
15. Remove as much moisture as you can from your hair to cut down on drying time. Also, wring and squeeze water from your hair with a towel, don't "rough it up" by rubbing vigorously, which can fray the cuticle of already-damaged hair, causing frizz and split ends.
14. Also, we clearly love a ball cap with attitude for off-duty hair styling days.
13. If you want volume and curl without the heat of a hair dryer (and who does in the summer?), we'd recommend going super old school with a roller set. Self-adhesive rollers can grab hair on their own and keep it lifted while it dries into the perfect shape.
12. When using a curling iron, be sure to keep the setting on medium and only hold the hair for a few seconds, or you could run the risk of, you know, burning it off.
11. We love the Gatsby-inspired jeweled headbands that are back in style. Add one for a little Daisy-inspired glamour for your look.
10. Can you make your own hair accessories? Absolutely! Old earrings can be added to pins, bracelets can become hair ties. You have plenty of options if you're feeling crafty.
9. Many hair ties are cool enough to double as jewelry for a versatile fashion look that can inspire a new style in an instant.
8. If you have a special occasion (like a wedding) and you need to add style to your hair, fresh flowers are not only a cheap way to add instant glamour, they can be a lifesaver since they're most likely on hand.
7. If you're in a pinch and you need to tame your hair, body lotion rubbed onto your hands can help tame flyaways and create a sleek updo or ponytail.
6. If you're creating an updo or working with bobby pins and/or hair elastics, pick pins and elastics that are as close to your own hair color as possible so they disappear into the style.
5. For versatility and ease, you can't be a good scarf for hair styling possibilities. Tie one up at the crown of your head or below the nape of your neck for a little retro-inspired glamour.
4. We also live for the timeless glamour of a great turban, which can help protect your hair from the sun while it provides an instant style upgrade to any look.
3. Sometimes, the best thing you can do is give yourself a makeover. A new cut, new color or a slice of new bangs may be just what you need. Just be sure you're in a good mood when you do it. Most "breakovers" are regretted almost instantly.
2. Have trouble remembering to book your hair appointments? Book up to three months up to a year in advance while you're at the salon to make sure that you're both committed to the relationship.
1. Honestly, the best thing you can ever do is embrace your natural texture and learn to love what you're working with!