Everywhere you turn there are new tips coming out about how to look your best in the summer weather. We have compiled a list of 101 summer beauty tips that we found most helpful for the hottest season of the year. Everything from beachy hair to after-sun care, this list gives you everything you would want to know about summer beauty – read on below and let us know what tips you have to add in the comments section!
101. "You can reduce the number of steps you need in your skin care routine by using a primer with SPF," says MAC makeup artist Gina Bettelli.
100. Add a touch of motif quirk with ocean-inspired hair accessories.
99.  To battle summer frizz, "Spray the frizzy bits with the thickening spray and take your round brush and blow those puppies out." – Wesley O'Meara, of The Wall Group.
98. Colorist for stars such as Reese Witherspoon and Drew Barrymore, Lorri Goddard-Clark  says, "If you don't want to wear a scarf or a hat when you leave the house, spritz a leave-in conditioner with SPF over strands to guard against shade-altering UV rays."
97. "Limit your time from standing directly under the sun. Be in shade when possible during the sun's strongest hours from 11-2pm," says makeup artist and founder of  Green Beauty Team, Kristen Arnett.
96. Protect your hair! Deep condition it about once a week. "The longer your hair, the more you need to treat it with special care or it can get straw-like," says celebrity hairstylist Ken Paves.
95. For girls with straight hair to get messy waves, start by adding a texturizing spray/beach spray then twist the hair on both sides until mostly dry. Touch up by using a 1″ curling iron.
94. To get smudge-proof lipstick, "Before applying lipstick, I dab foundation on the lips to create a canvas for the lip color," explains makeup artist Collier Strong. "Then, picking the right lip shade is as easy as looking at your wardrobe."
93. If you have oily skin, try combining a setting powder and an oil-control setting spray to keep unwanted oil at bay.
92. "To give skin a healthy glow while protecting it from the sun, I like to use a self tanner with built in sunscreen," said makeup artist and owner of the Juliana Landis Brow and Lash Studio in Los Angeles, Juliana Landis .
91. Loose curls pinned back is one of our favorite summer looks and easiest to achieve. If you have naturally wavy or curly hair, a curl-defining product will help enhance your curls without too much heat styling.
90. " The most flattering and fresh way to wear bold shades is on the lips with a glossy formula—if it feels like too much, it can always be blotted down," says Olivia Chantecaille, Creative Director of Chantecaille Beauté.
89. If you want to make a powder eyeshadow last in warm weather, an eyeshadow primer or base is essential, especially if you're already prone to oily lids.
88. "Always keep your summer makeup minimal. Minimal and sheer makeup is the way to go when it's hot and muggy outside." – Mary Greenwell, celebrity makeup artist.
87. Neon ombre nails are an easy way to incorporate two trends into your summer look.
86. For girls with curly hair, apply a lightweight oil or cream like Couture Color Pequi Oil Treatment to damp hair. Pull hair back into a tight bun and let dry. When your hair is let out it will be a smooth wave, without having to blow dry.
85. If you tend to skip the shaving cream, try a moisturizing razor to keep legs smooth and bump free.
84. Before you get into the pool, use a leave-in treatment to protect your hair from the damaging chlorine.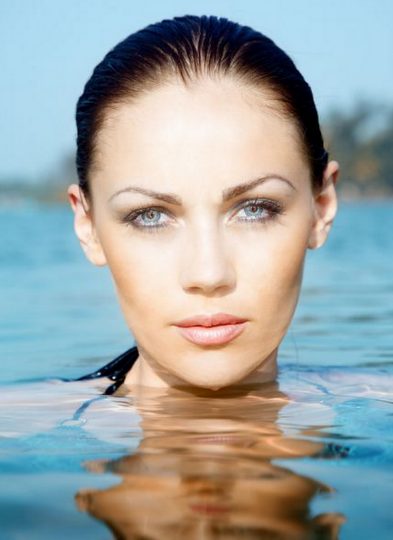 83. Wrapping a braid around your sock bun is the perfect way to update a favorite look.
82. Keep a powder compact in your bag for touch-ups on those long summer days.
81. Wide brim hats help protect not only your face from the harsh rays of the sun, but also your hair.
80. "To appear slimmer in the face, brush bronzer under your cheekbones and along your hair line," advises makeup artist Moani Lee, who adds finishing touches to the bodies of the Victoria's Secret Angels.
79. "With the heat and the humidity I recommend switching to oil-free creams and serums," Olivia Chantecaille suggests.
78.  If you want to maintain a perfect sun-kissed blonde this summer, using non-tinted products and moisturizing/conditioning is extremely important.
77. Painful sunburn? Sooth your skin with aloe vera.
76. Adding keratin and oil to your hair not only protects it from heat, but it also helps de-frizz and add shine to your locks.
75. "If you really want good coverage that will let your skin breathe try a mineral foundation," said makeup artist Kristen Arnett.
74.  "Warm water softens the hair shaft, allowing for a closer cut and longer-lasting smoothness without nicking skin," says Diane Wood, master barber for King of Shaves. So wait at least 3 minutes before whipping out the razor.
73. Remember to apply sunscreen everywhere, even your lips, because they too can get burnt. "Try to prevent them by using a lip balm with SPF in it before you are going to be in the sun," says NYC-based dermatologist Eric Schweiger.
72. Want to get your hair out of your face this summer? "A good gauge to where to place your high ponytail is follow the natural line of your cheekbone toward the top of your head," says stylist Marcus Francis.
71. Bothered by bugs? Try some lavender oil to rid the pain.
70. Put some color into your pout with a bold pink or coral lipstick.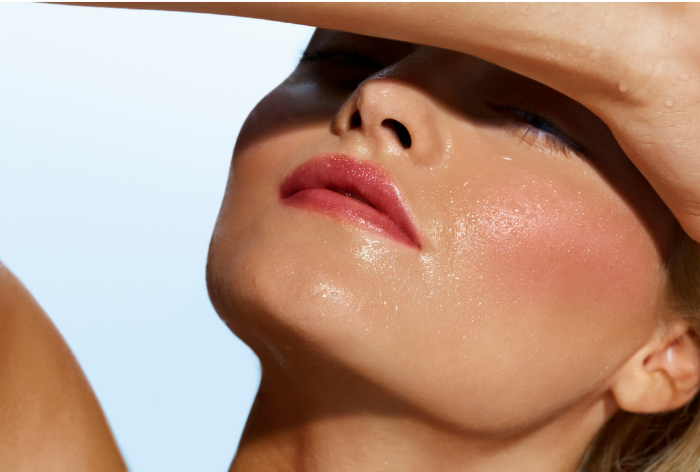 69. When applying medication to blemishes, use the tip of a cotton swab to dab it on the precise spot. "This prevents the medication from stripping your self-tanner," says Nicole Weigand, spa director at the Beverly Hills Hotel Spa by La Prairie.
68. Summer is swimsuit season, which means you want to look your best. Erase any lingering doubt by, "Drinking a lot of water to get rid of toxins, and massage problem areas with moisturizer," says beauty expert and author of Bonding Over Beauty, Erika Katz.
67. Tie a cute, colorful scarf around your head for a quick hair change.
66. Keep your feet in fighting sandal shape by using Epsom salt for a scrub! "It doesn't matter if you're a celebrity, or an average person on a budget. Epsom salt has a multitude of uses," says award-winning celebrity manicurist Marsha Bialo.
65. If you are getting warm this summer, try this tip. Debra Jaliman, MD, author of "Skin Rules: Trade Secrets from a Top New York Dermatologist ," says that misting your face with water is a great way to stay cool!  "And you don't have to spend a fortune on a product; drugstore water misters are fine. Just make sure your sunscreen is water-resistant so it won't wash away when you spritz."
64. During summer, "Its easy to forget that feet can get sunburned. Be sure to apply sunscreen with a minimum SPF of 50 when barefoot"- Dr. Leslie Campbell, DPM.
63. Sunscreens that claim to provide "all-day protection" and "water resistance" can be tricky; don't be fooled by these claims and reapply all sunscreens at least every two to three hours.
62. Run an anti-bacterial wipe along your forehead to prevent pimples from the increased oils that get trapped underneath hats and headbands says Cheryl Karcher, MD, clinical instructor of dermatology at New York University Langone Medical Center.
61. Celebrity makeup artist Brett Freedman suggests putting a little bit of aloe into your makeup. "The new formula you've created will thin out and adds just a tint of color and enough coverage, perfect for the summer," Freedman says.
60. If your makeup is old and melting away, dispose of it and get a new set of cosmetics! Some products even have a PAO (period after opening) icon to indicate how long a product is good after the seal has been open.
59. While at your local market, pick up some cucumbers not only to benefit your appetite, but to also refresh your skin and eyes!
58. Air dry your hair every so often to protect it from the heat of your hairdryer.
57. Try a colored eyeliner, such as turquoise to punch up your summer look!
56. Give the back of your neck a little cool down by putting your hair up in an effortless, yet chic polished bun.
55. For some ladies, summer is the time when flair ups of keratosis pilaris happen ( tiny little red bumps on your upper arms) "I recommend sonic cleansing systems for KP," says Debra Jaliman, MD. "I also prescribe creams containing lactic, salicylic, and glycolic acids in pads or as toners. If the bumps are red, you need to use a topical steroid cream for a short period of time to get rid of the inflammation."
54. Apply your bronzer in a heart shape around your face; starting at your forehead and working to your cheeks. This helps give definition and blends into a natural looking glow.
53. Try popping an antioxidant pill each day starting a week before you plan on fun in the sun. "This allows the antioxidants to build up in your system for maximum protection," says Leslie Baumann, MD, director of the University of Miami Cosmetic Medicine and Research Institute
52. Showing skin in the summer months means that you need a body butter that leaves your skin looking silky smooth.
51. If you have a problem with bacne this may be to blame. "Avoid synthetic clothing, which doesn't allow skin to breathe, and don't exfoliate skin that's breaking out," says Tanya Kormeili, MD, FAAD, a board-certified dermatologist and assistant clinical professor at the David Geffen School of Medicine at the University of California at Los Angeles.
50. Stock up on Vitamin C, with citrus fruits or supplements. It is known to help slow down cell damage, keeping your skin less prone to pigmentation issues and wrinkles.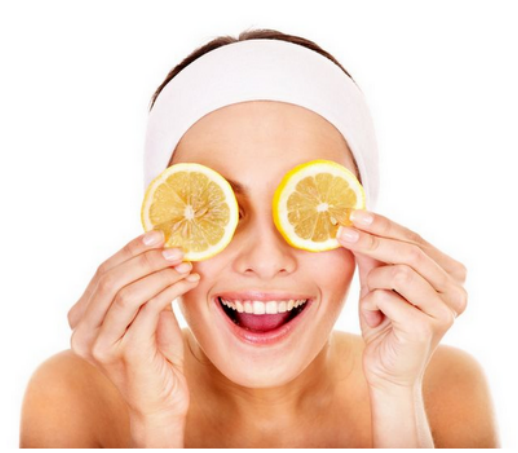 49. Chlorine green is not a cute look this summer for you blonde-haired babes. "But, if you saturate your strands with a water-repellent oil before you hit the pool, it'll seal your hair's cuticle so the chemicals won't seep in,"  says Matrix celebrity colorist Jennifer J.
48.  Try a balancing mist for a quick, soothing face and body pick-me-up.
47. Keep a travel-sized perfume bottle with you to keep smelling fresh wherever you go.
46. "If you want your eyeshadow to stay put in the humidity, apply a thin layer of matte powder shadow to your lids…" said celebrity makeup artist Karan Mitchell.
45. Eat almonds, red and orange bell peppers, and Greek yogurt to not only help your figure, but to purify your skin!
44. To look longer and leaner, apply self-tanner everywhere. "A uniform color helps elongate, but focusing just on your legs or arms can make you look shorter and stockier," says Dera Enochson, creator of Xen-Tan, a company that makes self-tanners.
43. On a hot day, opt for a shower with cool water.  Not only will this be refreshing, but it will also give your hair a boost of shine.
42. When packing your beauty products for vacation, you need not overlook the convenience of stuffing your lotions and shampoos in your shoes and socks.  If they leak, they can be easily washed!
41. Want that perfect updo?  "Start with the hair a little dirty," says hairstylist Tommy Buckett. "Then, add a dry oil or gel to the hair, starting at the roots and working your way from mid-shaft to the ends. Don't be afraid to use a lot of product."
40. Tired of your boring hair color? Add a fun streak in the color of your choice or dip the ends of your hair into a bright pink or a subtle turquoise Manic Panic shade.
39. Olivia Chantecaille says, "To keep skin hydrated while flying I always apply a moisturizing mask and spray rose water on my face throughout the flight. If you find yourself in the sun, be sure to carry a face powder with a high SPF to apply over makeup. They are quick, easy to apply and convenient to carry about."
38. "Always apply polish in a cool area, such as an air-conditioned room," says Donna Perillo, owner of Sweet Lily Spa in New York City. "Heat and humidity can make polish difficult to apply."
37. Use a blending sponge to make your liquid foundations or tinted moisturizers seamless.
36. Fragrances tend to intensify in the summer heat, so apply less than you normally would in the winter months.
35. Dropped your bronzer? No problem, mix those little pieces in with your favorite lotion to create a bronzer for your whole body.
34. Use hair products with UV filters, that way your hair color will stay longer without fading.
33. Buy makeup that already contains at least an SPF 15, that way you are always protected from the rays in some way.
32. If you are prone to breaking out in the summer heat, use Witch Hazel or an astringent to clarify your pores and erase traces of makeup without drying out skin.
31. Near a beach this summer? The sand acts as a natural exfoliate for your feet.
30. Give yourself natural highlights without spending the money. Apply a squirt of lemon on random strands of hair and go play out in the sun.
29. Beauty starts on the inside! Drink plenty of water, your whole body will thank you.
28. To keep your makeup from running during hot days, stick to using waterproof as much as you can.
27. Lash extensions are "pretty much maintenance free, unless you're going to be doing some serious swimming," says Courtney Akai, owner of Courtney Akai Lash Boutique in New York City.
26. Before getting a spray tan, make sure to exfoliate your body in order to prevent streaks — but remember, they may not be as safe as you think!
25. If you want long luscious locks to perfect those beachy waves with, take Biotin and Fish Oil daily.  These inexpensive vitamins benefit your skin, nails, and hair!
24. "Harmful UV rays are the most obvious culprit in causing wrinkles and brown spots, but they can also make your skin and hair appear dry, so you look older than your years," says dermatologist David H. McDaniel, MD, director of the Anti- Aging Research Institute in Virginia Beach, VA.
23. To remove dulling residue, add a pinch of baking soda to your regular shampoo instead of using a harsh clarifying cleanser. "It rinses out chemicals without stripping color," says Galvan. Bonus: This trick helps prevent discoloration caused by chlorine and salt water, too.
22. "Chipping occurs more in the summer because of the obvious: exposure to water and sand," says spa owner Donna Perillo. "Apply an extra coat of top coat every other day to strengthen nails and protect polish from chips and scratches."
21. Hair stylist Jawed Habib says that, "one should not use high temperature water. Water temperature should be balanced – neither too cold or too hot. Always go for lukewarm water. Sometimes people put ice to make it cold and wash their hair, it's the absolutely wrong way of washing hair."
20. Use a gel or cream based blush because they are less likely to break down from sweat.
19. Try mashing up papaya and apply to skin for 3 minutes. This summertime fruit has enzymes that get rid of pore-clogging dead skin cells.
18. For dry, cracked feet, rub Vaseline on the bottom and put cotton socks on when you go to bed. When you wake up, your feel will be nice and soft!
17. "You have to keep product to a minimum in the warmer weather. However, light layering is key to making it last all day," explains makeup artist Karan Mitchell.
16.  Try a spray gel to keep your tousled locks in place.
15. Using a silicone-based foundation formula acts as a film barrier between your skin and the humidity. This prevents it from seeping into your pores and running down your face.
14. Do a whole body overhaul! Take a note from Emily Maynard and give yourself a make-under this summer.
13. Hairstylist and co-creator of R-Session hot tools, Frank Rizzieri says, "I love combs that are infused with sunscreen oil. You evenly disperse product as you de-tangle your hair, plus the oil helps tame frizzy ends."
12. Summertime can bring oily faces, so use blotting paper to get ride of the shine fast instead of piling on the makeup. "Face powder can look cake-y on sweaty skin," says Nicky Kinnaird, founder of Space NK beauty shops in the U.S. and England.
11. Spritz shine spray onto your blush brush and then sweep over hair to give hair shine without weighting it down. "The soft bristles help to apply precise, targeted shine without weighing down hair," says Antoinette Beenders, vice president of global creative at Aveda.
10. "Rich, deep colors have their place, but they can look heavy in summer," says celebrity makeup artist, Troy Surratt.
9. To extend the life of your razor a few days and ensure a smoother shave, drizzle some olive oil on the blade, suggests Cindy Barshop, owner of Completely Bare, a laser hair removal spa in New York City. "The oil prevents rust and product build-up, which can cause nicks."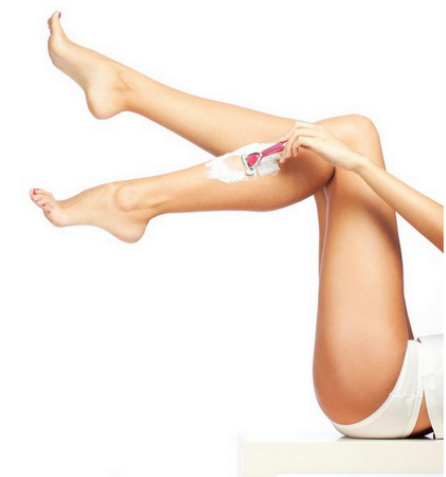 8. A topical jolt of caffeine significantly reduces UV-induced roughness and wrinkling in mice, according to one study.
7. For perfect air-dried hair, "when your hair is wet, use a sculpting gel and twist sections of your hair away from your face… Let the coils dry naturally, before finger tousling the ends into loose waves," notes celebrity colorist Natasha Sunshine.
6. Switch up your eyeshadow this season! "For eyes, a palette of golds, bronzes and coppers will enhance any eye color," says Ashlee MacEwen, makeup artist and beauty expert.
5. Avoid ponytail holders that are joined with a small metal bar: They can snag hair and cause split ends, especially when hair is wet and weaker after swimming, explains Rick Mahoney, senior stylist at Devachan Salon in New York City.
4. For this summer, the darker your skin, the darker you can go with nail polish, but beware of the light colors if you have lighter skin. "You don't want to emphasize your pale tone by choosing a pale polish," Donna Perillo, owner of Sweet Lily Spa in New York City says. "Dark skin can get away with anything."
3. "To add a touch of texture to more sophisticated looks, I apply wave spray to the roots of damp hair and blow dry upside down for volume," says hairstylist Eugene Soulieman.
2. The UV rays from the sun can really dry out your skin. Try slathering on moisturizer then covering your skin with a warm, damp towel for 5 minutes. "The heat activates the lotion's ingredients, which keeps skin supple," says New Orleans dermatologist Mary P. Lupo, MD, professor of clinical dermatology at Tulane University.
1. "Bronzer makes your eyes look brighter, your teeth whiter — everyone looks better with a little warmth added to their skin," says New York City makeup artist Troy Surratt.
[Tips compiled by Danielle Pistono, Emily Albrent and Emily Smith]
Images via iStock