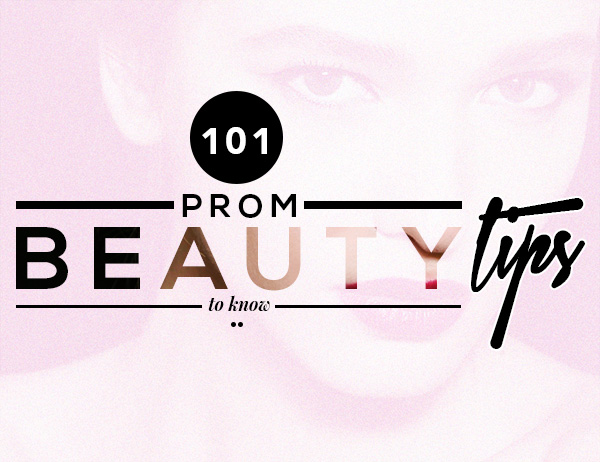 Prom might only be a one-night affair, but the amount of beauty decisions that go into the evening are aplenty. After you've said yes to that prom night dress (or before, if you have a strong beauty inspiration!) you've got to decide on the hairstyle, what makeup look you'll be wearing, the manicure that will decorate your nails, and if you think picture time is even more entertaining than the dance floor, your go-to poses. To help prep you for the affair, we put together a more than comprehensive list of 101 prom beauty tips, from hair to makeup to skin care.
Hair:
1. Bring a picture of the back of your dress to the salon so that your hairstylist can help you decide what 'do looks best.
2. Put in your bobby pins with the rough side down so they don't slip out of your updo.
3. Wear a button-up shirt to your hair appointment so that you don't mess up your hairstyle when you go to change.
4. Try out a classic ballerina bun that will never go out of style, a la celebrity hairstylist Jen Atkin.
5. Turn to YouTube for easy hair tutorials you can do yourself. It'll save you some money for the rest of your prom budget!
6. Try a messy, loose prom hairstyle for natural or boho feel. It's less expected than the typical updo and no one will notice if it falls out a bit on the dance floor.
7. Keep an umbrella in your car or a shower cap in your bag in case of an unexpected shower or bout of humidity.
8. Use a flexible hairspray on your curls so they don't look crunchy and dry.
9. To keep curls bouncy, hairstylist Edward Tricomi, Master Stylist and Co-Founder of Warren Tricomi Salons, suggests "spot-spraying" as opposed to spraying your entire head. This consists of individually spraying one curl at a time.
10. Braid your hair with a braid paste or work in a light styling serum so that your braid stays put and is more flexible during the braiding process—i.e it doesn't slip out!
MORE: Messy Prom Hair That's Actually Easy To Do
11. Speaking of braids, you can totally rock this look on prom night. From fishtails to milkmaid braids, there's tons of unique and pretty options.
12. If you're looking to minimize the heat styling portion of getting rippling waves, sleep in a few braids the night before. Undo them about an hour before the event and lightly run a dry oil or a serum through your hair to get rid of any frizz.
13. To battle frizz on the go, invest in frizz sheets (they look kind of like dryer sheets). All you do is run one over the top of your head to battle fly-aways. Redken's are infused with lavender oil for a calm and pretty scent along with their helpful service.
14. No good with a curling iron? Sleep in rags, velcro rollers, or flexible no-heat rollers to get a tendril-y 'do.
15. If you've curled too much and kind of look like Shirley Temple, there's a quick fix! Take a spray bottle of water and lightly spritz your curls, gently pulling down on each tendril. This should help drop the tightly wound curls to more of a wave.
16. Be sure to wear a glove when using your curling wand or iron to avoid accidental burns on prom night.
17. Avoid huge hair color changes (think brunette to platinum blonde) the day of or day before prom in case you're displeased with the result.
18. Color touch-ups are no problem! Hairstylist Edward Tricomi says you can do this from a week before to even the day-of the big event.
19. Don't forget to follow salon etiquette and tip your hairstylist 20% of the overall cost of the service you received. It's recommended that you tip the assistant, and you can gauge how much to pay based on how involved they were in the process.
20. If you want shimmery or extra shiny hair in a second, reach for a light-reflecting spray like Oribe's or Joico's Gold Dust Shimmer Spray. Hold the product about ten inches away from your head and evenly distribute the spray around your head–you don't only want sparkle on the crown of your head!
21. Apply a root-boosting spray or a blow-dry spray from your roots to midway down the hair to give your hair extra volume when blow-drying.
22. Go for a vintage look at prom with pinned curls. There are some amazing tutorials that can be found on YouTube—or try a simple bouffant with a teasing technique.
23. Spritz in hair fragrance (yes, they exist!) for a subtle approach to perfume. Your hair will smell amazing and the powerful scent or standard perfume won't overwhelm you.
24. Opt for hair accessories over clunky jewels for a pretty update to any hairstyle. Between headbands, clips, barrettes, and flowers, there's plenty of options that will fit your personality.
25. Bring along the hair accessory of your choice to the salon so that your stylist can help place it. They'll know where to put it and how to secure it so it doesn't fall out during the night.
26. Leave a section of hair out of your ponytail and wrap it around the base to hide the hair-tie and to make the casual updo more evening appropriate.
27. Embrace your short hair with a hairstyle inspired by some of the celebs in Hollywood working pixies, bobs, and more.
28. If you're getting an updo, arrive at your appointment with day-old hair so the natural oils can help mold it into place.
29. Bring your extensions to the salon so that your stylist can cut them to fit the layering of your hair.
MORE: 101 Beauty Tips Every Girl Should Know
Makeup, Skin, and Body:
30. Apply lip liner to lessen the chance of your lipstick smearing onto your skin during the night.
31. Further protect your lipstick by applying a primer or setting it with foundation before lining and filling in with pigment.
32. Try a spray deodorant that applies dry and clear to avoid getting marks on your dress.
33. Quickly absorb oils on your face with easy-to-pack blotting pads.
34. Keep a perfume roller ball in your clutch for a quick and discrete perfume touch-up during the night.
35. For a healthy glow before the big night, book yourself a spray-tanning session or invest in a self-tanner.
36. Get extra sleep, reduce stress, and make sure to practice exercise habits to reduce the redness in your face.
37. Store a few floss picks in your clutch in case something gets stuck in your teeth during dinner.
38. Avoid drinking coffee or dark soda—teeth staining culprits—before taking pictures and opt for water instead.
39. Match your nail color to your lip color for a not-so-obvious beauty look coordination.
40. Exfoliate before applying self-tanner so your complexion doesn't get streaky.
41. Keep your makeup in place with a setting spray.
42. Pick red lipstick shades with blue undertones so your pearly whites pop in pictures.
43. Go for liquid eyeliner as opposed to a pencil to lessen the chance of smudging.
44. Make sure to apply sunscreen so you don't get burnt outside while taking pictures!
45. Makeup artist Neil Scibelli suggests using shimmer above your cheekbones, down the bridge, and under the eyebrow. If you have oily skin, use a powder but if you have normal skin, he suggests using a creamy highlighter like BECCA cosmetics' Shimmering Skin Pefectors.
46. Be weary how much shimmer and glitter you're using in your look. "Shimmer and glitter pick up light, especially in photos—causing the skin to look overly shiny," explains makeup artist Neil Scibelli. "You don't want to look like a disco ball."
47. Apply your false eyelashes underneath your own (instead of on-top) to keep them looking super real and natural.
48. Stay on top of your moisturizing routine to prevent your skin looking dry and flakey underneath your makeup on prom night.
49. Use a Q-tip and the tiniest bit of makeup remover to clean up any mascara smudges on or around your lid when your makeup is done.
50. Opt for a waterproof formulation of your favorite mascara so that any teary-eyed, nostalgic, or picture-perfect moments don't wreak havoc on your look.
51. Got a bad case of puffy eyes? Before applying makeup, try placing cucumbers, cold spoons, or chilled tea bags over your eyes to reduce swelling. There's also plenty of products you can turn to, made specifically for unexpected puffy eye situations.
52. Book your makeup appointment at beauty stores like Sephora or at various beauty counters in your department store. At Sephora, you can get a Custom Makeup Application when you spend $50 in products, which could basically be the products used to get the look. If you go the department store route, you can often book at appointment at the specific brand counter you like, whether that be Bobbi Brown or MAC Cosmetics.
53. Don't forget to highlight your brows—they frame your face! Shape them and fill in any gaps with powders, gels, pencils, and even brow markers.
54. Add a pop of color onto your face with a blush hue that compliments your skin tone. Light, rosy shades are ideal for fair skin tones, while those with olive or dark skin tones can play with deeper pigments of berries, oranges, and more. Those with medium skin tones can benefit from berry, rosy, and coral shades, too.
55. Refresh your makeup during prom with a facial spray with calming ingredients like aloe vera or rosewater.
56. Prime your lids with eyeshadow primer or just concealer before applying shadow so that it sticks.
57. Don't try any out-of-the-ordinary or breaking news types of facial masks or peels the day before prom. You want to be sure your complexion doesn't have a bad reaction to the procedure.
58. Try using a teeth whitening toothpaste leading up into prom for a brighter, whiter smile.
59. If a foundation is too heavy and touching up with concealer just isn't enough, turn to a tinted moisturizer or a BB cream that will give you the light pigmented benefit while supplying your skin with moisture and other nutrients and vitamins.
60. Makeup Artist Neil Scibelli suggests starting your makeup routine about 45 minutes before your photo/prom festivities begin. This will give you enough time to make sure everything is set but will also ensure that you don't smudge the look while getting the rest of your look together.
61. Do a trial run of your makeup look the day before. Try on that lipstick shade to make sure it doesn't clash and pinpoint any problems so that you don't have to do damage control on the day of prom.
62. While getting ready with your friends is a fun activity, you don't want to share ALL your beauty products. Things like toothbrushes, razors, and makeup brushes should be kept to yourself.
63. If you've booked a makeup artist for the big night, have them talk through the look with you in case something gets messed up and you need to fix it after your appointment.
64. Try a winged eyeliner look that can be created in three simple steps.
65. Windy outside? If you plan on wearing your hair down, skip the gloss. You don't want your strands sticking in and smearing the formula.
66. You can embellish your eye makeup look with more than just glitter. Take a cue from the Rodarte runways where models have worn faux piercings on their brows and this season, crystals along their lower lash lines.
67. Pick up a fashion/beauty emergency kit like Pinch's Mini emergency Kits, which include things like sewing kits, band-aids, clear nail polish, and more.
68. Pack away deodorant wipes that come in small single packages just in case you're feeling a tad sweaty.
69. Avoid waxing your brows the day of prom if your skin is prone to redness and irritation.
70. Did a zit just pop up out of nowhere? Try simple tips like dabbing on some apple cider vinegar or icing it to reduce its size.
71. Give your skin an air-brushed finish before you apply foundation with a "blurring" product that reduces the appearance of roughness and imperfections.
72. Don't be afraid to try that high-impact lip color or that colored liner trend! It's your prom night!
73. Do your research and look for long-wear lipsticks that won't leave you with only the perimeter of your lips highlighted with color.
74. Get inspired by checking out celebrity red carpet beauty looks.
75. Make sure your makeup brushes are cleaned before you start applying your products for prom. This will help you get the best finish possible.
76. Apply lip balm or chapstick before your matte lipstick so your lips don't get dehydrated.
77. Invest in key contouring products and brushes to highlight your cheekbones in pics.
78. Apply shimmer or highlighter to your décolletage for added iridescence.
79. Learn how to smile with your eyes (otherwise known as smizing) and practice your best angles in front of the mirror before pictures.
Nails:
MORE: 101 Celebrity Beauty Secrets to Steal
80. Obviously you want your hands to be clean, but be weary of drying out your hands by over-washing or over-applying hand sanitizer.
81. Keep hand lotion nearby or in your handbag and practice regularly moisturizing so that your hands are ready to show off that new manicure on prom night.
82. Try out nail stickers if you're looking for a fun, intricate design but don't have a lot of time. There are plenty of companies that create patterned, textured, and even custom sticker sets.
83. Use a pumice stone to exfoliate your feet before slipping into your prom sandals.
84. Pick a gel manicure instead of a regular polish to ensure no chipping.
85. Celebrity manicurist Sky Hadley suggests wearing gloves while washing dishes or doing water-related chores to make sure you don't chip your manicure.
86. Doing your nails by yourself? Before painting your tips, manicurist Sky Hadley says you should make sure your nails are super clean and buffed so that the polish adheres well.
87. Don't forget to use a base coat before using the color you picked. This will give a pop to your color and will help your polish last longer.
88. Skip the French mani! There are so many other cool options out there! If minimal is your thing, try a negative space mani or a nude color instead.
89. Nothing puts a damper on a pretty mani like dry, unhealthy cuticles. Give them some TLC with a cuticle oil or cream if you like that consistency better. Try out Deborah Lippmann's version!
90. Applying acrylic nails on prom night? Make sure you take them off the right way, as peeling them off could end up damaging your nail bed. Manicurist Miss Pop suggests soaking them until they basically peel off on their own.
91. For a manicure that has a pretty small chance at chipping, go with glitter. Sure it's a pain to remove, but manicurist Miss Pop says this is a good option if you want to decrease the chances of having it tip at the top.
92. Stick to two layers of the nail lacquer color you desire so your nails fully dry.
93. Top coat is a beauty essential. It will help prolong your manicure, protecting it from chipping, smudging, and wear and tear.
94. If you don't have a glitter or even a glittery nail polish handy, you can create your own sparkle by borrowing from your crafts closet. With a super thin nail art brush or a toothpick, place on iridescent flakes on your nails and paint a clear coat over top of it.
95. Three to 6 months before prom, celebrity manicurist Jin Soon Choi suggests adding vitamin supplements composed of flaxseed oil, fish oil, or biotin into your healthy diet to strengthen your tips. If you only have a month, try using a nail strengthener product. All you have to do is paint it on and it'll get to work.
96. Add mini studs to your manicure for an extra edge.
97. Matching your nail color to your dress is all fine and good, but it's not exactly thinking outside the box. Try a contrasting yet complimentary hue for a look that REALLY pops.
98. Use a sponge or a eyeshadow applicator to create an ombred effect that creates a gradient of polish in the same color family.
99. Mix things up with a different manicure look on each hand. You can keep the same central theme, but test out two looks that complement each other.
100. Apply Vaseline along the perimeter of your nail bed. The Vaseline creates a barrier when you accidentally get polish on your skin and allows you to wipe it off without the annoying scrubbing.
101. Turn to social media for inspiration. Whether it's Twitter, Instagram, or Pinterest, countless users are uploading their finest work.