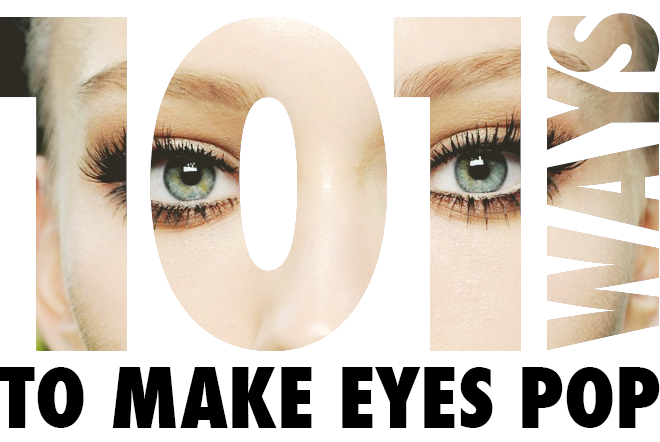 Makeup Tricks
1. If you have a hard time using soft eyeliner pencils, draw a thick line onto your hand, use a stiff eye brush to pick up the pigment and then apply to your eye.
2. Need eye drops but don't want to ruin your makeup? Breathe air in through your nose as you drop them into your eyes. Your tear ducts will suck in the drops before they have a chance to fall down your face. 
3. Use a flesh colored liner on the water rim of your lower lash line to make eyes look bigger and brighter.
4. Apply a shimmery champagne color in the inner corner of your eyes to brighten your whole face.
5. Apply highlighter onto your brow bone.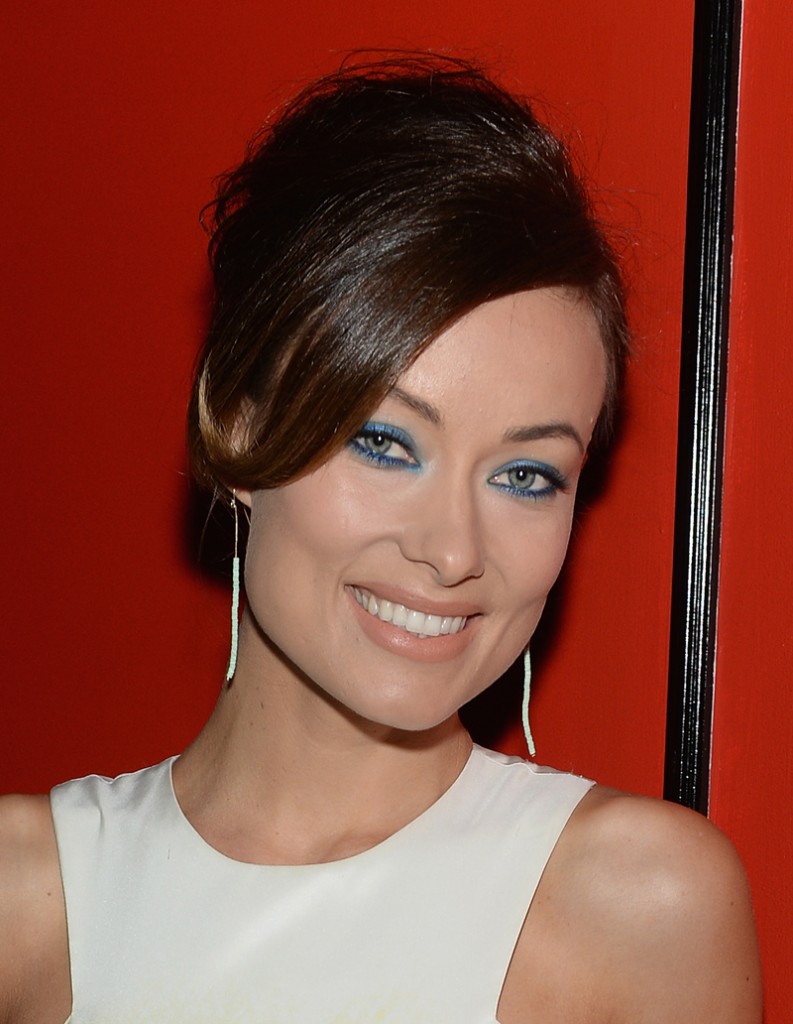 6. Swap out your neutral black or brown liner for a brightly colored one instead.
7. Apply concealer to your under-eye circles after foundation (not before) to better camouflage them.
8. Use eye shadow made for your eye color, like Almay Intense i-Color Kit ($7.49, drugstore.com).
9. To correct eye makeup mistakes or sharpen a cat eye, dip a Q-tip in eye makeup remover and erase the offending makeup. 
10. To make your eye color stand out, apply black liner around the entire eye, including the water line.
11. Instead of swiping on eye shadow, press the color into your eyelid with a brush or finger. This will give your lids a more pigmented look.
MORE: Eyebrows: Essential Tips and Tricks to Get Your Best Brows Ever
12. Keep a clean eye shadow brush or Q-tip in your purse. Whenever you touch up your makeup, run it over your lids to get rid of any excess shadow that has collected in the crease.
13. Camouflage crow's feet with lighter colored concealer.
14. Use blue eyeliner to make the whites of your eyes appear brighter.
15. Apply eye cream under the eyes and onto the lid before applying your makeup. It will make it go on smoother. 
16. For a dramatic eye, apply darker shadow to the crease, as well as a small triangle of color at the outside corner of your eye. 
17. Use coconut oil as an all-natural eye makeup remover. It's gentle, yet effective.
18. After you've applied your eye makeup, dab dots of highlighter along the brow bone and around your eye and blend in to brighten the whole area.
19. Apply products to your delicate eye area using your ring finger, which uses less force than your other fingers.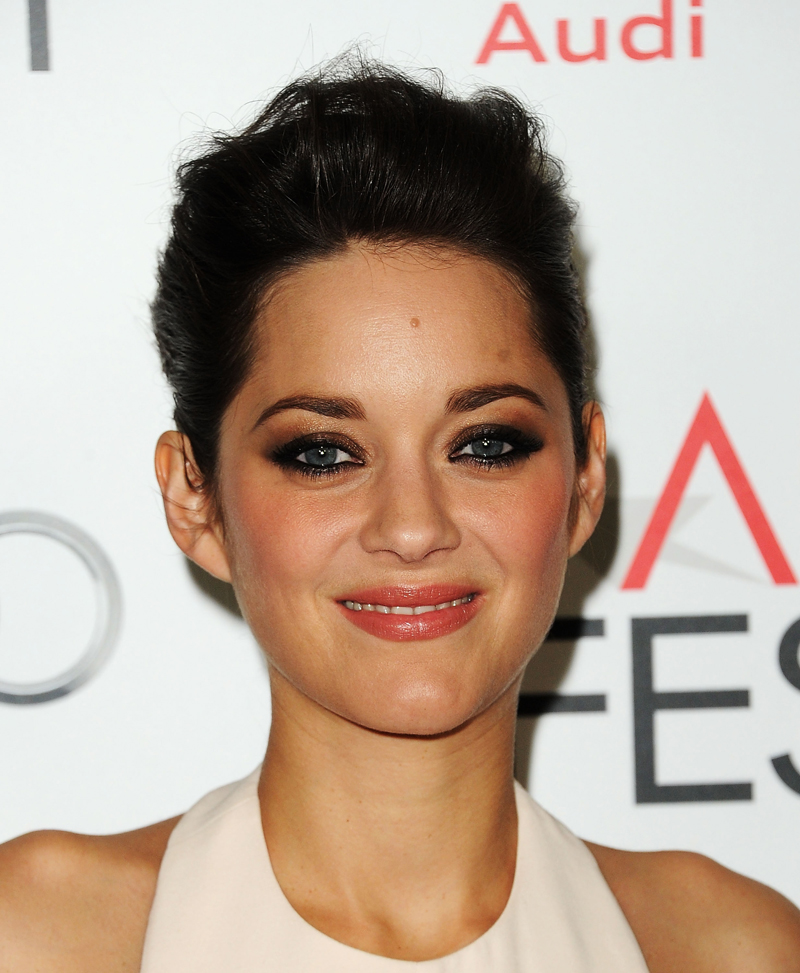 20. To get a classic smoky eye look, combine a little bit of shimmer, tons of dark eye shadow and a whole lot of smudging.
21. Use a darker shade of concealer to cover up puffy eyes. Darker colors recede, which means bags look less pronounced.
22. If you want a more defined look, use a creamy black eye pencil to rim your eyes.
23. To combat eyes that are both puffy and dark, use an eye cream with built in coverage, like Caudalie Premier Cru Eye Cream ($98, caudalie.com). 
24. You can use darker shades of nude and brown to create a subtle smoky eye look that works on everyone.
25. The most important rule when wearing a smoky eye is that if you go dark, keep the rest of your face soft.
26. Use two colors that are similar but different (like light purple and dark purple) on the lids to create dimension.
27. If your eyes are brown, use navy blue shadow to really make them stand out.
28. For a unique look, dab a brightly colored cream shadow on the inner corners of your eyes.
29. If you have blue eyes, apply a peach color all over your lids and underneath your eyebrows to really make them stand out.
30. To further blend a smoky eye, swipe the same color you use on your lids on your bottom lash line.
31. Rub an ice cube over puffy eyes in the morning to reduce swelling.
32. Don't be afraid to extend your shadow well above the crease for a dramatic effect. Instead of an intensely dark shadow, a rich café au lait shade looks less harsh.
33. Apply a light colored, cream-based shimmery shadow to the eyelid to open the eye.
34. Change out your mascara every three months. When it comes to your eyes, it's better to be safe than sorry. 
35. Never use liner in the inner first third of the eye; it will make eyes seem closer set.
36. If you have green eyes, try out purple eye shadow shades such as lavender, violet, or amethyst. Keep the color sheer so it won't look garish. For eyeliner, a deep plum is perfect.
37. Create a triangle of opaque white shadow in the inside corner of the eye and up towards the brow to instantly change the shape of your eye.
38. If you're constantly waking up to puffy eyes, consider changing your laundry detergent. You may be allergic.
39. Apply a primer before eye shadow to give it lasting power and to intensify the color.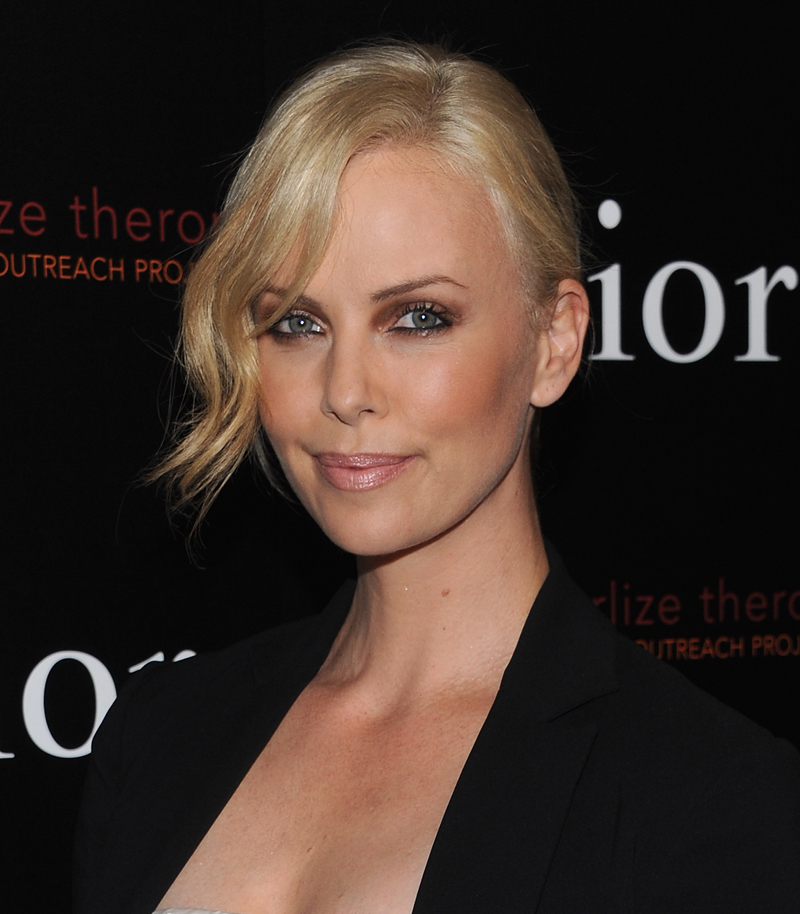 40. If you have blue eyes, go for a warm copper, burnished gold, or rich brown eye shadow. Chocolate is an excellent shade choice for eyeliner.
41. Pair a black liner with pale eye shadow all over the lid and a darker shade in the crease to make the eyes pop.
42. If you have brown hair, use peach and warm neutrals on the eyes.
43. If you have red hair, use neutral eye shadow shades that don't compete with the hair.
44. Dark eye shadows can be applied with a damp, thin brush on the upper or lower lash line for a defined eye that will last all day.
45. Since dark makeup can make the eyes recede, add depth with shimmery highlight shades.
46. You'll probably need less eye shadow than you think you will. Start with a tiny bit of product on your brush, and work it outward to create a soft smoke.
47. Erase hard lines of eye shadow by blending in with a brush.
48. Once you've applied concealer to dark under-eye circles, follow up with a yellow-based setting powder to help it last longer and to counteract dark circles (yellow cancels out blue and purple).
49. If you've applied too much eye shadow, take a Q-tip and dip it into a moisturizer and gently swipe off the tone you need to take down. Then, take your pinky or a sponge tip applicator and just dab on a bit of a neutral shadow to soften the look.
50. Beware of brown eye shadow shades that are reddish, as they can make you look tired or (worse) hungover.
51. Never use an eye shadow that's the same color as your eyes or nothing will stand out.
52. If you need a smoky eye in a pinch, try Color On Pro kits ($20, coloronpro.com).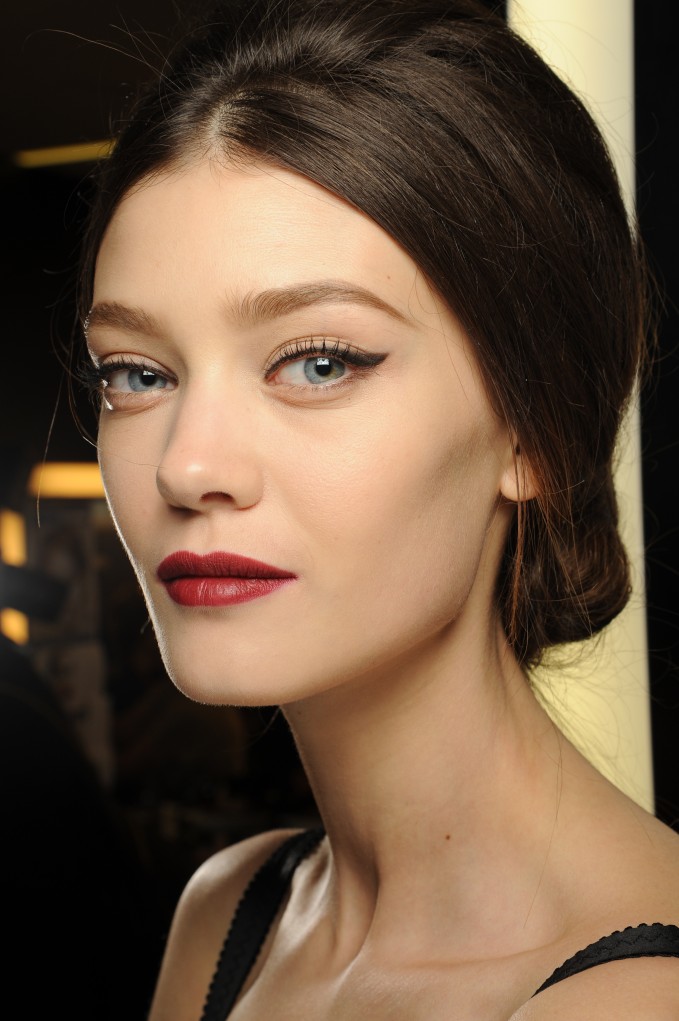 Tips For The Perfect Cat Eye
53. When drawing a cat eye, follow the outer bottom lash line upward to get the perfect line.
54. If you have a hard time drawing a straight line of eyeliner at the base of the lids, draw dashes and connect by smudging the liner with a Q-tip.
55. When creating a cat eye, keep applying eyeliner past the length of your eyebrow. You can always remove the excess, but it can be really hard to lengthen a liquid line with precision if you've stopped too soon.
56. Use a palette of stone grey shades for a smoky cat eye. Try Bobbi Brown Black Pearl Eye Shadow Palette ($47.50, bloomingdales.com) for a great range of colors.
57. For a daytime cat eye, begin at the inside of the eyelid and drag the liquid liner applicator all the way across the lid to the outside of the eye. When you get to the outside of the eye, move the applicator up and out to create a wing effect. Do not make this line any longer than an eyelash to keep it from being too dramatic.
58. Apply shadow before attempting a cat eye to ensure you don't smudge it.

59. If you want a daytime-appropriate cat eye, apply a layer of shadow, draw on your cat eye, wait for it to dry, then apply another layer of shadow to tone it down.
60. Tilt your chip up but look down at a mirror when drawing your cat eye.
61. Make your cat eye bold by drawing it on with a bright color, instead of your basic black or brown.
62. If you're having trouble with liquid liner, draw a practice line with a taupe eyeliner and the trace it with the liquid.
63. If all else fails, try a stick-on Eye Rock Designer Liner ($13, birchbox.com) to get the cat eye you want.
Lush Lashes
64. Use a lash primer before mascara to make lashes look bigger and thicker. 
65. Use a small mascara brush on your lower lashes, as well as the lashes near the inner corner of your eyes. A tinier brush makes it easier to grab onto the smaller lashes.
66. Try out false lashes. They make your eyes look bigger. 
67. Apply a dark kohl liner to the root of your lashes to make them appear fuller. 
68. Skip mascara on the bottom lashes to make eyes appear lifted. 
69. No need to stop at one coat of mascara! Wait for the fist coat to dry, then apply another. Just make sure you're using a non-clumping mascara.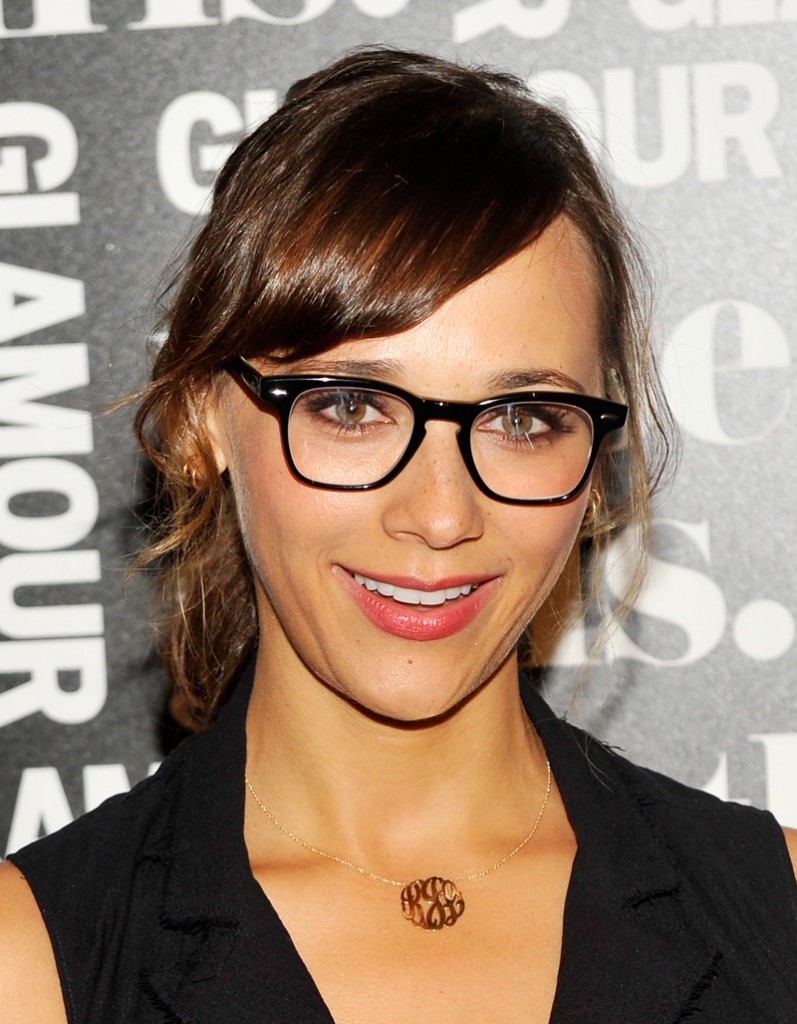 70. If you wear glasses, go with a lengthening mascara instead of a volumizing one, which can look clumpy when magnified by lenses.
71. When applying mascara, as you move the brush up slightly turn it outward to fully separate lashes. 
72. When lining your lashes, push the color into the lashes so there's no gap between your lashes and the line. You want the liner to look like a part of your lashes. 
73. Layer individual false eyelashes along the top lash line. Use black mascara on the top lashes and brown on the bottom.
74. For extra long lashes, place the tip of the mascara brush on the outer corners of your lashes first, do a few strokes, then work your way in. Extending those corner lashes will make your eyes look more open.
75. Place the mascara wand at the very base of your lash, then, using a side-to-side motion, wiggle the wand upwards in one long, even stroke.
76. When using a lash curler, clamp down at the base, move the curler out, clamp down, move the curler to the ends and clamp down again.
77. Use a metal-toothed lash comb to help separated clumped lashes.
78. Don't layer different mascaras, as some formulas don't work well together, making clumps inevitable. 
79. Highlight under the eyes to brighten the face and bring attention to the eyes. 
80. Don't pump your mascara wand too many times in the bottle. It pushes air in, which can create clumps.
81. If your lashes are already clumped, take a spiral brush and remove the mascara by swirling against the lashes.
82. If your lashes are thin, dust them with translucent powder before applying mascara to add bulk.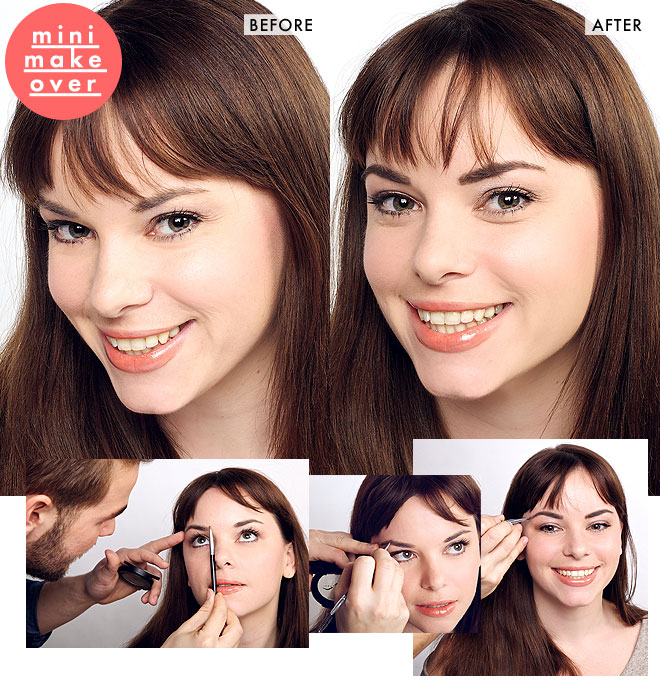 Tips For Better Brows
83. When filling in brows, make tiny hair-like marks with your brow pencil for a more realistic look.
84. Use a primer on your eyebrows before applying pencil or powder. It'll make the product stay on much longer. 
85. If you want a more defined eyebrow, use a stencil to help shape them, like Anastasia Brow Stencils ($20, anastasia.net).
86. Use clear mascara to groom your brows and keep them in place.
87. When plucking eyebrows, be sure to pluck in the direction of the hair. Otherwise, you could end up with an ingrown hair.
88. When penciling in your brows, extend the tail end so it's higher or at the same level as where the brow begins (never lower, which brings down your features).
89. For a bold nighttime look, use a brow powder that's a shade darker than you typically wear.
90. If your brows are sparse, try combing them downward instead of up after you fill in with pencil. This way, the hair will cover the pencil marks and create a more natural finish.
91. Thin brows make you look older, so don't be afraid to fake a fuller look.
92. Never tweeze when you're bored or angry, or you might end up taking off more than you intended.
93. The highest point of the brow should be about two-thirds of the way out, not in the middle of the brow.
94. Use a brow regrowth serum with active ingredients, like Joey Healy Brow Renovation Serum ($125, joeyhealy.com) to help sparse eyebrows grow back in.
95. Make sure brows start at the bridge of your nose.
96. If you have a square-shaped face, go for a thick brow.
97. If you have a round face, aim for a more defined brow arch to make your face appear more oval.
98. If you have a long face, go for a straight, flat brow shape.
99. Don't feel the need to make your eyebrows match your hair color exactly. Sometimes it's more flattering to go lighter or darker than your natural color.
100. Remember that brows are sisters, not twins, so no amount of plucking will ever make them identical.
101. If your eyebrows are out of control, then brush them upward with a clear mascara and then trim them ever so slightly.