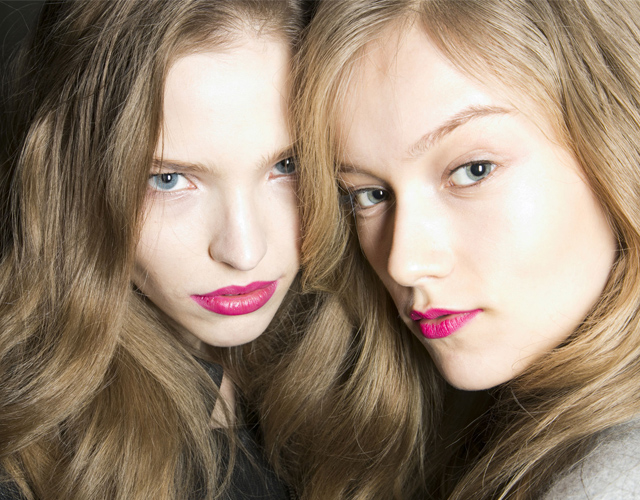 We don't run around from show to show during New York Fashion Week just for the trends – there are plenty of tips and tricks gleaned from makeup artists, hairstylists and manicurists while we're hanging out backstage as well. From sneaking a peek into pro's kits and figuring out what their favorite products are to catching glimpses of the latest products (yet to hit shelves), there are plenty of reasons that we become more than a little bit nosy when we're backstage. Plus, from all of the questions that editors ask in just a small amount of time, we end up with more than enough beauty knowledge – so now it's time to pass that along to you.
Here are some of the best tips and tricks that we learned from some of the most talented artists in the business while backstage this Fall 2013 season. Trust us, learning from the pros is never a bad thing.
1. Makeup artist Diane Kendal suggested (while working her magic at Jason Wu) that when you're doing a cat eye, use a pencil liner to draw the shape of the cat eye that you want, and then use powder eyeshadow to go over the pencil and smoke it out.
2. Makeup artist Tom Pecheux swears by Rodin Olio Lusso oil to prep each and every model's skin before he starts applying makeup.
3. At Victoria Beckham, Marian Newman was creating clean and well-groomed nails with a brilliant and quick trick: she used Rimmel's new Nail White Pencil under the edges of each of the models' fingernails to speed up the manicure process. The pencils look like a liner but have a thicker consistency and help to give that perfect looking manicure.
4. To add a soft texture to hair, stylists are now turning to crimping irons. Luigi Murenu left pieces out of his deconstructed chignon for Zac Posen's Fall 2013 show and simply brushed them back for a textured, windswept look.
5. Makeup artist James Kaliardos taught us how to get the just-bitten lipstick look backstage at Ruffian, advising us to use a wine or burgundy shade lipstick and stain the lips with color, take a bit away with a tissue and add another shade on top of it (a purple or deep burgundy) and then tissue away again just leaving the stain.
6. Jin Soon Choi advised us to ditch the nail art tools backstage and just freehand it – to create a "V" shape nail design she recommends painting a base coat on your nails, and then painting one diagonal across in a darker shade followed by a diagonal in the opposite direction to get the look.
7. Makeup artist Diane Kendal also has a signature skin care move – she swears by the use of rosewater on all of the models who have roughly-handled skin to help infuse moisture before applying anything else.
8. butter LONDON's Creative Director Katie Hughes advises everyone to not throw out old makeup brushes. She uses hers as a manicure tool by dipping them in nail polish remover and them swiping them around each nail to gently remove excess polish.
9. Hairstylist Eugene Soleiman told us backstage at Tommy Hilfiger that he sensed that the sleek and straight hair look would likely stick around for awhile and a great way to maintain that healthy look was really by maintaining the condition of your hair. Basically, don't be cheap with your shampoo and conditioner because hair health is all about  maintenance.
10. Nail artist Keri Blair recommends that if you want to get the trendy satin finish, try mixing a matte top coat into your regular nail polish, which will give you the "satin effect."