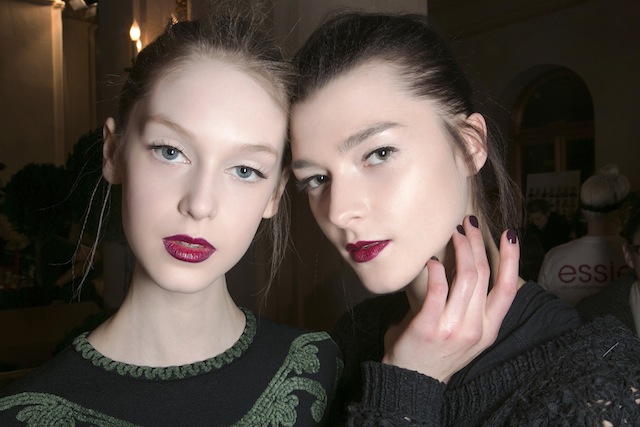 The season of rich, bold lip colors has finally arrived and beauty lovers everywhere are rejoicing. Putting on a bold lipstick is one of the quickest, easiest ways to add instant drama and sophistication to any look.
We know that your favorite bold lip shades have been patiently waiting to be used for months now, so to help you get reacquainted, we are bringing you 10 tips and facts that you should know before you start applying that bright red or deep oxblood lipstick. Read on to learn what shade you should be reaching for, how to avoid the dreaded lipstick on teeth situation and more!
1. Apply Concealer: Applying concealer on your lips beforehand will create a neutral, even template for your lipstick. This will make sure you got the color you paid for.
2. Use it as blush: Lipstick can act as a wonderful substitute for cream blush. Simply sweep your finger across your lipstick and rub the product between your two fingers to warm it up. Then smile, tap your fingers on the apples of your cheeks and prepare to look perfectly flushed!
3. Darker shades are tricky, obviously: Darker lipstick hues tend to make thin lips appear thinner, so to avoid that, ladies with skinnier lips should go for brighter, poppier colors on the spectrum.
MORE: How to Wear a Deep Vampy Lip For Fall
4. Try a stain: If you want a more subtle version of the bold lip trend, wear your lipstick as a stain. To do this, apply your lipstick to the center of your lips and simply blend outwards with your finger or lip brush to diffuse the color.
5. Avoid lipstick on the teeth: To make sure lipstick doesn't stick to your pearly whites, position your freshly painted lips around your fingers and softly pull your finger out. Doing this will remove all of the excess lip color onto your finger rather than on your teeth.
6. Experiment with color: Ladies with dark hair and pale skin, listen up! Having strong coloring and a natural contrast gives you the option to play around more with color, so start experimenting. The deeper, the better!
7. Prevent lipstick bleeding: Apply concealer around the border of your lips to prevent your bold lipstick from running or bleeding around your mouth.
MORE: How to Get the Dark Lip Look
8. Don't toss an unflattering shade: If you have a red lipstick that doesn't quite work with your coloring, try topping it with a gold gloss to warm the color or add a pink gloss if bluer tones work best on you.
9. Repair your broken lipsticks: Instead of having to throw away your broken lipstick, lightly melt the piece that has broken off with a match for a few seconds and then put the broken piece on the remaining base of the lipstick. Put the lipstick in the fridge for about 20 minutes and your lipstick is good as new!
10. Make it more intense: Apply a thin layer of pressed powder in between coats to make your lip color more vibrant and strong (and to help it stay put!).
Image via Imaxtree