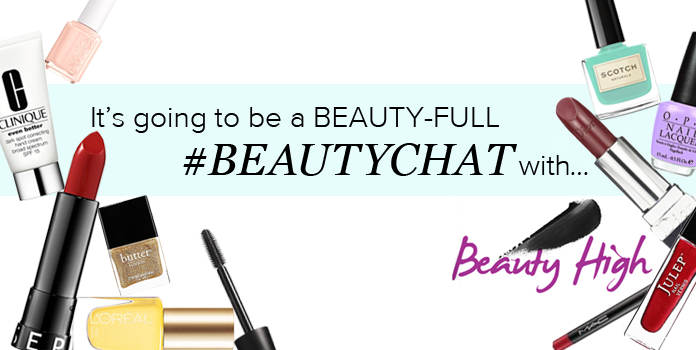 Every Friday afternoon we turn to Twitter to join a few of our nearest and dearest for a weekly #beautychat from 2PM to 3PM. We've found that while we here at Beauty High have an unhealthy obsession with all things beauty, an awful lot of you have the exact same obsession. We spend the hour chatting about everything from the latest trends to how to make our hair as healthy as it can be.
This week we tackled all things upcoming this fall. From growing trends to seasonal splurges, climate sensitive beauty products, colorful additions to your makeup bag and every concern in between, no beauty topic was off limits. Check out the best tips from today's chat below and join us next Friday at 2PM for #beautychat!
1.@raeesa_isy I will always swear by @clinique_US, and I have oily/combination skin. Try their perfectly real or stay-matte#beautychat"
2.@BeautyBeccaBlog I'm a big fan of @neutrogena's oil-free moisturizer, and @kiehlsnyc ultra facial oil-free #beautychat
3.@iHarrysDream I know a lot of people who have had awesome results with Viviscal (you can get at local drugstores). #beautychat
4.@StyleSeat Ombre will tone down, rainbow hair will lessen & as much as I hate to say, I think nail art will become more subtle.#beautychat
5.@MilanParkAve @Maybelline actually has great lash in colored form right now but also loving @maccosmetics haute & naughty#beautychat
6.@AriSGoldberg Definitely! If you're going colder try a heavier lotion so you don't end up w dry skin and vice versa for warm. #beautychat
7.@raeesa_isy @alexisvalerie we just did a shoot using red mascara & I was shocked at great it looked. It's def a trend to try.
8."@BeautyHigh @RODINoliolusso face oil… heard it gives skin an incredible glow! @linmuemuse @RODINoliolusso Yes, love that stuff. Great choice!#beautychat
9. For new scent suggestions for fall, loving @bergdorf's 111th anniv scent, Chanel Coco Noir, Chloe, Love & Elie Saab #beautychat #splurge
10. @bretteallen Try @covergirl LipPerfection in Embrace or Divine depending on the shade you want. It does not budge! #beautychat "@BeautyHigh I love the purple plum hued lipstick trend for fall. whats a good brand / product to choose?