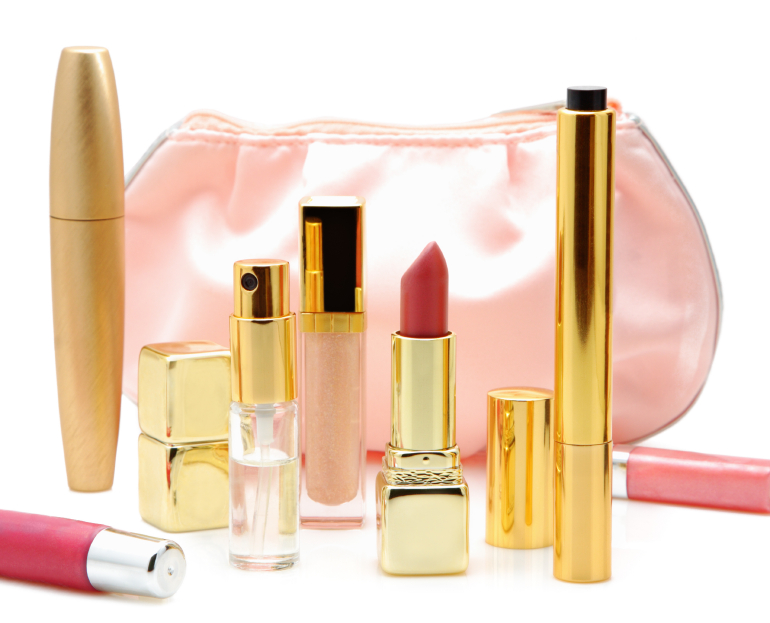 With a new beauty product popping up practically every day, learning how to properly use certain items can get overwhelming. Sure, we're being inundated with new products like CC cream and caviar nail polish, but when it comes to the basics, what's the point of using beauty products if you're using them incorrectly? We're big believers in making the most of your makeup bag, and after picking up so many tips and tricks for how to use beauty products over the years, it's only right to share these tips with you. Below are 10 beauty products you haven't been using properly, and the simple tweaks for how to get the most out of your products so that you look your best.
Mascara. Once you've found a mascara wand and formula that works best for your eyelashes, the best way to apply it to your eye is by holding the wand horizontally at the base of your top lashes, gently shaking the wand at the base, and moving upward and out. Putting emphasis at the start of your lashes will ensure maximum volume and shaking the wand will get more mascara onto the lashes. If you're prone to getting extra mascara on your eyelid, use a plastic spoon (or business card) and hold it over your lid as you're applying mascara so the excess product goes on the spoon, not your lid. If you do get any mascara where it shouldn't be, quickly run a cotton swab under water, just enough to get it slightly damp, and use the cotton to remove any unwanted mascara.
Eyeliner. If you're using a pencil and it won't go on smoothly, you can heat up the tip of the pencil a bit with a blow dryer or a lighter, and the heat will make it glide right on. Also, use your eyeliner to make your eyes look larger instead of closing them up by only lining the outer two-thirds of your bottom lash line. Leaving the last third of your lash line unlined will make it appear lighter, and you can accentuate this by lining the inner third with white eyeliner.
Hair Oil. If you're using hair oil to give your locks some extra moisture when they're dried out, be sure not to counteract the process by applying to wet hair and heat styling right after. If you think of cooking food with oil in a frying pan, putting a hair straightener or curling iron on your hair directly after hair oil will simply fry your hair. Your best course of action is to apply the hair oil and let your hair air dry, and only use a heat styling tool if necessary.
Perfume. Though we constantly see actresses in movies or on TV shows spraying a huge cloud of perfume and walking into it, it's actually best to apply fragrance to your pulse points. By applying to these certain points and not just willy nilly around you, the pulse points are where your blood vessels are closest to your skin, so they act as mini pumps for your perfume, making it last longer. The pulse points you can apply to are your wrists, behind your ears, the crooks of your arms and knees, and if you want an extra boost, your ankles.
Foundation. Before you apply foundation, remember to moisturize. For those of you who apply foundation on a regular basis, apply foundation before concealer. Use a beauty blender for best application or your hand, but whichever you use, blend from the center of your face out. This way, you'll have much less chance of getting a foundation line along your jaw that's a dead giveaway for wearing makeup. The more you blend, the more natural it'll look.
Blush. Often times, our mothers will show us to apply blush all the way to the hairline, but this can make you look harsh and unnatural. Smile as you're ready to apply blush and lightly apply the blush to the apples of your cheeks, blending just a bit. If you're in a pinch and don't have blush, you can use a lipstick as a cheek stain; simply apply with your fingers and blend.
Eyebrow Pencil. Bold brows have most certainly been a trend for the past few seasons, and we don't anticipate them going anywhere anytime soon. Something to note, however, is that there's a difference between bold brows and drawn on brows. To enhance your own without looking like you took a permanent marker to your face, use an eyebrow pencil two shades lighter than your own eyebrows. That way, when you fill in your brows, it looks natural and enhanced, not scary and dramatic.
SPF. The biggest mistake here is not using SPF on a regular basis, and the easiest fix is to start using a moisturizer that contains SPF. Let the SPF dry and settle in for about 20 minutes before you go in the sun, and if you're spending the day outside, you should be reapplying your sunscreen every two hours or so. If you're not reapplying while you're out in the sun, you're losing out on the benefits of the SPF and therefore putting your skin at risk for sun damage.
Eyelash Curler. First, do not use an eyelash curler once your mascara is on and dry. The force of the curler pushing your lashes together will only make your mascara clump, plus the curler may get stuck to the mascara, and pulling it off your lashes can cause lashes to be pulled out. Instead, use an eyelash curler on clean lashes, before applying mascara. For an extra boost of curl, blow dry the lash curler for about 30 seconds. The heat will help hold the curl, just as a curling iron does for your hair.
Bobby Pins. To hold hair in place more sturdily, use two bobby pins criss-crossed and there's much less chance of the bobby pin slipping. Also, by spraying the bobby pins with hairspray before pinning your hair, they'll stick to your hair just a bit more and you'll get much more hold.
Image via iStock
More Makeup Tips From Beauty High:
How to Clean Every Tool in Your Makeup Bag
Brighten Your Eyes With These Makeup Tricks
10 Tricks We Learned From The Pros During Fashion Week