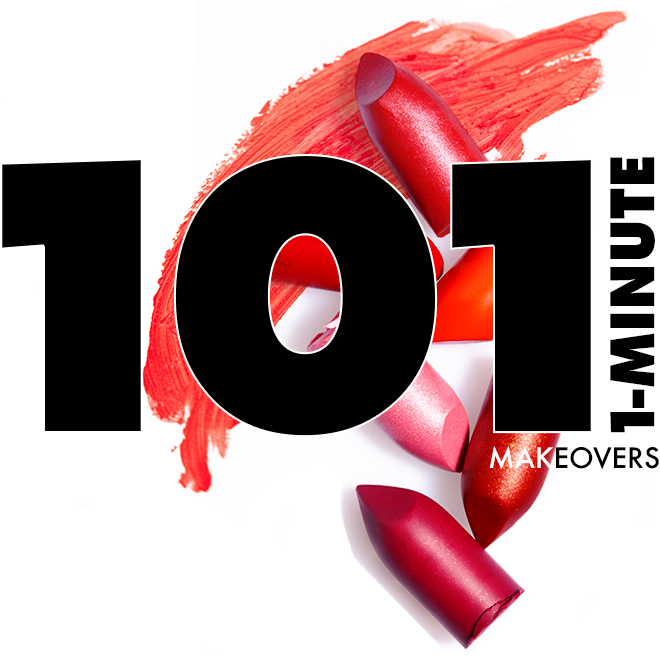 A makeover isn't always about chopping off all your hair or jumping on the pink-hair bandwagon. It's usually the simple tweaks that can make all the difference. If you find yourself looking to change things up a bit, try one of these 1-minute makeovers.
1. Slick on a shock of hot pink lipstick for an instant wake-up. Nars Sciap ($26, narscosmetics.com) and Obsessive Compulsive Cosmetics Lip Tar in Anime ($18, occmakeup.com) are two of our favorite brights.
2. Pink feel too Malibu Barbie? A rich red has the same effect. Try CoverGirl LipPerfection Lip Color in Hot ($5.99, drugstore.com).
3. Try a colored gloss or lip lacquer in lieu of a cream formula. Shiny, vinyl lips make a major impact.
4. Add a touch of illuminating highlighter — try Yves Saint Laurent Touche Eclat ($40, yslbeautyus.com) — on the Cupid's bow of your upper lip to make your lip color pop.
5. "Lining the inner rim of the eye is a great way to add a little bit of what I like to call 'instant fierceness'!" says makeup artist Mally Roncal. "Just make sure to use an eye liner that is waterproof and safe for the inner rim, like Mally Beauty Evercolor Starlight Waterproof Eyeliner ($15: mallybeauty.com)."
6. Fake high cheekbones: swipe highlighter along the tops of your cheeks. Contour the hollows with matte powder bronzer.
7. Give lift to your eyes by applying a concealer one shade lighter than your skin tone at the outer corners.
8. Give your skin a dewy glow: "I always apply foundation to my skin with my hands, as if it is a moisturizer — it allows me to really press it into my skin without looking streaky or spotty," says makeup artist Nico Guilis.
9. Add a couple individual false lashes at the corners of your eyes, says Mark makeup artist Jamie Greenberg. "It's my favorite trick. You can't see that you have makeup on, but boy does it make those eyes wide."
10. Want to look more awake? If you have a deeper skin tone, neutralize purplish under eye circles with orange pigment, says makeup artist Katey Denno. "When topped with a concealer the same color as the skin tone, the area will look bright and flawless." Fairer complexions should choose a peach-toned concealer.
11. For brighter-looking teeth, fast, brush with a toothpaste that has optical blue brighteners, such as Luster NOW! Instant Whitening Toothpaste.
12. Blue-based red lipstick bestows a similar effect on pearly whites.
13. Instant facelift: When penciling in your brows, extend the tail end so it's higher or at the same level as where the brow begins (never lower, which brings down your features).
14. Highlight your brow bone to lift the entire eye area. Try Benefit High Brow ($20, benefitcosmetics.com). Don't use white frosty eye shadow — the effect will look too retro.
15. Switch out your black mascara for a plum or turquoise shade on your lower lashes for a subtle color pop.
16. Use an eye shadow brush to coat your eyelashes with translucent face powder, then apply mascara on top. The powder helps to bulk up lashes for instant volume.
17. Wait, you're not using a lash curler? Try it! A little crimp opens up the eye, even without mascara.
18. The most flattering way to wear colored eye makeup: Apply black liquid liner along the upper lash line, then add a stroke of brightly colored liner just above it.
19. Add subtle sparkle: Dab a brush dipped in glitter shadow on the tips of lashes while they're still wet with mascara.
20. Channel Twiggy, the modern way, with this trick from Jake Bailey, Emmy Rossum's makeup artist: "Using a small angled brush and cream eye liner, I painted little lashes in between her real lower lashes to create that false lash effect."
21. Trade your neutral eye shadow for a pale shimmering pistachio or violet. Pastels are easy to pull off, but add subtle color to your look.
22. Line the inner rims of your eyelids with white or pale peach eye liner to make eyes instantly look brighter and more awake…
23. …Or line the inner rim of your upper lid with black or chocolate brown liner to make lashes look thicker.
24. Swap black eyeliner for navy to bring out blue eyes.
25. Try purple liner to make green or hazel eyes pop.
26. Brown eyes can wear any hue, so go bold with a bright teal or jungle green.
27. Lighten up: Pair inky liner along your top lash line with a pale, metallic rose gold or champagne line along your lower lashes.
28. Sweep a shimmery eye shadow that's a few shades lighter than your skin over your eyelids to brighten up for daytime.
29. Apply your eye shadow with a wet brush to intensify its shade.
30. Or prep lids with an eye primer to make powder shadow more vibrant and longer-lasting.
31. Or skip shadow altogether and dab a small amount of Vaseline or clear gloss on lids for a sexy sheen.
32. Vaseline works well as a cheekbone highlighter, too — especially with a glowy, summertime look.
33. Try red blush instead of pink. Red might look scary in the compact, but a sheer swipe on skin creates a pretty flush.
34. Mix two blush shades instead of just one, recommends Kimberly Soane, Director of Global Artistry for Bobbi Brown Cosmetics. "Layering two blush colors — a natural blush and a pop of blush — helps your blush last longer, because it fades throughout the day," Soane explains. "That's what gives it that brightness without being too clownlike."
35. Another tip from Soane: To prevent shiny skin, apply powder with a puff instead of a brush. "That way you are putting on powder and absorbing any excess oil, versus a powder brush which will just dust on powder."
36. Or mix blush with bronzer to chisel sexy cheekbones. Apply bronzer in the hollows of the cheeks and bright blush on the apples.
37. Switch powder blush for a cream formula to give skin a lit-from-within glow.
38. Mix a few drops of liquid illuminator with your foundation or BB cream to give your complexion a pretty sheen.
39. Speaking of BB cream, try applying it with a brush instead of your fingers for a lighter, more blended effect.
40. Tap a small amount of glitter pigment on the center of your eyelid after applying your shadow for a pretty sparkle that will catch the light.
41. To make your eyes look larger and wider, apply a pale colored eye shadow on the inside corner of the eye and a dark shadow on the outer corner.
42. To downplay lines around the mouth and nose, stroke a highlighter pen along the nasolabial (or "marionette") lines and blend.
43. For a bold nighttime look, use a brow powder that's a shade darker than you typically wear. Strong brows are in!
44. After you finish your makeup, mist your face with a mineral water spray to help powders blend with skin and last longer.
45. Try a purple-tinted primer to counteract a sallow complexion.
46. A primer with a green tint will help tone down redness. Try NP Set Calming Foundation Primer ($29, target.com).
47. Dust light-reflecting mineral powder over your skin to create the optical illusion of smoother texture.
48. Line your lips after you apply your lipstick for a crisp, clean shape.
49. Or use the reverse liner technique: Use a brush to apply concealer around the outer line of your lipstick to clean up the shape.
50. For sheer, diffused color that looks like a stain, apply lipstick to your lips using your ring finger.
51. If your lips are naturally dark, apply foundation or concealer over your pout before your lip color to get true color out of the tube.
52. Use white nail polish as your base coat before applying a neon nail color; the white base will make polish look brighter.
53. Make lips look plumper by dabbing clear gloss in the center of the bottom lip only for a three-dimensional effect.
54. Or DIY your own lip plumping product by mixing lip balm with cinnamon oil and cayenne, which will cause lips to swell.
55. Instantly improve your liquid liner skills: Start on the side that's more difficult, and it will be easier to make the "good" side match.
56. Another liquid liner tip: Line your eyes with pencil first (it's easier to manipulate), then draw a liquid line on top.
57. Dab a bright pink shade in the center of your red lip to add subtle dimension to the look.
58. If your brows are sparse, try combing them downward instead of up after you fill in with pencil. This way, the hair will cover the pencil marks and create a more natural finish.
59. Coat your lips with balm before you start the rest of your makeup. By the time you finish with lip color, your pout will be perfectly hydrated.
60. To revive your foundation after a long day, press the round end of a damp Beauty Blender sponge over your face, blending any areas that look cakey.
61. The desk-to-dinner smoky eye: Use a liner pencil to draw over any eye makeup that's smudged throughout the day. Make it even smudgier (and sexier!) with a Q-tip.
62. "Red, tired eyes can make you appear run down. A few drops of Visine [$7.99, drugstore.com] can eliminate the red and wake up your entire face," says makeup artist Carmindy.
63. Another tip from Carmindy: "A deep navy tinted mascara not only creates a lush, flirty, wide awake lash look, but the blue hue contrasts with the white of your eyes to make them appear much brighter."
64. Remove your makeup with a fine linen washcloth to cleanse and exfoliate skin at the same time.
65. Give your skin a quickie peel (and immediate glow) by swiping with an exfoliating pad such as Philosophy The Microdelivery Mini Peel Pads ($38, sephora.com).
66. Mix a sprinkle of Dermalogica Daily Microfoliant powder ($52, dermalogica.com) with a squirt of face cleanser in your palm to gently slough dead skin and reveal a brighter complexion.
67. To instantly minimize fine lines around your eyes, smooth on a cream with hyaluronic acid. "It's a water-attracting gel that works beautifully in eye creams to help to bring a plumpness back to the skin to minimize wrinkles," says cosmetic dermatologist Dr. Oscar Hevia.
68. If puffy eyes are your problem, press a cold metal spoon over the area for a few seconds to reduce swelling.
69. For a special event (or special dress) dust shimmer powder over your collarbone and shoulders to create a pretty glow.
70. Or mix shimmer powder with your body lotion for gleaming skin.
71. Play up your decolletage by dusting powder bronzer over and between the breasts in a "3" shape.
72. Don't have time for tanner to develop (or just can't deal with the smell)? Smooth on a waterproof body bronzer such as Tarte Maracuja Rainforest Glow ($34, qvc.com).
73. Try this 1-minute hairstyle idea from celebrity hair stylist and John Frieda International Creative Consultant Harry Josh: Make a deep side part in soaking wet hair, then twist into a bun and smooth with Frizz Ease hair serum before pinning a flower behind your ear. "The side part and flower make it glamorous," Josh says.
74. Part your hair on the opposite side as you usually do. Instant volume!
75. Upgrade your ponytail: Tease your hair at the crown before pulling it up.
76. Upgrade your bun: Braid your hair before twisting it into a chic chignon.
77. Upgrade your braid: Weave a colorful hair scarf into your plait.
78. French braid your bangs along your hairline to take a break from fringe for a day.
79. Or test drive a new look with clip-in bangs, which can look surprisingly natural.
80. Boost your volume with four or five clip in extension pieces, which secure at the root with a simple barrette.
81. To tame flyaways, fast, mist a clean mascara wand or spoolie brush with hairspray and brush over unruly pieces.
82. Add a bit of rock and roll texture to short or medium length hair by working pomade into the ends with your fingers.
83. Change up your hairstyle by tucking the front pieces behind your ears, which completely alters your look.
84. Or twist and pin a piece behind one ear. So cute, so easy.
85. Finish off your blowout with a few spritzes of texturizing spray such as Oribe Dry Texturizing Spray ($39, oribe.com) to add body.
86. Or mist strands with shine spray post-blow dry for a glossy finish.
87. Revive second-day curls by misting hair with a reactivating spray, such as DevaCurl Mist-er Right ($18.95,devachansalon.com).
88. For hair that's fallen flat, spritz spray gel at the roots to resuscitate volume.
89. For shinier strands, brush your hair before you shampoo to distribute the natural oils from your scalp.
90. In the shower, let your conditioner soak into your hair for an extra minute while you shave or exfoliate.
91. Soften a stiff updo by roughing up the surface with a clean kabuki brush. A softer texture is more modern and youthful.
92. Fake a makeover: Pin your hair into a faux bob to test drive a short cut.
93. Fake a shaved side haircut: Make a cornrow braid on one side of your head for an asymmetrical look.
94. "Olive and macadamia oils are really good for your complexion. Put one of them on in the shower and they make your skin zing." — Cate Blanchett
95. Kate Hudson puts her face in an ice bath to revive her skin. How long does she stay submerged? "It depends how badly I want it," she tells us.
96. Drew Barrymore multitasks with her beauty products: "I definitely still love to wear my lipstick on my cheeks. There's symmetry in the color, I love that."
97. Another trick from Drew? "I love when people highlight the corners of your eyes, and all of a sudden you're like, 'Oh my God! What did you just do?'"
98. Cameron Diaz swears by this quick fix for a pimple, says her makeup artist Gucci Westman. "She has a little lancer…you knick [the pimple] and then you apply Neosporin and Visine," Westman explains. "It takes away the redness and the swelling."
99. How to take a better picture, in one second: "An actress friend of mine shared a great trick. She told me to stick my tongue behind my teeth when I smile to keep from over-smiling. If you smile without doing it, sometimes your gums show a little too much. It's an actor's trick!" says Jessica Chastain.

100. Nina Dobrev has a 1-minute fix for clearer skin: "On Vampire Diaries right now, they give us these hot towels, so once you've taken off your makeup, they open up the skin and let it breathe. Heat to open up the pores is really good, and applying moisturizer right afterwards really revives and hydrates your skin," she explains.
101. Jaime King's skin care trick doesn't require a celeb-sized budget: "You know how they have Clarisonics, which are really great? Using a really great hand towel when washing your face does the same thing, which costs nothing."