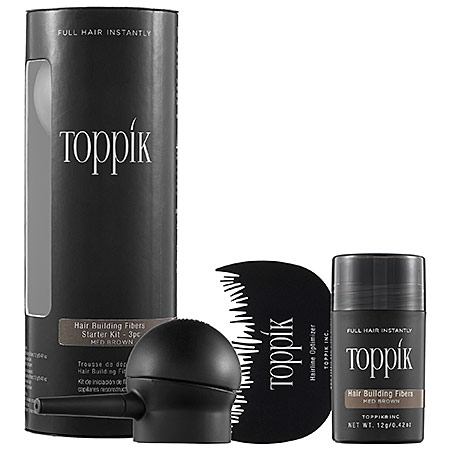 You know how you see the "bestsellers" and "most popular" products in beauty stores, so you of course scoop them up, but then you realize you have no idea how to work them? In "How It Works," we're going to explain to you exactly how to get the best use out of your products, whether they are cult classics or hot off the conveyer belt must-haves. We'll teach you the basics, as well as a few industry expert tips to make sure you're getting the most out of everything you buy.

Everywhere we go, the second the topic of hair comes up amongst our girlfriends, we inevitably start discussing how to make hair look thicker. Besides the typical tricks like using a thickening shampoo and taking Viviscal, few things make your hair look thicker instantly. That is, until we tried Toppik's Hair Building Fibers, keratin protein fibers that blend into hair to make it look thicker upon application. With the special spray applicator and hairline optimizer, ladies with thin hair will have instantly lush locks.
MORE: Fake It Until You Make It: Thick Hair
Product Perks: 
Toppik fiber is made with all natural, colored keratin protein, which the same natural protein hair is made of.
Available in a range of nine shades from platinum blonde through jet black, the hair fibers work on any hair color.
The color of the fibers work to hide roots in between hair color appointments.
How It Works: 
The Toppik fibers are essentially a powder that comes in a bottle with a sifter top. Once you style and dry your hair as you normally would, shake the fibers liberally over thinning areas of your hair (or just all over your roots). If you prefer to spray the fibers on instead, put the spray applicator on top of the fibers bottle and spray over roots. Gently pat your hair to disperse the fibers into your hair. To really blend in the fibers, take the Toppik Hairline optimizer and shake along your roots.
Where to Buy: Toppik Hair Building FIbers Starter Kit, $35, Sephora.com