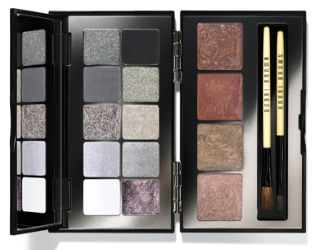 I love the metallics, but my total addiction this year is to the chrome and silver end of the metallic spectrum.
I have been painting my fingers and toes with M2M Platinum Plus nail polish, which turns your nails into instant accessories.
Besides the bling on my hands I am also kind of blown away by the Bobbi Brown Chrome Palette which hosts a bevy of shimmery silvery shades and the lip colors that pair best with them. You can play with all kinds of hues in this chrome family and look holiday ready for any party.
For a sheer and more natural version of steely grey shimmer try the Sally Hansen Natural Beauty Inspired By Carmindy Instant Defintion Eye Shadow Palette in Storm. The contour shade in this perfect palette is the most universal and wearable version of silver around. It has a hint of brown in it so it does not look too disco and you can be en point with the trend, but still feel comfortable.
When it comes to loose silver shimmer, I like to play with the NYX Loose Ultra Pearl Mania Eyeshadow in Silver. It's like molten platinum on the eyes and really adds the extra glam. Try applying just a dot of it on the inner corners of the eyes and on the center of the eyelid. This is a very modern futuristic look and brings all the attention to your sexy stare.
For silver fringe try Volturi Twilight Crown Metallic Mascara in Silver Plated painted on lashes. This looks super cool with a slick of black liquid liner and just a hint of highlight on the lids.
Holiday time is when you can be a bit experimental, so try something fun and silvery.
As an established makeup artist, many beauty brands send me samples of their latest products for consideration. I only write about the items that I truly love and I always abide by Daily Makeover's Editorial Ethics Pledge in each of my Positively Beautiful posts.