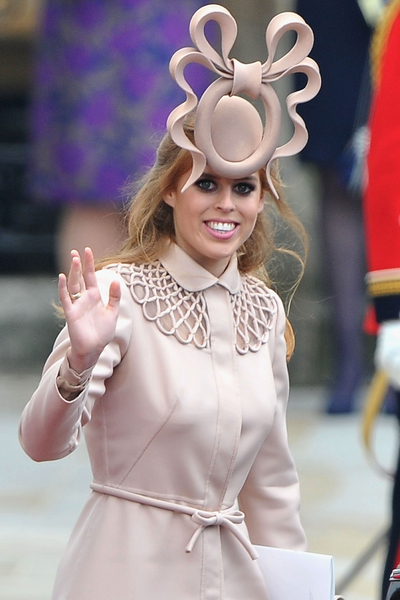 Photo: © Pascal Le Segretain/Getty Images
It was the hat that launched a thousand memes, jokes and critiques and now it can be yours! Princess Beatrice has put her hat from the Royal Wedding up for a charity auction on eBay.
Try on hats in the Makeover Studio!
The famous infamous fascinator hat has been photoshopped: onto the head of President Obama and his staff, into a toilet seat and into um, well…female organs, among many other things. Plus, you know something's really gone viral once there's an entire Tumblr dedicated to it. Sure, her sister Princess Eugenie wore a hat just as outlandish, a sort of blue Robin Hood-esqe one, but it was really big sis' Beatrice who stole the show.
Considering both hats were custom-designed by renowned British milliner, Philip Treacy–who's designed for the likes of Kate Moss, Sarah Jessica Parker and the late groundbreaking stylist, Isabella Blow–it's no surprise they sparked so much controversy.
Now, the 22-year-old Princess is using all of the publicity the hat has garnered and focusing it on raising money for the humanitarian organizations, UNICEF UK and Children in Crisis. She's put her silk tea rose hat up for auction with all proceeds being split evenly between the two groups. As of 12 p.m. EST on May 20 it's received 83 bids with the highest being 50,400.05 pounds, which is about $81, 824.50. So if you have chump change lying around in the excess of $90K plus and want to pretend you're a princess, get to bidding–the auction ends on May 22 at 12 p.m. EST. At least you can justify the expensive price tag by knowing that it's going to a good cause.


Try on hats in the Makeover Studio!