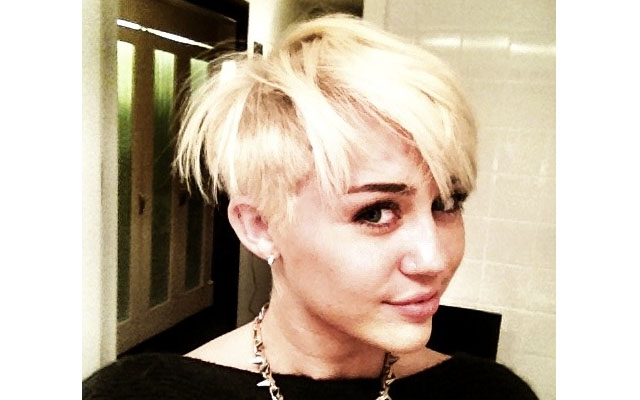 Miley Cyrus showed off platinum locks just last week via Twitter, but apparently that wasn't the end goal for the 19-year-old. Last night, the actress and singer took to social media once again to debut her brand new rocker pixie by celeb hairstylist Chris McMillan.
Her previous cut was fun and cute, but many were accusing her of copying the "Rachel" style, which McMillan is famous for creating as a longtime stylist of Jennifer Aniston. This new crop, although causing quite the uproar from her fans, is a great fit for Cyrus. While she has been breaking out of the Hannah Montana mold for years now, the newly engaged star has been finding her own style, which apparently she likes to be a bit edgy. Keeping the hair longer on top, McMillan cropped in the sides so that Cyrus can still have fun styling it any way she pleases.
Taking to Twitter to update her fans, Cyrus said, "Never felt more me in my whole life" when she posted a pic of the finished cut. She also added, "If you don't have something nice to say don't say anything at all. My hair is attached to my head no one else's and it's going bye bye :)" Well we for one, love the new 'do, and think the platinum blonde works much better on a  shorter crop.
What do you think of her new look?
[Image via Twitter]