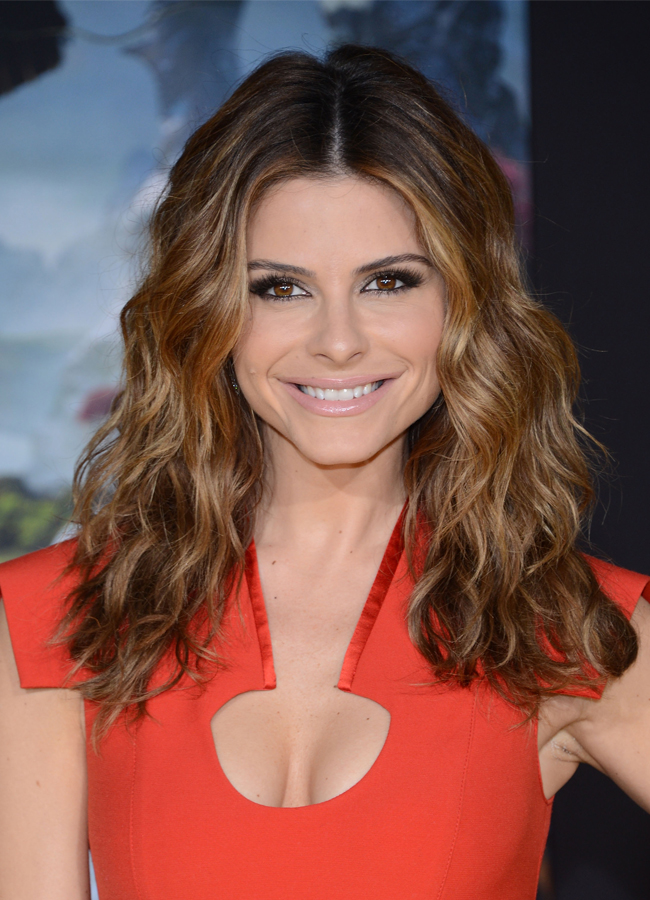 As if frizzy hair weren't bad enough, this season we have to worry about our makeup lasting through hot, sticky weather, too. Maria Menounos can relate; she hosts Extra outdoors in LA's The Grove shopping center all summer. Yet she manages to keep her makeup intact and camera-ready without a hitch. We recently caught up with her to find out her tricks, and of course we couldn't resist asking her how she maintains that bikini body.
On Color That Lasts
"In the summer, lip glosses are the best to use because they don't bleed [like a lipstick does]." Her new favorite, Stila Long Wear Lip Color ($20, stilacosmetics.com), is a lip stain with a glossy shine. "It's a pencil and lip color all in one. It's creamy so it's very hydrating." Her go-to shades are Serenade, a dark coral red, and Adorable, a pinkish nude.
On Reapplying SPF Over Makeup
SPF in the morning is crucial, but reapplying over a full face of makeup can get tricky. Maria uses Colorscience Loose Mineral Foundation SPF 20 Brush ($60, colorscience.com), a powder with SPF that can go right over foundation. After applying to her face and neck, she dabs it on her hands for when she's driving, "So I don't get those old lady hands." 
Her MacGyver Trick For Oily Skin
Maria swears by blotting papers. But if she doesn't have MAC Blot Film ($16 for 30 sheets, maccosmetics.com) on hand, she uses a tissue or the back of her hand to lightly dab away any excess oil. MacGyver would be proud.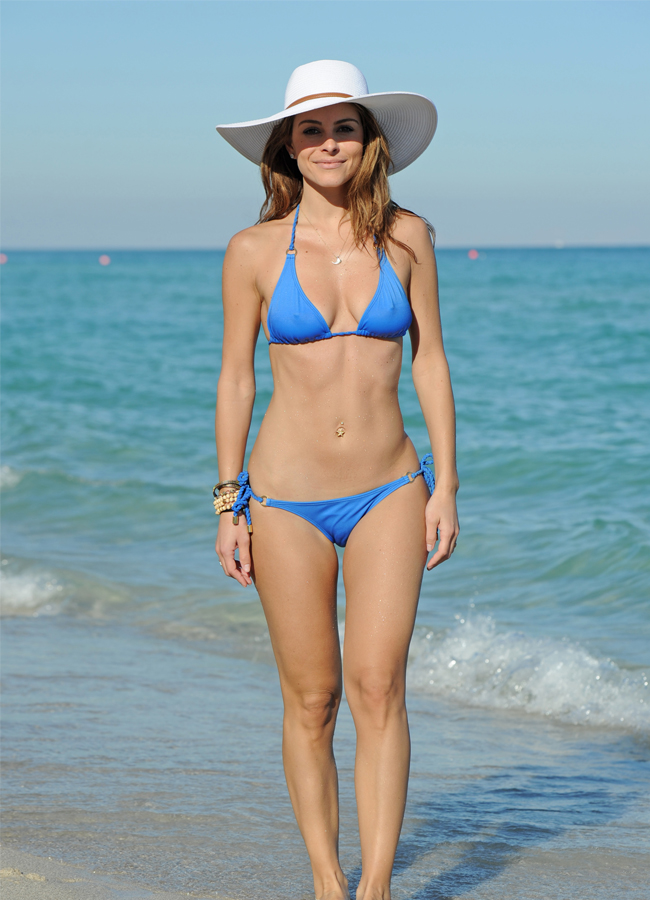 On Her Fitness Routine
And as for that enviable body, she credits her active lifestyle and using a pedometer to track her steps. "I definitely eat and splurge. Everyone always asks me if I have a great metabolism, but it's really because I'm always moving. I noticed weight was starting to sit with me recently. I was taking a golf cart to the set of Extra and wasn't as active." Now she tries to walk up at least eight flights of stairs a couple of times a day as well as staying loyal to trainer Harley Pasternak for twice-a-week gym workouts.
If we take the stairs, can we skip the gym too?