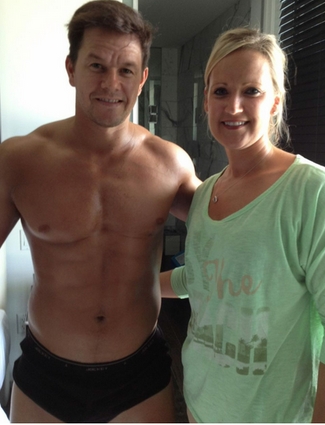 Photos: Courtesy of Twitter
Photos recently surfaced of a nearly nude Mark Walhberg getting spray tanned on the balcony of his hotel. While this might be just part of the job for actors, it does beg the question: What do you think of men that tan?
Mark is hardly alone in partaking of this beauty ritual. New Spider-Man (and boyfriend to Emma Stone) Andrew Garfield got a St. Tropez fake glow before walking the MTV Movie Awards red carpet.
While we agree that a little color can really enhance a person's look (it can make muscles look more toned and defined), we can't help but think it's also a little….girly. When we think of big, strong men like Mark Wahlberg, we imagine them shooting bad guys and running from cars being blown up (okay, maybe we've been watching too many action movies), but we don't think of them at the spa getting a fake bake.
Hot Or Weird: Men Getting Brazilian Waxes
Are we alone in this thought process? What do you think of men that get spray tanned?