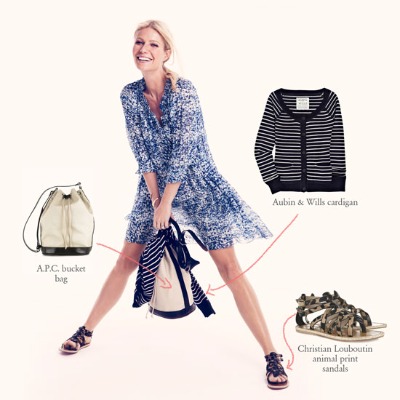 Photo: ©
Goop
Gwyneth Paltrow has revealed her tips for versatile summer looks.
The Iron Man actress–who has children Apple, seven, and Moses, five, with husband Chris Martin–has picked out a few key fashion pieces for the coming season, with tips on wearing them from day into night.
Writing in her GOOP newsletter, she choose a Stella McCartney silk jersey tank dress, saying,"The Long Jersey Dress: Dressed Up–Wear a long jersey dress with a silk blazer and statement sandals. Casual–Add a pop of color with a neon tank underneath."
The 37-year-old beauty's next pick for the season was a beige Etoile Isabel Marant jacket. She wrote alongside the garment: "The Short Flirty Jacket: Dressed Up–Take a jean skirt to work with high heel sandals, a statement jacket, and a satchel instead of a briefcase. Casual–The jacket travels poolside with a bright bikini and white jean shorts."
Gwyneth went on to offer tips for accessorizing a blue and white print Etoile Isabel Marant dress. She said, "The Printed Dress: Dressed Up–Give a flowing printed dress some structure with a menswear-inspired blazer, a boxy purse and a leather belt. Casual–Mix your prints with a flowered dress, animal-inspired shoes and a striped sweater."


Try on Gwyneth Paltrow's hairstyles in the Makeover Studio!