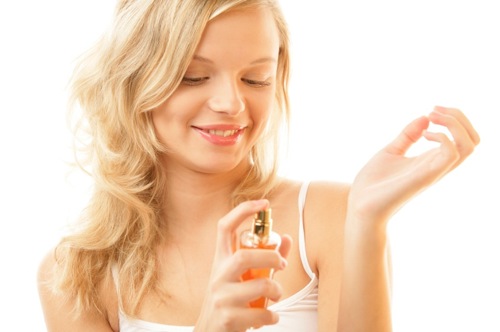 A desire to play with your personal fragrance can come up with the change of seasons, or everytime a new scent hits the market. And then there are some of us, like me, who choose to stick with the tried and true (SJP's Lovely has a special place in my heart, I can't help but always go running back). But in case you've decided to play with your personal scent and get a bit wild and crazy this year – or just finally want to figure out exactly what scent fits you – we've called in the pros.
Camille McDonald, president of brand development for Bath and Body Works broke down our scent inquiries below.

Choose A Woodier Scent For The Winter
It's a human nature thing to switch to the woodier, creamier fragrances which seem to feel better during the winter. And during the summer the brighter more effervescent florals and fruits feel better on the skin. But, it's not absolutely neccessary and if people are addicted to their fragrance they don't have to switch.
Customize Your Fragrance
You can customize your scent by season – if you layer your scent progressively it will get stronger and last longer. For example, at Bath and Body Works you can pick one of 50 fragrances at the store and it has 50 ways to wear it – whether you want the fragrance to be put on as a lotion, with your bubble bath, as a body butter or as a eau de toilette.
The rendition of the fragrance will change depending on how you used it, for instance if you only used it in the shower it won't be as strong as if you layered on both a shimmer lotion and a eau de toilette. By layering the fragrance, you will progressively reveal more facets of it and make it last longer.
Within that you can pick how much of a fragrance load you want – we all have outfits that we dress down or dress up – if you like a certain scent, but it feels like it's a bit much you can use it in the shower (just the body lotion) and then you can layer on the fragrance mist if you want a little more, and then if you're going out to dinner you can add the eau de toilette.
Find Your Signature Scent
Based on 30+ years being in this business I look at how people dress and its normally a cue if they like to make a statement theyll want a bigger statement if shes a Ralph Lauren country girl shell want something more fresh and sheer if shes an Ann Taylor or Tory Burch girl shell want something more floral and classical anything from the way people dress, to the notes that you like, to your personality traits.
Go to a store and shop for fragrances with your friends and experiment together everyones on a level playing field when it comes to fragrance, you can try a million of them – that's the point!
Place Your Scent Wherever There's Heat
Where you place your fragrance depends on how you want to wear it the chemical answer is if you want it to project put it where you generate heat I tell people in the summer when youre not wearing a lot of clothes to put it behind your knees because it will waft all day long or at least 3-4 hours behind your ears, between your boobs, behind your knees, and other pulse points. But if you want it to be light wear the fragrance mist or if you want the EDT spray it around you and walk through it you can put it in your hair and no where else; the more you apply it to the skin and the larger real estate you put it on the stronger the scent.
Camille McDonald is a 25-year veteran of the beauty business currently in the role of President, Brand Development of Bath & Body Works. She has worked with prestigious cosmetic and fragrance brands such as Givenchy, Guerlain, Chanel, Ralph Lauren, Michael Kors, Marc Jacobs, and Kenneth Cole. The industry has recognized Camilles leadership with several distinctive awards including FiFis, Cosmetic Executive Womens (CEW) Beauty Award, the 2002 Beauty Ball Golden Apple and the 2002 CEW Achiever Award.
Image: istock.com