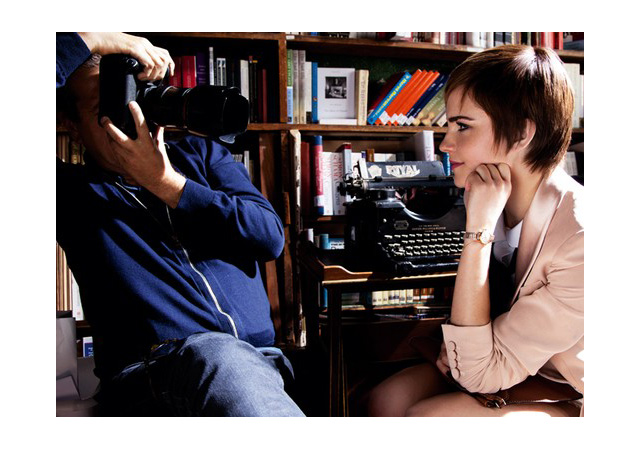 In an in-depth interview with WWD, Emma Watson talks about her time working on Lancome's Tresor Midnight Rose fragrance campaign as well as her current movie role and clothing line.
The 21-year-old actress doesn't do things halfheartedly, saying that she even "helped choose the color of the rose" and "was involved in the concept of the [ad] film and the tag line, 'Catch my heart if you can." She also apparently helped to select the fragrance's name and chose to include her hat (the one seen in the ad) which she found at a flea market in Paris.
The Midnight Rose scent includes notes of rose absolute, raspberry, jasmine, peony, black-currant bud absolute and pink pepper, and is the latest Tresor fragrance to be added to the line.
Watson told WWD that signing on with Lancome "feels like the right thing to have done." The brand she said, "has this amazing heritage and this amazing history. It's very well established but at the same time seems to be at the forefront."
She also talked a bit about her interest in fashion, and her impeccable taste. Watson said, "I think less is more less makeup, less accessories is better. I try to dress age-appropriately which isn't actually that easy when obviously high-end clothing is designed for women who are older than I am. It's a fine line to tread between looking smart and looking ready to go on a red carpet but also looking like I'm 21. It's quite difficult."
As for her favorite designers, she named Isabel Marant, A.P.C., Chloe and agnes b. for casual wear as well as Vena Cava. And she of course mentioned her love for Burberry, adding that she likes to mix and match.
And for all those boys (and girls) who were upset when she chopped off her locks, she spilled that she's actually working on growing out her hair. Watson said, "a bit. I'm excited to try to get it into kind of like a bob." We can't wait to capture all of the growing out stages!