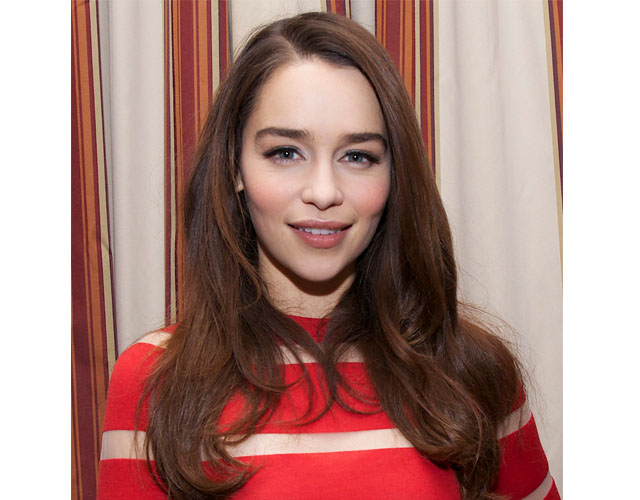 Emilia Clarke from the HBO hit show, Game Of Thrones, will be making her Broadway debut as Holly Golightly in Breakfast at Tiffany's beginning next week, March 20.  The Broadway show is an adaptation of the original Truman Capote novella which takes place in the 1940s – whereas the original movie starring Audrey Hepburn was actually based in the '60s –and audience members will also find subtle differences in Golightly's character such as the fact that she is a bit grittier and younger, and as George Wendt puts it (who plays Joe Bell, the bartender and the guy we all fell in love with from his days as Norm on Cheers), "she's basically more f**d up."  To create the perfect look for this new take on Golightly, the show collaborated with the team at Target Beauty (and more specifically Sonia Kashuk and Umberto Savone) to design a '40s inspired cast of characters.
Katie Erickson, VP of Category Marketing at Target said, "Holly Golightly is synonymous with style, and by bringing in Sonia and Umberto, we're able to introduce our brand to new audiences and demonstrate how they can achieve truly stunning looks using Target's exclusive beauty and hair care lines." The bombshell beauty, Clarke, in fact does her own makeup for the show, along with cast member Cory Michael Smith (who plays Golightly's love interest Fred) noting that, "Makeup on stage is a different ballgame, lighting bleaches your face and has more contrast." Plus, it's often too hectic during the show to have other people helping with your beauty look (especially with the 25 different costume changes!)  so Clarke does her own makeup beforehand and wears a custom wig. The makeup and wig were collaborated on by costume designer Colleen Atwood, who met with Sonia Kashuk and Umberto before deciding on the final '40s inspired Holly Golightly look.
When we asked Clarke what it's like to do her own makeup on Broadway, she simply stated that she was taught to do her makeup by her mother at the age of 13 –  so at this point, she's a natural. Due to constantly performing, Clarke's skin is quite sensitive and she washes it twice a day to keep her pores clean, especially from all the makeup she has to wear as an actress. Clarke's mom also gave her the wise wisdom to never touch her eyebrows, giving them a natural effect.  During the day she says she prefers to wear just a tinted moisturizer because of all the powdery makeup she has to wear for her work.  As far as brands go Emilia states, "Tom Ford is amazing. It's one of the brilliant things about acting, getting your hair and makeup done. So I get to try out lots of different things, like Dolce and Gabbana, I love."
As for taking on such a renowned role, Clarke has no qualms. She loved the movie as a child, but considering the Broadway show is based on Capote's novella, hasn't watched the Audrey Hepburn role recently as she "can't mimic perfection." When asked how it feels to be cast in now two strong female roles early in her career, Clarke said, "It's amazing, because it's possible – the strong young woman is having a moment I think, people are writing them more. You get to be the things you aren't naturally, you get to lead an army, or be a mother of dragons, or get to you know like, be a fabulous 1940s New York socialite."
We certainly can't wait to get a glimpse of Clarke on stage – will you be seeing Breakfast at Tiffany's when it premieres?
More on Daily Makeover: See how to get Holly Golightly's look—with all drugstore products!
Courtesy Image