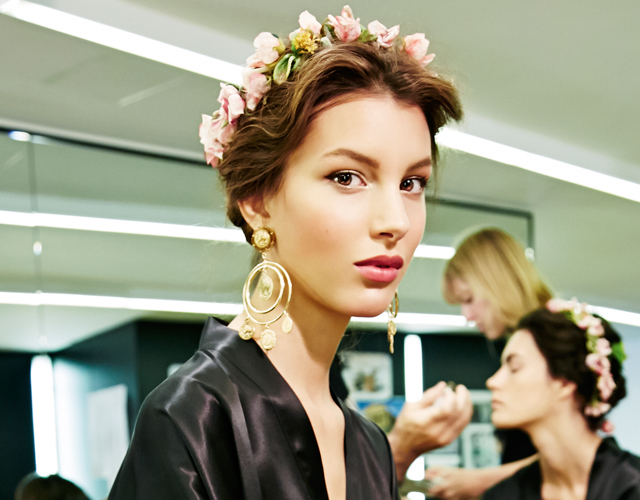 The perfect accent to a floral crown is a flawless face, which is why at Dolce & Gabbana's Spring 2014 show makeup artist Pat McGrath created fresh, luminous complexions to highlight the rosy lips and streak of black liner for the Sicilian-inspired look. The staple to getting this look was McGrath's use of  the newest addition to the Dolce & Gabbana makeup collection, the Perfection Veil Pressed Powder. Typically, when you hear the word "powder," you automatically think of a matte and heavy finish. The Perfection Veil Pressed Powder is the exception to the rule of powders and manages to leave your face natural and radiant all day long.
In stores just before the flowers start to bloom, this lightweight powder comes in six stunning shades that will flatter any face. The powder helps to bring your skin to life by taking away any shine while evening out your complexion.
MORE: 10 Things No One Ever Tells You About Foundation
As Creative Advisor to the Dolce & Gabbana makeup line, McGrath told us just how to use the new pressed powder to get the look that she created backstage at Dolce & Gabbana's show, and the necessary steps that guarantee an impeccably flawless complexion.
1. First, work up a uniform look with a base for the specific look you want to achieve. Use Perfect Matte Liquid Foundation for flawless skin with a long-lasting matte finish, or opt for Perfect Luminous Liquid Foundation for a sheer, radiant look. Work the base across your face, blending outward from the nose with your fingers or using a foundation brush.
2. Next, choose a concealer. Opt for Perfect Matte Concealer for coverage of imperfections or red areas, or choose Perfect Luminous Concealer to cover dark circles and add radiance.
3. Then, apply Perfection Veil Pressed Powder to perfect your look, using a brush to softly apply it across your face. For a beautiful, brightening sheen, you can also use a soft touch of the powder across high points on the face.
4. Finally, choose a Luminous Cheek Color or Glow Bronzing Powder to add color and definition to the face by working pigment up towards the temples. To enhance bone structure, sweep Glow Illuminating Powder beneath the cheek bones.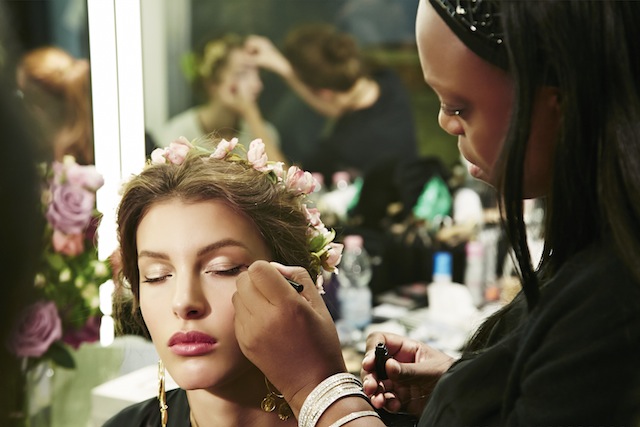 Dolce & Gabbana Perfection Veil Pressed Powder will be available starting February 7 in six shades at Saks Fifth Avenue for $60. 
[Images Courtesy Dolce&Gabbana]