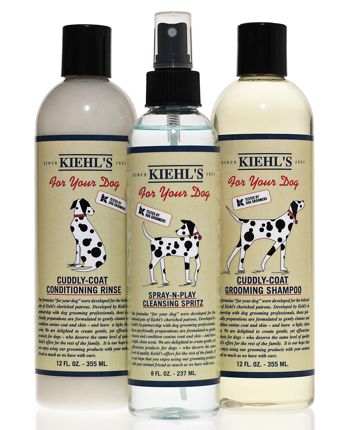 My 2-year-old puppy Ellie is one of the great joys in my life. Any dog owner will tell you that having a dog is an amazing experience. It's also an expensive one: Ellie, being a young and energetic puppy, thinks that running and rolling in the dirt is quite possibly the best game ever. When it's raining that dirt becomes mud and I then have one dirty, grimy pup on my hands. Dog grooming is expensive, and if I took her to the groomer every single time she got dirty, well, there's goes my cute shoe allowance.
Fortunately there are some really fabulous dog grooming products on the market that are not only way cheaper than your average professional groomer fee, they also work almost as well, if not better than some human products.
Kiehl's For Your Dog line is made with the same quality and all natural ingredients as the people line. It features a shampoo, conditioner and cleansing spritz, which I found to be my favorite from the line. It's a waterless shampoo that's great for between baths and helps cleanse your dog's coat and skin. It's phenomenal for getting rid of that dirty dog smell, leaving behind a fresh, botanical scent on your furry friend's coat.
Don't be fooled by the cute and quirky name: John Masters Organics DogPoo is a total overachiever. The organic shampoo not only creates a super-shiny and soft coat, it also wards off nasty fleas and ticks with essential oils of tea tree, eucalyptus, neem and citronella.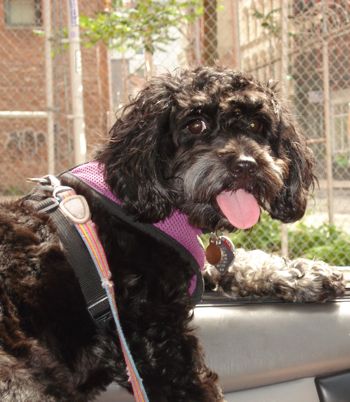 If your dog has super long hair or is a non-shedder like Ellie, it's also wise to invest in a conditoner. I like Fur by J. Mikel Moringa Seed and Calendula Foaming Detangler, which helps to reduce dryness, repel dirt and loosen knots, which is a real blessing if your pup hates being brushed.
Each of these products cost less than $25, contain natural ingredients that are safe for your dog and are Ellie-tested, Ellie-approved. Happy bathing!
As one the web's largest beauty sites, DailyMakeover.com constantly receives products from beauty companies for editorial review. Please read our Editorial Ethics Pledge if you'd like to know how we select products to feature.