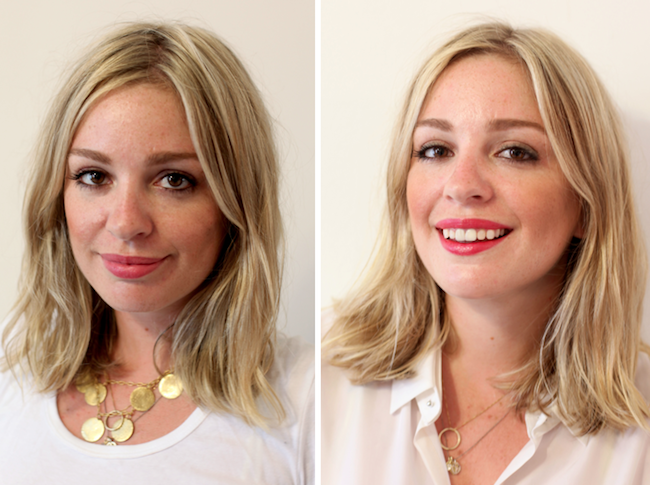 Sonia Evers is a writer and blogger and the founder of the light-hearted and humorous site, Runway Hippie. She currently resides in Brooklyn, NY. Read on to see her Day To Night beauty regime for some summer weekend inspiration!
When it comes to prepping your makeup during hot summer days, there are a few factors you have to take into account. The first is that it doesn't drip down your face with sweat, the second is that it compliments that sun-kissed glow that comes with a tan and a bit of shine from the heat.
To get this look, I used COVERGIRL's Clean Whipped Creme Foundation followed by a light application of Ink It! By Perfect Point Plus in Cocoa Ink and Flamed Out Mascara in Very Black Blaze. I then applied a generous amount of Clean Glow Bronzer in Spices and a light brushing of Clean Glow Blush in Roses. The end result not only emphasized my features, but proved that I can still have fun in the sun without the need to run to the powder room to do excessive touch-ups.
As the day transitions into night after being out in the sun all day, sometimes you need to add some oomph to your look. I decided to vamp up my look by exaggerating the makeup I'd been wearing during the day. I first added Flamed Out Shadow Pot and then applied a thick line of Flamed Out Shadow Pencil. This dramatized my eyes, which is one of my go-to solutions for making a look more nighttime-appropriate. I then swiped multiple layers of Lipslicks Smoochies Lip Balm in Text Me to bring out its punchy, cherry red color. Not only did this make it look like I'd been enjoying a mouthful of cherries all day, but I may or may not have found myself making kissy faces for the rest of the evening.
For more information on our relationship with COVERGIRL: cmp.ly/3