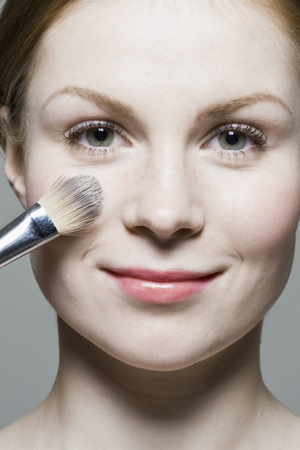 The dirtiest thing I always see in a woman's makeup bag is her makeup brushes. I know it can be a real pain to clean them, but as they collect more and more filth with a mixture of makeup, oils from your face and general dust and dirt, they stop doing their job. What you get is not a beautiful sweep of eye shadow or blush, but rather a crusty chalky layer of God-knows-what caking up your skin and causing breakouts.
In the past it was tough to find a good brush cleaner that was easy to use, so women would have to shampoo and condition our brushes and lay them out to dry, which would take forever. Well with such crazy busy lives, it was always the last thing you wanted to do and so we would just get lazy and never clean them. I have two easy ways to get perfectly clean brushes that take only seconds to dry and won't break the bank, either.
The first brush cleaner is by Cinema Secrets. A tried and true classic with professional makeup artists everywhere, this cleaner is a dip, wipe and dry brush cleaner that leaves your brushes smelling like vanilla and ready to use again in a flash. Whenever I use my brushes on a client after cleaning them with the Cinema Secrets Brush Cleaner, they always tell me how delicious my brushes smell.
The second brush cleaner comes in a totally different form of a wipe. Also easy breezy and leaves no excuses for your brushes to be dirty. The Japonesque Pro Brush Cleaner Wipes are individually wrapped wipes that gently clean off your brushes. Simply sweep the brush back and forth on the wipe or simply rub the brush between a folded wipe. They dry in an instant, so you can get back to the art of clean makeup application with colors that stay true when applied, because the brush is pristine.
When you clean your brushes more often you will extend the life of them, and we all know how expensive some brushes can be. You will also save your skin from nasty breakouts and clogged pores, so clean up your act (and brushes) today!
As an established makeup artist, many beauty brands send me samples of their latest products for consideration. I only write about the items that I truly love and I always abide by Daily Makeover's Editorial Ethics Pledge in each of my Positively Beautiful posts.