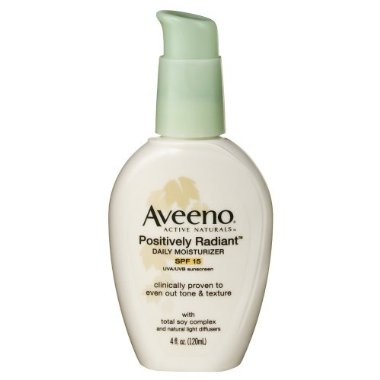 There's nothing we love more than beauty on a budget, especially when the product is actually worth way more than the price tag. "Cheap Trick" is our way of sharing our favorite wallet-friendly finds with the beauty world, so you can look great and have money to spend on more important things (like brunch with the girls).
It's important to have a good daily lotion as we enter the colder months, but a daily moisturizer for your face is even more important as it's more vulnerable to the cold wind. The last thing you need is dry, flaky skin underneath your foundation. Whether you switch moisturizers between seasons or not, Aveeno's Positively Radiant Daily Moisturizer is thick enough for winter but also light enough for those that may be acne prone.
Some thick moisturizers can be too much for daily use, especially if you have combination skin. Aveeno's moisturizer is a great drugstore find that will keep your skin hydrated, and is affordable too. It reflects light so your skin will be radiant even during the dullest of days plus the SPF will protect your skin.
Where to buy: All major drugstores and Ulta or online here for $13