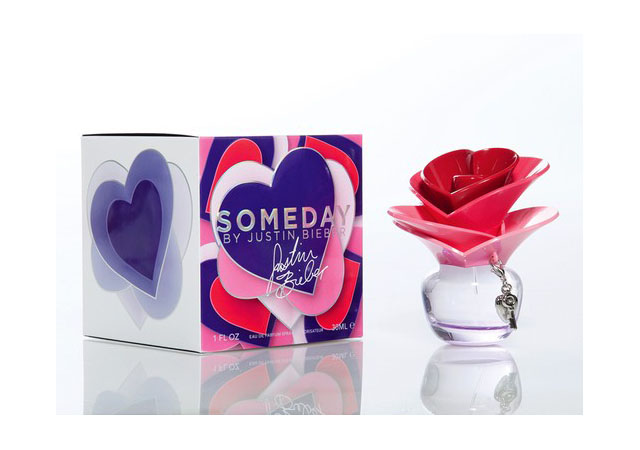 The teenage pop star Justin Bieber has already created an extremely successful nail polish line with OPI, some weirdly scented dog tags, and is now launching his first fragrance for women. We're not at all surprised by this, although many male celebrities begin their foray into fragrance with a scent for men, the Biebs knows his female audience, and knows that they worship him. Well, lets just say the younger females do.
The scent, named Someday, is meant to appeal to the core of Bieber's fan base, stated WWD. Bieber spoke with them about the fragrance, and said, "Let's be real, the way a girl smells is very important to a guy! I have such a deep connection with my fans, so creating a fragrance that I personally love is another way I can bring them closer to my world."
Someday's bottle is designed to bring that "femininity" mark home, with a heart shaped flower topping the cap and a small charm dangling off the side. But, the Biebs doesn't want to hog the predicted "millions" that this fragrance is going to make they have chosen to donate the proceeds to the charity. Aw, how sweet of the Biebster.
For all of you fans out there, the scent will be available in stores such as Sephora, Macy's, Ulta and Nordstroms in June, and will include an eau de parfum spray, a body lotion and, wait for it a hair mist. We have a feeling that one is a bit closer to Bieber's heart.