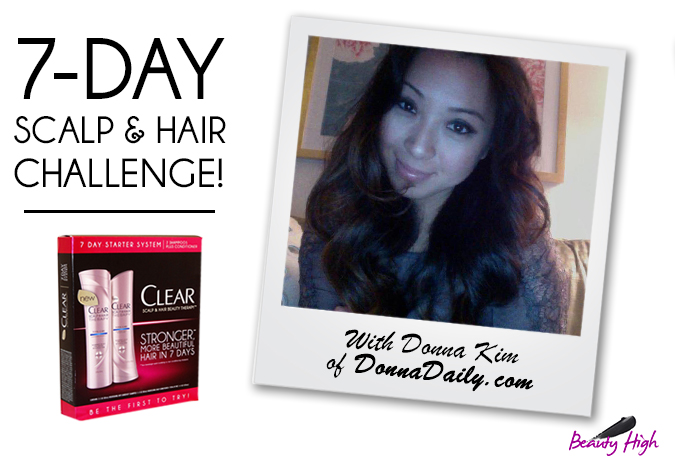 We've teamed up with five of our blogger friends to take on the Clear Scalp & Hair Challenge for stronger and more beautiful hair. Follow them as they each document their need for a major difference in their hair, and the results they experience after using CLEAR SCALP & HAIR BEAUTY THERAPY™ for seven consecutive days! Donna Kim is a multimedia journalist, on-air style expert, makeup artist, and the founder of DonnaDaily.com. Her work and expertise has been featured on many media outlets such as NBC's Today Show, New York Live, QVC, The Village Voice, Bergdorf Goodman's 5th/58th blog, to name a few. Read on to hear her story!
What many people don't know is that my hair is actually pin straight. It's very rare that I wear my hair naturally because I personally prefer a voluminous wave. I was first introduced to a curling iron when I was 13-years-old and was hooked; I just loved how my hair looked and the confidence it gave me. I'm obsessed with the idea that hot tools can give you the freedom to achieve infinite hairstyles and I use everything from hot rollers, straightening irons, and even professional marcel curling irons to give my hair the perfect curl or beach wave. But you can only imagine the damage all these hot tools can cause – including dry, brittle hair, and not to mention split ends galore!
Keeping hair healthy is vital when you're styling and washing it everyday; but getting trims and deep conditioning treatments at the salon can add up, so I prefer to save my money and time by treating my hair at home. That's why I'm so excited to try the CLEAR SCALP & HAIR BEAUTY THERAPY™  color repair shampoo and conditioner during the 7-Day Scalp & Hair Challenge.  I'm always on the hunt to find the crème de la crème of hair strengthening products and I hope this will be it! I still have my ombre highlights from summer and in order to maintain their color, I must use a shampoo and conditioner duo that helps upkeep the color while still nourishing the hair. Can't wait to keep you posted!
For more information about our relationship with CLEAR SCALP & HAIR BEAUTY THERAPY™ click here: cmp.ly/3