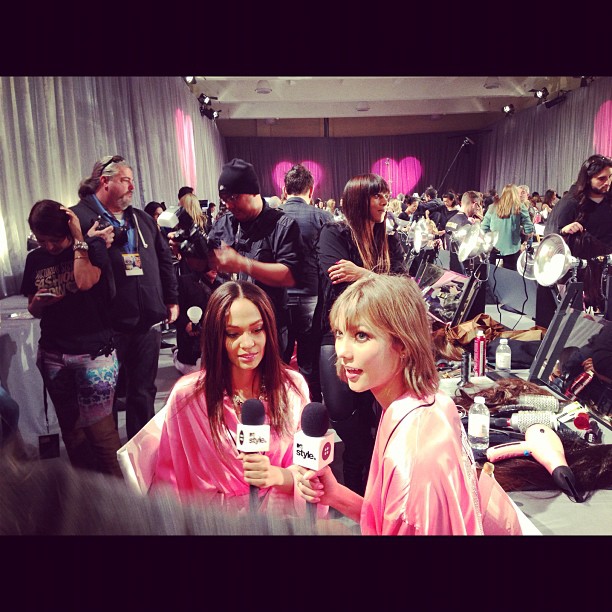 Hanging out backstage of the Victoria's Secret fashion show is a flurry of models in pink robes, hair extensions and bronzer flying around. Amidst the preparations for the most popular televised fashion show of the year, Karlie Kloss and Joan Smalls were standing out for all of the right reasons. We caught up with the angels to talk Karlie's new bob haircut, beauty tips from the pros, and of course, what they'll be wearing while strutting down the bedazzled runway.
Beauty High: Karlie, I saw that you just got your new haircut! What made you go for the chop?
Karlie Kloss: I just did an exclusive story for Vogue and I really wanted a change. I'm really excited for it, and I think it's just so chic and sexy and it makes life a lot easier having short hair now, so I'm really happy. Plus, I can have long hair again for the show, so I'm excited.
Beauty High: Can you tell me about your looks today and what you're excited for? 
KK: So tonight I have the most amazing outfits. I have two pairs of huge wings that are incredible. My first outfit I have these big wings that are super heavy. My second look is this giant Native American headpiece for the calendar section, so I'm representing November and Thanksgiving, so it's an amazing outfit. I have all this great turquoise jewelry and this big headdress and then this little bra and panty set. My third look I have these beautiful flower wings that were hand painted and they're stunning.
Joan Smalls: For my second look, I'm walking to Bruno Mars on stage, and it's called "Silver Screen Vixens." Basically it's all about old Hollywood, like they used to be so glamorous with their silk gowns and their jewelry, just so opulent. I think that's fun because it's playing off a character.
Beauty High: Obviously you both spend a lot of time in hair and makeup chairs. Are there any tips or tricks that you've picked up over the years? 
KK: It's all about using great products, that's what makes the difference. Orlando Pita [hairstylist] has this hairdryer, the T3, and I use it all the time at home. Curling your eyelashes makes a huge difference. It's really about the small, subtle things and great products. And good brushes! You need to use the right makeup brushes. That's one thing I've definitely invested in.
JS: You learn a lot about blending makeup and highlighting certain areas of your face. When it comes to creams and beauty regimen, make sure your face is hydrated. I use Estee Lauder Advanced Night Repair Cream and I mix it with the day cream to use it during the day. I always put that on before makeup. It makes such a huge difference if your skin is moist. Like if your skin is dry, the makeup just goes on flaky.
Beauty High: Congratulations on "House of Style"! What are you looking forward to the most? 
KK: Joan and I – it's so great to be able to do that project with someone that you have so much fun with. We're always getting into trouble, so it's really fun to be able to do that show together. It's awesome because it's web-based, so it's a quick turnaround. It's like already out before we get back, as opposed to TV that takes weeks and months before it comes out. It's really relevant, you know? In terms of doing it, it's fun to be the one asking the questions for once. It's a totally different ball game.
JS: Thank you! I want to travel. We travel normally, but I want them to capture that because I think people have this notion of models having an easy life, and you actually have to travel by yourself and stay up late and work on jet lag. It's not normal for every day people, it's not a 9-5 job. We have to work 12 hours sometimes, so just to let people see that. Also, to highlight the talent. We have Alexander Wang and all of these changes within design houses like YSL and Givenchy, and our industry.
Be sure to follow us on Twitter @BeautyHigh for the latest happenings with the Victoria's Secret Fashion Show!